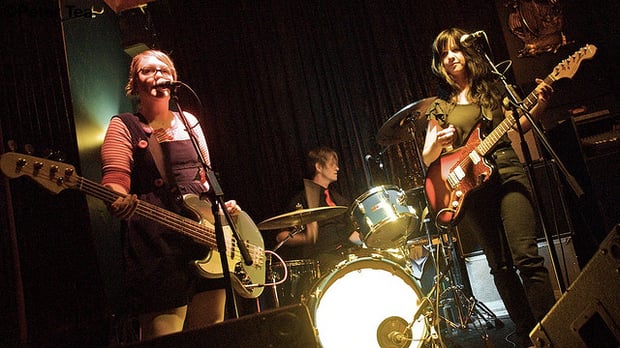 Image via flickr.com
From the time I've spent in radio, alternative and rock music are the genres that I've spent most of my time with. That being said, there are many more than five great indie radio stations for DIY musicians in alternative, rock, or crossover styles to get their music out, but you can use these as a starting point.
Best for: new and emerging unsigned musicians with either singles or albums; new music not a necessity for consideration
Why we love it: Not only does EGH devote its energy towards playing the music that gets submitted, its staff continues to play artists who have submitted music that their audience connects with. This continual showcasing isn't as common in radio for programs/stations who feature new unsigned talent. I've talked with quite a few artists who are regularly showcased on this station months after the first submission. Ideally, you want to get more than one spin for your music when you submit it. Stations like EGH Radio make sure that artists get the most exposure possible with multiple spins if the music is something their audience wants more of. Win-win for everyone.
How to submit: Details here.
Best for: experienced and emerging unsigned musicians with albums or EPs in alternative, rock, and crossover genres
Why we love it: Broadcasting online while operating out of the Los Angeles area, RadioKSCR has one of the most loyal and thriving listening audiences both regionally and globally. The station accepts music submissions for purposes beyond just airplay, including their annual holiday (Christmas) music compilation album, music video festivals, and other features.
How to submit: Details here.
Best for: indie musicians with a few records under their belts looking to take their music further with opportunities beyond just airplay
Why we love it: Aspenbeat is the brainchild of one of the best music curators in the business, Andrea Young. I've known Andrea for a while, and there are few people with her passion, dedication, and thoughtful ear for great music discovery in our indie music world. Not only does Aspenbeat showcase great indie and DIY musicians, but they also have a record label that looks for new talent to present to the world. If your music fits with their programming and connects with them, you could find yourself a part of the Aspenbeat Records lineup.
How to submit: Details here.
Best for: Unsigned punk bands, bands on indie punk labels
Why we love it: Punk Rock Demonstration is a great hub for artists and fans alike who share a passion for punk. Beyond providing radio airplay, this platform has avenues for fan engagement through their online forum, album reviews, and more. The punk genre is comprised of passionate fans, and Punk Rock Demo shares in the community by helping to connect fans with great emerging bands.
How to submit: Details here.
Best for: Indie and unsigned progressive rock bands, alternative acts, and experimental rock groups
Why we love it: Aside from having a play on food and music, host Debbie Sears is a rock radio veteran with nearly 24 years on the radio as host of the Prog-Rock Diner. The program showcases not only great new talent, but also garners a strong, loyal audience that supports the musicians showcased there. Debbie's heart behind her work is to help artists grow and get great music out in the world to be experienced.
How to submit: Details here.
There are quite a few Sonicbids blog articles that detail the best practices for submitting music, and I highly encourage you to follow the suggestions there. Not every station or program has the same mantras for why they accept submissions from artists. For instance, on The Appetizer Radio Show, we celebrate great albums, not just a good single from an up-and-coming artist. We only select music from (both) indie and mainstream artists who have truly solid albums. Therefore, if you're a DIY musician who only has a few singles and not a full album or EP, you need to look for stations or programs geared more towards what you have. If you do have a full album or EP and want to showcase the full music experience of your work via The Appetizer Radio Show, click here.
What are your favorite indie rock and alternative stations? Let us know in the comments!
D Grant Smith is the host and creator of the syndicated and award-winning The Appetizer Radio Show, featuring unsigned and indie music weekly. With over 16 years experience in radio and indie music, Smith also coaches and mentors musicians through focused audience growth. More information at dgrantsmith.com and appetizerradio.com.