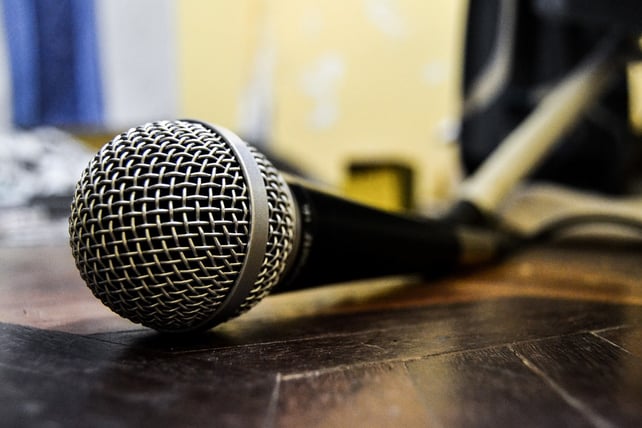 Image via pixabay.com
As hip-hop continues to evolve as a genre, categorizing sub genres by sound or location is becoming a more and more difficult task. However, it's important to be able to identify different types of hip-hop in order to have a full grasp on how it can impact people in different ways.
Certain subgenres have more appeal than others within the realm of the mainstream, while music from independent artists tends to receive appreciation from all sides of the spectrum. In order to have all over your bases covered, here are the top five hip-hop subgenres you should know if you want to have a full understanding of the genre as a whole.
1. Boom-bap
Originating in New York, boom-bap was one of the most popular forms of hip-hop in the early to mid-1990s. Using street-focused rhymes and hard-hitting beats built off gritty drums, boom-bap music puts a great deal of emphasis on the lyricism coming from the emcee. Storytelling and strong technical ability is of the utmost importance for boom-bap rappers, and while the subgenre is no longer at the top of hip-hop food chain, its dedicated fanbase remains devoted as ever.
2. Trap
Trap music is one of the dominating forces in hip-hop today. Rooted in Southern hip-hop of the early 1990s, trap music is known for its 808-driven production and aggressive lyrics. Much of trap music's content is centered around life in "the trap" (hence the name), which mainly consists of drugs, violence, and harsh experiences growing up in inner-city communities. And while trap music may be dominating the hip-hop radio charts thanks to its catchy sound, further examination proves that it's filled with honest depictions of everything from fame to pain.
3. Gangsta rap
Recently popularized in movies such as Straight Outta Compton, gangsta rap was born in California and was a hugely impactful subgenre of hip-hop in the 1990s. The early commercial appeal of gangsta rap also brought about a great deal of controversy due to its strong focus on violence and the gang lifestyle that's so common in LA. Although gangsta rap isn't the powerhouse it used to be, the West Coast sound (such as G-funk) pioneered by artists like Dr. Dre has left a strong impact on hip-hop, and its foundation will forever be relevant within the genre.
4. Alternative/conscious rap
A controversial term in hip-hop, many "conscious rappers" don't like to be labeled as such. However, there's no denying the importance of this subgenre, which promotes concepts such as knowledge of self and awareness of wide-ranging social issues. Many other subgenres accomplish the same, but alternative rap (a better phrase) is labeled as such due to its smoother, more laid-back production style.
Often containing advanced lyricism focused on well-researched historical content and little to no mainstream influence, conscious rap exists in many forms. While the term may be outdated, it's still important to understand its significance as an element ingrained in hip-hop culture.
5. Melodic rap
While not yet officially recognized as a subgenre of hip-hop, melodic rap has been extremely influential over the past several years. Learning from the success of artists such as Drake, many rappers are now utilizing their vocal talents and singing on tracks with bass-heavy, futuristic production. This is the type of hip-hop that has thrived on SoundCloud and is playing a prominent role in the world of independent hip-hop.
Rappers who sing are not new to hip-hop, but this subgenre has rapidly evolved to the point where many fans consider it to be their favorite type of music. The progressive aspects of melodic rap are still evolving, and it's the current torchbearer of hip-hop subgenres today.
Eric Bernsen is a marketing/public relations professional and music journalist who specializes in the genre of hip-hop. You can find more of his work at HITPmusic.com (where he is an editor/writer) as well as HipHop-N-More.com, where he contributes album reviews. Follow Eric on Twitter @ebernsen.