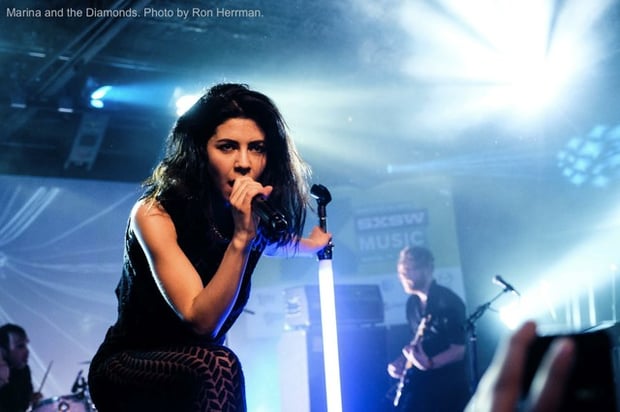 Marina & the Diamonds performing at SXSW. (Photo by Ron Herrman)
It's hard to believe, but it's already that time of year again! Artist applications for the 2017 SXSW Music Conference and Festival are now officially open on Sonicbids.
Sonicbids has been SXSW's official, exclusive application platform for 10 years running, bringing thousands of artists to the festival. Hundreds of Sonicbids acts performed at the 2016 SXSW Music Festival, representing 45 different countries, 24 different genres, and countless subgenres. Highlights included Rozes, featured on the Chainsmoker's track "Roses"; Lavender Country, who Rolling Stone included in their 25 artists to see at SXSW; Britt Daniel's proclaimed favorites and recent Merge Records addition A Giant Dog; and so many more worth mentioning. International standouts also included Sonicbids acts Systema Solar (Colombia), September Girls (Ireland), Royal Canoe (Canada), Methyl Ethyl (Australia)... and the list goes on!
Now in its 31st year, SXSW Music is one of the largest, most influential, and anticipated annual events worldwide for over a quarter of a century. From unsigned bands to indie and major-label headliners, SXSW continues to be the premier music event that sets the tone and direction of the industry by introducing the hottest new talent and showcasing the new directions and sounds of the most important musical acts in the world. The festival provides an ideal environment for artists to learn from and meet the music-industry professionals who can help them further their careers.
Don't miss this opportunity to perform and mingle with thousands of musicians and industry pros from all over the world! Apply by September 9, 2016 and pay only $35 – after that, the application fee will increase to $55. All applications must be submitted no later than the final deadline of October 21, 2016.
Questions about performing at SXSW 2017? Read the music showcase FAQ here.