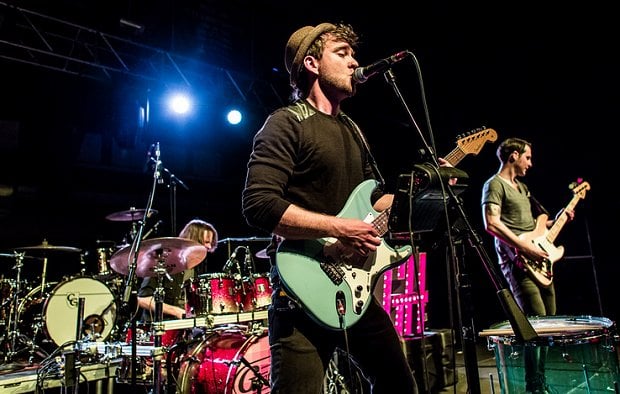 Photo by Matt Christine Photography
This article originally appeared on SXSW.
Wondering what the SXSW experience is really like for artists? Sonicbids band Gentlemen Hall – who has played the festival twice, in between landing a deal with Island Records and winning accolades from MTV and Billboard – opens up on the most unforgettable experiences, the biggest lessons learned, and gives solid advice for SXSW 2015 hopefuls.
What are the first three words that come to mind when you think of your first SXSW experience?
Crazy, ridiculous, sensory-overload.
What was the biggest highlight of playing SXSW in 2014?
Playing with MS MR and RAC was a great experience. Those are two acts we really love and admire.
What was the craziest or most unexpected thing that happened?
Craziest? Probably jumping from two to three gigs a day on about four hours of sleep. You lose your mind a little bit and basically start tripping out. The most unexpected thing was our trailer axle breaking 20 miles outside Austin at an Arby's drive-through on our way home.
What's the biggest lesson you learned after playing SXSW?
SXSW is a great place to meet other bands and see a lot of great music. Playing the shows is not going to break a band's career singlehandedly – it's about doing something unique that attracts others to you. If you aren't making the effort to go see a bunch of shows and meet other musicians in the same position, you're missing what's maybe the most important part of being there.
What's your number one piece of advice for artists applying to SXSW 2015?
What's most important for your EPK is being sure you have a strong, unique identity that is unmistakably you. You don't have to set yourself on fire or pull some Kanye shenanigans – just make great music that couldn't come from anyone else, and craft your identity for your press kit around that. And if you do get selected for SXSW, go see as many shows as you can!
What's on the horizon for Gentlemen Hall?
We've been in the studio for the last four months working on our first label EP, so we're pretty excited to go back outside for once, get a sunburn, take a couple of deep breaths, and share our new songs and sound with the planet.
The final deadline to submit your application for the 2015 SXSW Music Festival is October 10, 2014.