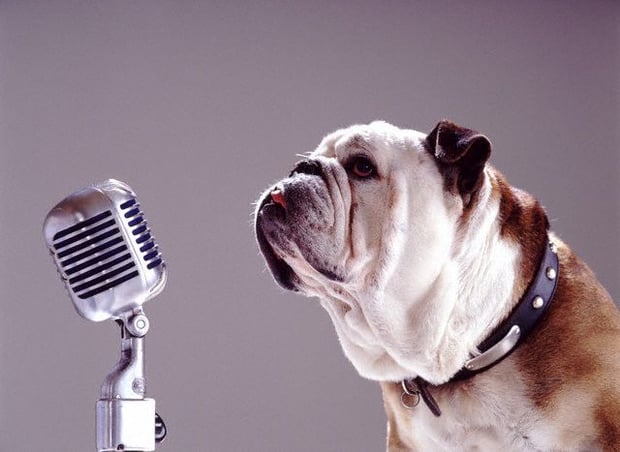 Image via centerblog.com
As a vocalist, having your own microphone to suit your sound and your needs should really be no different than a guitarist having his or her own amp, especially considering you'll probably put your mouth on it. (This ad from Audio-Technica says it best, and as someone who has seen and done a lot of small club sound, this is so much more spot on than you'd ever hope!) That being said, you don't have to spend a fortune to get something that will not only sound great, but last you indefinitely. Here are some budget-conscious options that also happen to be industry standards in their own right.
1. Sennheiser e835

Image via sennheiser.com
Sennheiser is a workhorse in the world of music and a staple in most better-live-sound companies' collections. This mic has a wide, natural sound that remains flatter than most (for better or worse) and natural in any number of settings. With a considerably low impedance in its class, you can expect the signal from this mic to come to you hot and reliable. The e835 has the same high-mid "presence" boost of any typical dynamic vocal mic, in this case lying somewhere around 3 kHz to 4 kHz, but remains very musical and adds excitement without coming off as overhyped.
Sennheiser's live mics (both the 800 and 900 series) very quickly have become the sound of live modern music, and with good reason: they're reliable, rugged, versatile, and they just sound great... pure and simple.
2. Heil PR-20

Image via heilsound.com
Not one of the most commercially known options on the consumer end of audio, but there's a very good reason you see many touring engineers putting Heil mics in front of their acts, especially those playing large and loud stages. With their "utility" version of the PR-20 coming in at $101 street price, this option just makes the cut and should definitely get a look, especially for those playing with high stage volume.
Bob Heil, owner and designer of Heil Sound and unsung pro-audio hero, has employed a number of proprietary designs into these mics that give them almost unbeatable focus and off-axis rejection, especially in the low end, which tends to be a problem with any cardioid mic. There is a sort of "scoop" to the sound of the PR-20, almost as if it has been pre-EQ'd to some extent (again, for better or worse depending on your taste), emphasizing some of the low end more than most and, of course, a strong emphasis on that high "presence" that pretty much every live vocal mic on the market gives you. While this may not be the most common option on the market, you won't be disappointed.
3. Blue enCORE 100

Image via soundhouse.co.jp
This is the newest to the market of all the mics shown here, but by no means any less to be considered. The company, known for their boutique (and sometimes quirky) studio mics, burst on to the live sound scene in 2010 and is still making waves. This entry-level mic into their live offerings is anything but, boasting a proprietary capsule design that offers exceptionally low handling noise while maintaining superb detail in clarity with incredibly hot output.
The sound of the enCORE 100 is similar to the Heil in that it definitely has a "sound." While not as "scooped" as the PR-20, the tonal color of this mic may not be for everyone, but for most music types and voices, you'll probably find it hard to go back to anything else. The unique response of the enCORE 100 tends to support most vocals, keeping them incredibly full, yet remarkably clear, but may be problematic for some more sibilant vocalists.
4. Shure SM58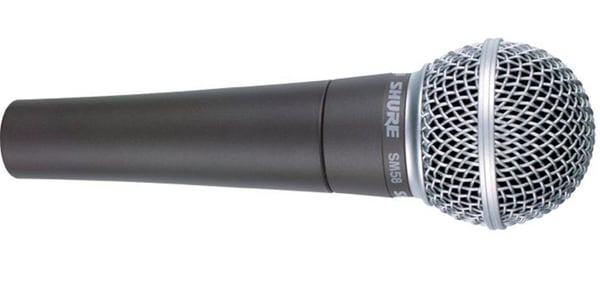 Image via bswusa.com
It would be nearly impossible to write a vocal mic review without including the classic. The iconic mic of live music has remained almost unchanged since its introduction in 1966 and continues to be a testament to the "if it ain't broke, don't fix it" mantra that many take in the music industry.
The SM58 tends to be the standard by which most other dynamic vocal mics are compared, not only for sound, but for durability. Famously, many demos of the SM58 have been given where a presenter will use the mic for giving the presentation, then proceed to drive a nail into a 2x4 using the mic, drop it in water, bury it in dirt, or even drive over it, and then continue giving the presentation as if nothing had happened. While there may be better options for some regarding vocal mics, the SM58 will never be the wrong choice for a vocalist.
For more tips on getting the best sound every time, check out more from our resident "Angry Sound Guy."
Aaron Staniulis is not only a freelance live sound and recording engineer, but also an accomplished musician, singer, and songwriter. He has spent equal time on both sides of the microphone working for and playing alongside everyone from local bar cover bands to major label recording artists, in venues stretching from tens to tens of thousands of people. Having seen both sides at all levels gives him the perfect perspective for shedding light on the "Angry Sound Guy." You can find out more about what he's up to at aaronstaniulis.com.