Most actively touring pianists are aware of the magical sounds that can be produced by the Nord Stage 2 and the Korg SV-1. However, if you don't have extra thousands coolly sitting around in your checking account, the digital keyboards below are fantastic options, and they won't break the bank. We've broken down our selections into categories based on the top two requested features of stage pianos for traveling musicians: weight and realistic sounds.
Best light keyboards for easy transit
JUNO-Di Synthesizer Keyboard by Roland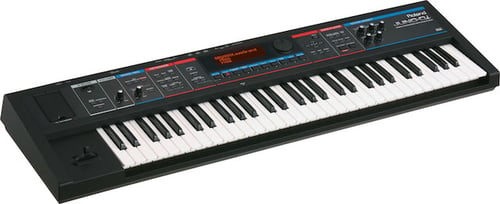 Image via Roland
This 64-key synth is a dream for musicians on the road. Just under 12 pounds, it can run up to five hours on batteries alone, it has all the standard input and output jacks, and over 1,000 onboard sounds that can create killer performances. We love the built-in mic integration that allows you to sing into a programmable vocoder to get those funky Daft Punk effects. At this price range, the booming bass tones and modern synth sounds are unbeatable, although the Rhodes emulation is slightly lacking in realism. Overall, it feels great to play, and it's a no-hassle, wallet-friendly option.
Price: $699
SP-280 by Korg
Yes, it's no SV-1, but it's still a realistic-sounding, highly responsive weighted keyboard that gives you the flexibility of 88 keys, as well as weighing in less than 40 pounds including the stand. This piano showcases Korg's masterful use of velocity curves by giving you an extended dynamic range from pianissimo to triple forté. This is a great option for singer/songwriters who use piano as their main supporting instrument, as it has a slightly darker tone than most stage pianos in its class. We'd like more onboard effects and customizable control parameters to enhance the sound in real time, but this piano will take you far.
Price: $699
ES100 by Kawai
Image via worshipmusicgear.com
This full stage piano perfectly transitions into our next category of best-sounding pianos, as well as being just over 30 pounds. Kawai's harmonic imaging sound sampling technology creates beautiful tones, especially apparent in this keyboard. With 192-note polyphony, even classical players won't find phrases being cut off. The advanced hammer action feels wonderful, and the physical outputs produce a full and relatively uncolored piano tone in comparison to other budget keyboards. Although we wish there were more onboard controls (like pitch bend or EQ knobs), this simplistic option is as close to a digital version of an upright as you can get.
Price: $799
Most realistic onboard piano sounds
PX-160 by Casio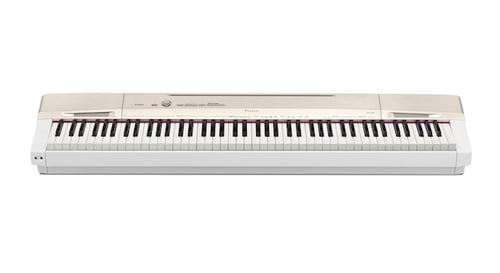 Image via casio-europe.com
We were highly impressed with the piano tones that came out of Casio's recent upgrade to the prior Privia 150. The PX-160's tri-sensor, scaled-hammer action touch, paired with its synthetic ebony- and ivory-brushed keys not only make this piano feel realistic, but sound even better. Being on the road is all about achieving a no-fuss setup, and out of the box, this piano sounds great. If your band is all about the onstage aesthetic, the champagne gold and cream color variation will be sure to turn heads. While there's no fancy editing customizability, and you don't find soulful synth tones, if you're using a VST plugin, this piano will definitely suit your needs.
Price: Get a complete bundle including a stand, pedal, and carrying case for $589.99.
[Top 5 Plugins to Get Amazingly Realistic Piano Sounds]
GW8 by Roland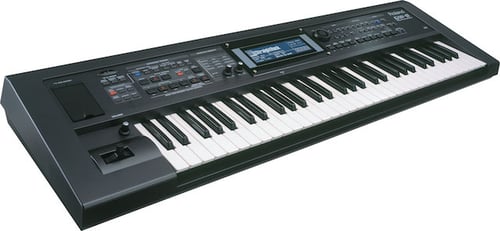 Image via rolandus.com
In terms of customization, this piano is the exact opposite of the PX-160. If you're an electronic artist or you're interested in experimentation and sound design, this is your synthesizer. There's an interactive 16-track sequencer for creating interactive live performances, a SUB memory player to enhance your onstage sounds, and a rich, expressive sound. There a hundreds of onboard presets, and most of them could easily be used in performances with minimal adaptations. We love the intelligent backing styles with widely varying genres, complete with patterns and progressions that you can sculpt live arrangements around. The 13-pound, 61-key digital workstation not only feels great, but also sounds convincing, especially in creating contemporary and ethnically inspired music.
Price: $999
DGX650 by Yamaha

Image via andyowingsmusic.com
We can't get enough of the sounds that come out of this stage piano. It boasts Yamaha's acclaimed PureCFIIIS piano samples, delivering the most realistic reproduction of the nine-foot concert grand you'll find in this price range. The damper resonance engineering digitally reproduces the interaction between strings in acoustic pianos, so you'll be swept away by a wash of sympathetic harmonics and sparkling overtones. If you're just looking for a killer digital piano sound for your arrangements, look no further.
Price: $799
Caleb Hsu is an independent vocal producer and freelance recording engineer based in Los Angeles. As a classically trained pianist and composer, he enjoys writing music technology features that combine his psychology background with current industry trends.