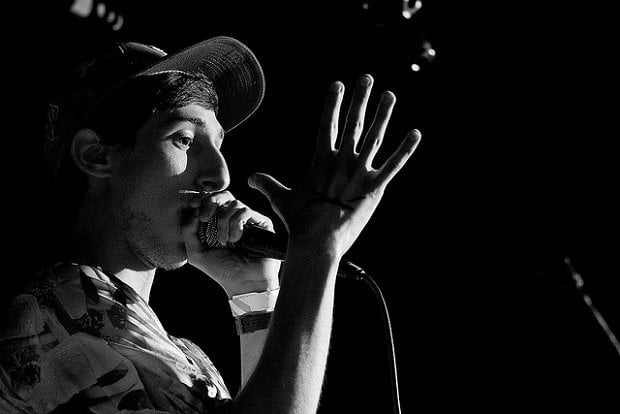 Michael Myerz. (Image via michaelmyerz.bandcamp.com)
While most artists would like to make a little money off their recordings to keep their tour van on the road or to fund their next release, many new acts are using Bandcamp to distribute their demos or studio recordings via the "name your price" option. Since April 2009, fans have had the option to literally name any price, donating as they see fit, or in most cases, having free, legal downloads for their listening pleasure. Others set a price for individual tracks, often $2 or less, or for entire albums, normally with a minimum price in the $8 to $12 range. That's usually less than CD or vinyl copies and is a viable option for listeners only wanting to upload the tracks to their phone or MP3 player. But is it smarter to set your own price, or let the fans dictate what your music's worth? Read on.
Building an audience from the ground up
Unless your earliest sets of recordings required expensive studio time, many upstart DIY acts could gain more than they lose by offering donation-based downloads. If you haven't played live extensively enough to build an audience or don't have the pedigree of a musician who's played with established acts, even fervent supporters of your city or region's music scenes might hesitate to invest financially in your music. If free music of yours starts finding its way onto iPods and college radio playlists, however, then those same fans might consider paying to see your band or owning copies of your songs.
Atlanta rapper Michael Myerz has released numerous albums digitally since 2011. Through quirky lyrics that underground rap supporters and Dungeons and Dragons and horror film enthusiasts can get behind, Myerz has slowly but surely built an audience. "I had made all of my albums 'name your price' and got donations here and there," says Myerz. "Then, I made my last album $8 for 10 songs and got $250 plus."
How did Myerz go from practically giving away his work to selling digital copies of a self-released recording that got little to no internet hype? "I would say that playing shows and building a connection helped when it came down to making my fans pay," he adds. "Free music first, in my opinion." Basically, once potential supporters can see the fruits of your labors via live shows and recordings, they'll be more willing to invest in your work.
Freebies for loyal fans
Even established acts with no trouble selling digital files should consider "name your price" in certain situations. Unless a box set or official bootleg with unreleased live tracks, demos, or instrumental versions is part of your long-term goals, these types of tracks could be added to Bandcamp for a free download as a way to reward fans who have already paid for the official studio version of these tracks. Established garage-punk duo White Mystery sells digital versions of their self-released albums on Bandcamp and offers instrumental versions of these releases via the "name your price" option.
"'Name your price' is to give fans the option to pay or get White Mystery music for free," says guitarist and singer Alex White. "One time, someone tipped us!" If you've built an audience through touring and physical releases, most people that will download free non-album tracks have probably supported your music financially already.
Pre-selling digital singles
One trend you may notice on Bandcamp is albums posted for pre-sale often include a song or two available in advance. Usually, these songs have already gotten press as a digital single, available to download or stream on popular music blogs or websites. If the song is already available for free elsewhere, then it makes sense to offer it for free on Bandcamp. If it's only streaming, meaning no high-quality versions should legally be available as downloads just yet, then selling those same tracks in advance is advisable.
For example, the title track from Hardly Art band Chastity Belt's next album, Time to Go Home, out March 25, has been previewed by websites and blogs for well over a month. Since the song is already available online and is downloadable instantly for anyone who pre-orders the album, it can be purchased now for $1 on Bandcamp. For bands without label support, choosing songs to share or sell in advance can be your own way of hand-picking which tracks are used by the press to promote your next full-length.
Though Michael Myerz's and White Mystery's testimonials have their donations falling short of Bandcamp's claim that 40 percent of "name your price" downloaders pay for the music, both are examples of why "name your price" is a viable option for new and established acts. For Myerz, the distinct possibility that listeners will use this service without donating was canceled out by the chance that tracks downloaded for free will create new fans. For established touring band White Mystery, non-album freebies can lead to the occasional "tip." Whether you're planning toward future album sales, or connecting with fans, letting fans pick their price, if they spend at all, has its benefits.
Bobby Moore is a freelance writer and historian with an M.A. in public history (University of West Georgia, 2011). He's got a Dead Milkmen tattoo on his chest, and his three-year-old calico is named after the band Tacocat, so he's pretty shameless about his music fandom.