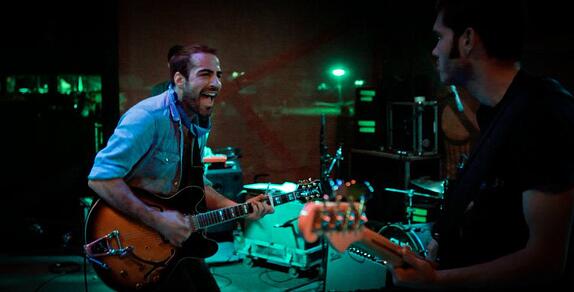 After spending 4 nights down on the farm in Manchester, Tennessee for Bonnaroo 2012 there was plenty to write home about-- Radiohead's mesmerizing set on Saturday, the return of D'Angelo as part of Questlove's Superjam, and Kenny Rogers performing with Phish just to name a few. But what about the emerging bands that make up the majority of the Bonnaroo lineup? Read on below for the scoop on 6 of the 11 bands that Sonicbids helped to get to Bonnaroo this year and click here to see what other Sonicbids members also performed at Bonnaroo 2012.

Sister Sparrow & The Dirty Birds

If you don't know this Brooklyn 9-piece we can guarantee that you will be getting to know them quite well in the coming months. With a style that the band themselves describes as, "Loud, sweaty, highly energetic Soul-Rock," it's difficult not to get up and dance when watching them perform live. Made up of brother-sister duo Arleigh and Jackson Kincheloe, their cousin Bram and 6 other members who, "Came from the fruitful mess that is the musical community of New York," the band electrified the stages of Bonnaroo with a sound that was infectious, soulful, and downright danceable. Drawing influence from groups like The Band (the group previously played at one of Levon Helm's famous Rambles and were scheduled to open for Levon the day after his passing) as well as classic soul music, the band delivers a dynamic live show that is invigorating and inspiring. Where can you catch the band next? How about the inaugural

CBGB Festival

in New York, a gig that has made the band, "So grateful to be a part of the celebration of [CBGB's] legacy and hopefully the festival will serve as a way to galvanize a new music community in the spirit of what CBGB represented in its heyday."





Matt Sucich- With a penchant for telling a great story through song and a DIY mindset, singer-songwriter Matt Sucich played two intimate sets, giving a nice change of pace from the hustle and bustle of the Bonnaroo main stages. Sucich said of his Roo performances that, "I always told myself I wouldn't go to Bonnaroo unless I was performing, and it happened. Certainly a milestone in my career, and I'll never forget those performances." Sucich also provided some tips for other Sonicbids artists who are taking the DIY approach to their music, "For a long time, I was sitting around expecting offers to come to me, but I wasn't putting myself out there NEARLY enough. Less than 2 years ago, I found my confidence as an artist and I really started hustling... it continues to pay off. Make sure you're confident in yourself. Otherwise it shows, and if you think you're putting yourself out enough, you're probably not. Be friendly, genuine, and constantly network."

Sucich will be releasing his next album, Layers, in the fall, but if you can't wait that long then head over to his website for 2 new songs available for free download.



Rollin' In The Hay- For bluegrass veterans and Sonicbids Road to Roo winners Rollin' In The Hay, their Bonnaroo 2012 performance was a long time coming. Frontman and band leader Rick Carter started playing music for a living in 1965 and was very thankful to the fans who landed his band a gig like Bonnaroo, "We were lucky enough to be one of the Sonicbids Road to Roo winners with many thanks to our Facebook fans from across the country. We are very savvy at the social media thing and Rollin' In The Hay is kind of like Widespread Panic and the Grateful Dead, in that our fans are very rabid. When they mobilize and get motivated on something they come through in a pinch and they've done that quite well to bring us here this year." When asked what the Hay faithful should expect from the band's Bonnaroo performance, Carter only needed one word-- "Happiness."



The Main Squeeze- For Bloomington, IN funk group The Main Squeeze, playing Bonnaroo was a dream come true. Keyboard player Ben Silverstein had previously attended Bonnaroo as a fan when, "All I could think about was what it would be like to play." The band was followed to Bonnaroo by a contingent of "B-Town" fans who Silverstein thanked for providing, "Awesome energy even though it was the first set of the day for everyone." Much like Jansport Battle of the Bands winner Hotfox, The Main Squeeze attribtuted much of their success to the burgeoning music scene in Bloomington, "The support that we get from Bloomington is crazy. We came from nothing, doing shows to 20 or 30 people and now we're able to put on a show like this at Bonnaroo." To hear more from The Main Squeeze you can stream and purchase their self-titled debut album.

Water Knot- Brooklyn-based Water Knot was our second Road to Roo winner and like Rollin' In The Hay, they made the most of their time down on the Farm. Before their performance at the Great Taste Lounge on Thursday I asked the band what it was like to be selected from the top vote-getters in the Road to Roo competition. "We are really grateful for the opportunity from Sonicbids and from our fans," said lead singer Louis Sawyer. Following their Bonnaroo performance the band will be hard at work on new music, most notably a music video for the song "Ready." When asked what to expect from the video Sawyer replied, "It's going to get dirty and messy." Click here for a sneak peek from the band's Facebook page.



Cosmic Suckerpunch- The Los Angeles based quartet brought their own brand of rock 'n roll swagger to Bonnaroo 2012. With stage presence and confidence that is typically indicative of seasoned Bonnaroo veterans, these festival first-timers put together a raucous set at the Great Taste Lounge. When asked after their Bonnaroo set what festivals were next on the band's radar, lead singer Ari Welkom responded with a confidence similar to their on-stage demeanor, "All of them."