Illinois-based indie folk band Rebecca Rego & The Trainmen was one of 24 bands selected to perform at one of our "Sonicbids Presents" showcases during the 26th International Folk Alliance Conference in Kansas City, Missouri, last weekend. To give you a true inside look at the experience, the band sent in a daily diary chronicling their whirlwind four-day journey of panels, showcases, connecting with industry people, and meeting both old and new friends.

DAY 1
We went west out of Champaign toward St. Louis, nervous and unsure of what we were headed toward. The landscape: small hills and bluffs. We entered into Missouri through Hannibal, the hometown of Mark Twain. What better way to pay homage to a storytelling tradition before we enter into this world of folk?
We arrived at The Westin in Kansas City at 2 PM, the lobby already a flutter of activity. Everywhere people were carrying instruments, loading equipment, and navigating the convention. I headed straight for the escalator and ran right into my friend Heather Styka, a singer/songwriter who has been coming to the conference for nearly a decade. She's been telling me for years how amazing this event is and that I should attend.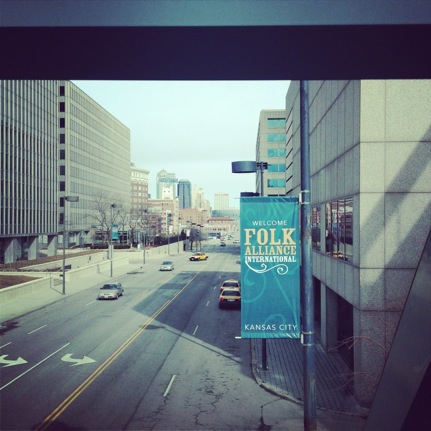 When I got there, I instantly realized that the scope of the Folk Alliance Conference is pretty overwhelming, so it's critical to organize in the week before. My husband John had fortunately designed a whole schedule for us, which turned out to be an amazing resource.
After I got my badge, we headed to the first timer orientation, which I strongly recommend to everyone who attends the conference. DO NOT SKIP THIS. It provided a great introduction for the sprawling and complex series of panels, workshops, and showcases that make up the Folk Alliance Conference. It explained what venues and media might be looking for, what to expect from people who are coming to see your showcases, and how to approach people who could have a big effect on your career.
The rest of the day flew by. We attended the opening reception, bounced around to a few showcases, and started making friends with other musicians from all over. We watched an open jam with fiddles, mandolins, and guitars that was amazing, and eventually retreated upstairs for our first showcase. We played in the Lilfest Room and also the First Timers Room – both intimate, acoustic settings designed for a smaller crowd. The day was long, and by 2 AM (which we soon found out is early for Folk Alliance) we were exhausted and ready for bed.
DAY 2
I was up early and couldn't wait to get downstairs to get my day started. After a quick breakfast, I attended some early panels: a workshop on website design, a super interesting panel on the legacy of Josh White (look him up!), and a panel about how to get radio airplay. All three of these events were well organized and completely worthwhile.
While walking from the Sheraton to the Westin, I ran into Melissa Carper (who plays bass in The Carper Family from Austin, Texas), which was great. We met last summer on tour and played a gig together in Asbury Park, New Jersey. We had followed their progress since we played together, so it was so good to see Melissa and her band again.
The day soon got really busy as the conference started waking up mid-morning. Lots of people were in the conference hall to hear keynote speaker Graham Nash at 11 AM. In the afternoon, we took in the breadth of the conference, making friends and connections with musicians and industry professionals in the informal atmosphere of the conference center's lobby and hallways. I was astonished at how open everyone was – it was really great to talk about music with people from literally all over the globe. We met musicians from Canada as well as the South, Northeast, and fellow Midwesterners (shout out to Kaley Bird, Flyin' A's, and Monocle Band – check these people out!). Folk Alliance provides a comfortable environment for people to really connect.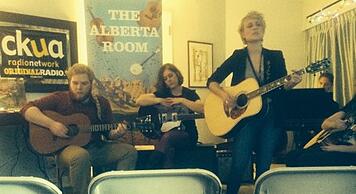 In the late afternoon, the music started again. We prepared for our performances later that evening and discussed which showcases we wanted to see. We had to make some hard choices amongst musicians we had met throughout the day and a number of bands we had been hearing about.
DAY 3

Day 3 felt like we were surrounded by old friends. We stopped and talked to musicians we passed in the hall to catch up on what everyone had seen and done. In the morning I attend the FARM (Folk Alliance Regional Midwest) meeting to find out more about what they are planning for their conference this coming fall. I also attended a panel about using humor in your set, which was super informative and gave me some really good tips about organizing your shows and engaging the audience. This is another panel that I would highly recommend.
In the afternoon, I headed to the lobby for a coffee and to do some writing. People were playing instruments everywhere. A group of guys were huddled together playing exotic, ancient string instruments that I had never seen before.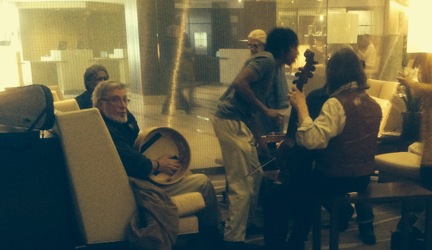 I ran into my friend Diana Lawrence who we've done shows with in the past. It was so great because we would probably never have time to chat this much at home, but with some downtime in the afternoon, I got to talk with her and a new friend, Joel, who takes the stage as Poor Nameless Boy. Joel said that what he really likes about the conference – that I have started to agree with – is that there's an overall sense that if we all work at this together, we can all win. Yes, you feel competitive with other bands, but we can work together. People want to see all types of music, and they want to see a lot of it.
That night we had our showcase in the Sonicbids Room. Eric was our host, and he was so friendly when we arrived. We play at 11:15 PM, and our friend Dominique of the California Feetwarmers showed up to play drums with us on "Bury My Body," a song on our new album Tolono.
After we performed, Darlingside and Heather Maloney took the stage, East Coast musicians who completely blew us away. We jumped from room to room trying to see our friends' performances, and we ended the night back in the Sonicbids Room at around 4 AM to hear the Canadian band 100-mile house. It was a perfect way to end our last night at Folk Alliance.
DAY 4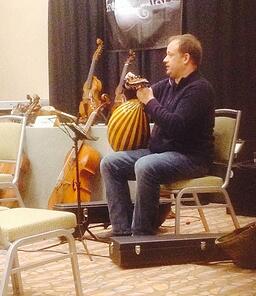 Because of our long night, our day started a little later. We did make it to a few panels in the morning though – one on the ancient instruments that we had seen the day before in the lobby, and another called "Why Won't You Book Me?" That panel had some great advice about how to approach venues for shows, something I think we could all use ideas about.
We had to leave early on Saturday to get back to Champaign. We packed up our stuff around 2 PM and headed out of Kansas City, saying goodbye to the amazing week.
Overall, I really couldn't believe what an incredible time we had. I walked into the conference not really sure what to expect exactly, but came away feeling like making the trip and taking the four days to devote to this was completely worth it. All three of us really learned a lot, connected with musicians and industry people who we would have never met otherwise, and found venues we had never even heard of. I really have to say I would recommend all folk musicians attend Folk Alliance at least once. This conference has given me a fresh perspective and has energized us for the year to come.
If you'd like to learn more about Folk Alliance and upcoming events, visit www.folkalliance.org.