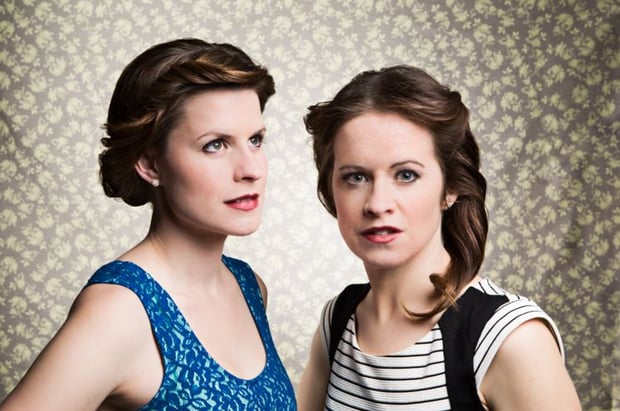 Image via sonicbids.com
Austin, TX, is widely considered to be the live music capital of the country. So what motivated folky sister duo the Hello Strangers to move from Austin back home to the small rural town of Mercersburg, PA?
Most bands are planning to leave their small town for a music city like Austin, but it was actually homesickness that took the Hello Strangers away from the live music mecca. Through a contest-won record contract with IMI Records, they found their identity in their small hometown and honed their music exponentially. We had a chance to catch up with them to learn just what it was about being in a smaller music scene that helped them find their identity and grow their audience.
With your band taking off in Austin, TX, what inspired your move to the small, much less music-centric city of Mercersburg, PA?
We grew up in Mercersburg, which is a two-stoplight town with a very small surrounding local music scene. Indeed, it was an unexpected move for musicians living in the live music capital of Austin, TX. The initial reason was simple: we were homesick. However, once we moved home and subsequently formed a full band, we realized in many ways it was easier to find our own identity as musicians outside of the larger pool of musicians in Austin. All our major successes have happened since we moved to a rural area, believe it or not.
What are the differences between Austin and Mercersburg? Have you had more difficulty finding gigs?
Austin has a lot going on right within its vicinity, and to some extent just beyond the city limits in places like New Braunfels, San Marcos, etc. But other than that, you are essentially landlocked in the big old state of Texas. As much as we love and miss it down there, Mercersburg is within a few hours of several major US cities: Washington, D.C., Baltimore, MD, Philadelphia, and New York City, to name a few. We actually have access to more venues up here and are able to play many different markets, oftentimes without having an overnight stay and extra expenses. Mercersburg is ideal in many ways because of that.
One thing we often miss, however, is a more tightly knit and accessible community of musicians. We don't have the enclaves of creative types or meeting places at which to meet up with them in our rural area. So we have to do our best to network via social media with people we meet on the road. We also have an amazing studio, owned by our guitarist, that has become somewhat of a communal space for us in our local area at which to host parties and small performances where we can invite supporters and other musicians. You have to create your own scene up here, which we like very much.
What do you miss most about being a working musician in Austin?
We really miss the rich scene down there, which is always inspiring, enriching, and changing. However, we go down there to play every few years, and get to reconnect with our friends while we're there, as well as the scene. So we don't feel like we've completely left it for good. There will always be a part of us in Austin.
You recently put out your first LP on IMI Records – congratulations! Your relationship with them began when you won a contest hosted by AirPlay Direct. How did that come about, and how has it impacted your career so far?
Thank you! The contest with Airplay Direct and IMI was one of the biggest things to happen to us in our careers so far. It was thanks to the internet that we had access to such an opportunity while living in a rural area.
Winning the contest has expanded the scope of what we've been able to do outside of our regional area, beyond the successes we had already had on our own at a more grassroots level. We have expanded our touring and networking; have played well-known clubs such as the Bluebird Cafe and the famous WSM Radio in Nashville; have played with well-known musicians (such as Robert Earl Keen); have gotten great press (Rolling Stone, CMT Edge, Billboard); and have been played on the radio all over the world, including satellite (Outlaw Country, The Village). The contest, and the generosity of IMI and Airplay Direct, kickstarted our careers beyond our imaginations. Now even more, we are able to confidently expand our careers on a daily basis from the comfort of our homes and be with our families, while continuing to tour and expand in that way, all because of the internet.
If you could give one piece of advice to an independent musician preparing to make a move to further his or her music career, what would it be?
Don't assume that there is one perfect model to having a successful career as a musician. Sometimes doing things that serve your personal situation and heart, and possibly going about things in the opposite way from everyone else (such as moving away from a big music hub), work out for the best. If you use your gut instincts, don't let fear or comparisons to others influence your decisions, and stick to your vision, you will have success in the way that is important to you.