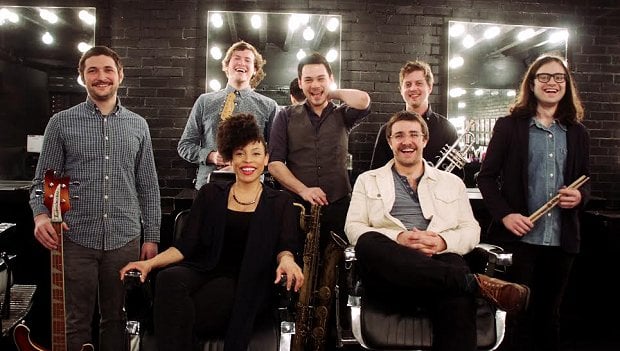 Great Caesar. (Photo by John Pizzolo)
Wondering what it's really like to experience SXSW for the first time? We asked three Sonicbids bands to share their journey with us in what we've dubbed "The SXSW Diaries." In this installment, follow along with John-Michael Parker of Great Caesar's firsthand, no-holds-barred account of the festival, and relive his crazy stories and lessons learned from SXSW 2015!
This is John-Michael Parker, frontman of NYC indie rock band, Great Caesar, excited to share our SXSW experience with y'all! For a bit of context, our band has been playing together for over a decade. We started this group back in ninth grade and stuck together through high school, college, a move to NYC, and a few years of working other jobs (from education to restaurants) before deciding to go "all-in" a few months ago. We knew that playing SXSW would be a big part of the first phase of our career and were thrilled to find out a few months ago that we got accepted and would be playing an official showcase.
Prepping for SXSW
We immediately got to work trying to find as many shows as possible during the festival, figuring that as much exposure as we could manage would be our best bet. We sent emails to our friends at tech companies (to jump on interactive parties), folks who were living or had lived in Austin, bands that had been accepted, and any music company we thought would be in town. For a while, it was tough to get anything scheduled, as we were a bit too late to get on the bigger shows that had been in the works for a while, and too soon to start picking up last-minute opportunities.
But by the time March rolled around, we found ourselves looking at 15 shows in Austin between Friday, March 13 (kicking off at the Facebook office, booked through a friend who used to work there) and Saturday, March 20 (closing at Strange Brew, booked through a friend who knows the amazing owners over there). We'd just finished writing a bunch of new music and working with our creative director, Mikhael Tara Garver, on crafting the experience for fans to "join the Great Caesar journey" throughout SXSW. So on Tuesday, March 10, we packed up our amazing set installation (shout-out to Jay Duckworth and Katie Fleming for bringing it to life), drums, five guitars, bass, amps, pedals, trumpet, saxophone, and luggage into our newly purchased tour van (a '99 Ford E350) and headed south.
In Knoxville, TN, we stayed with the aunt and uncle of our bass player, Adam Glaser. We made a stop in Nashville on the way down to eat at one of our favorite restaurants in the world, Hattie B's Hot Chicken, and were lucky to spend our first night on the road in a beautiful house with a beautiful dog, eating what would surely be our last home-cooked meal for a long time.
Great expectations
So, what were my expectations? What was I excited about? What was I nervous about? Well, the next big career move for Great Caesar is finding an awesome manager who will then help bring on an agent and, we hope, the perfect label. We have a lawyer we love (Kevin Eskowitz in LA) and are in an admin deal with BMG, so we've been introduced to a bunch of folks already. My hope for our time at SXSW was to build up as much buzz as we could for our band and get as many managers and agents out to the shows as possible. We were ready to perform better than we ever have before, and to have the opportunity to play for new folks every day! With 15 shows on the docket arriving at SXSW, I was nervous about everyone holding up, especially my voice and our other singer Niki's voice, but we planned to be smart and take care of ourselves; this certainly wasn't the first time Great Caesar played a lot of high-energy shows in a short amount of time.
I was at SXSW last year for the education conference and ended up sticking around the whole festival. It was during that week that I actually learned a bit about the music industry and how it all works for an indie band (knowledge gleaned from going to panels diligently) and saw some some amazing and inspiring artists and made up my mind that next year, Great Caesar would make a splash at SXSW. It was wild to finally be on our way, and I was so excited to get to Austin and get to work.
First reactions
First things first, a lesson learned: take care of yourself! It's a bit of a different mindset to be at SXSW and really be working, but as an indie band hustling to make things happen, that's how you've got to treat it. This concept showed up, first and foremost, in our housing. A few months back when we were figuring out accommodations, we thought we'd save a bit of money and all squeeze into a friend's apartment over on E. Sixth. Without getting into too many details, we rolled into Austin to find that we had to get nine people into a one-bedroom apartment. Oi. Everyone has different needs for their accommodations, of course, and while some folks are totally fine sleeping on the floor or two to a bed (and six to a room), I learned for myself and my voice that I need to get a full night's sleep in a well-ventilated room. I feel like a diva saying it, but as a singer, it's the truth. My body just needs it. One of our dudes had a cold coming into this, and by the time we arrived, everyone had it. With us all on top of one another and sharing one bathroom, housing was… tricky. All to say, I suppose, know yourself and what you need, and do everything you can to get the right accommodations (within your budget, of course).
Showtime!
On the bright side, though, the shows were amazing! Facebook was a ton of fun, and then we played a very cool foundation party that night. On Saturday, we played at Parish for a two-hour acoustic set (which seemed daunting at first but ended up being super fun), and on Sunday, after an early morning Daybreaker, we played the General Assembly and Salesforce Off The Grid party, and it was one of the best we've ever played. Big shout-out to Matt Brimer, a college friend and co-founder of GA, who's had us play so many shows over the years and for going over the top on this no-cell-phones, packed-room experience. Mikhael led an amazing light show and stage setup, and we could just feel the room coming along with us. Magical.
We were meant to play a RedGorilla show, but learned that the SXSW folks don't look too kindly on their bands playing the Red Gorilla fest because it's a conflict of interest down here in Austin. Heads up to bands booking in the future: if the official SXSW team finds out about a RedGorilla show, or any unofficial show during music from 7:00 p.m. to 2:00 a.m., they'll make you drop it. Their prerogative, for sure, so just a heads up to be smart about booking stuff around your official showcase, and knowing what you can and can't get away with.
We also played the somewhat infamous McDonald's showcase, which ended up being awesome. Great big stage and lovely hospitality, and they ended up taking care of their bands, which was very much appreciated.
Viral matchbooking
So, over the course of the festival, we handed out these matchbooks at each show:
Hey #SXSW! Did you know you can TEXT us anytime @ 646-846-9445? We'll send updates, presents and secret shows. Do it! pic.twitter.com/ycoLYjH6nI

— Great Caesar (@greatcaesarband) March 18, 2015
They invited people to text a keyword to a certain number to stay up-to-date on all we had going on in Austin, plus get behind-the-scenes videos and downloads and invites to special shows and opportunities. Shout-out to Will Pickens for building this thing and to Mikhael for helping manage it. The response was awesome. Midway through the fest, we already had over 50 folks in our system and shared a free download to our new single as well as a bootleg from the Sunday night show.
As our show schedule progressed, I was excited to start getting some of the music industry folks out to a few shows as they started to arrive in town, and I looked forward to getting a minute of rest to find my voice. Throat Coat, honey and lemon, apple cider vinegar, and endless lozenges did a good job building me up, but it seems that there's no substitute for a good night's rest. SXSW was busy, but that's why we were there, to share our music with as many people as we could.
Rocking an official showcase
Our performance at Esther's Follies was, very likely, the best show we've ever played. And I don't say that lightly. In fact, like most musicians (I'm sure), I'm usually super critical about our set, and I get all wrapped up in one thing or another. But for our official SXSW showcase, everything went right – even if it didn't start that way. The gal before us wasn't able to get her band over to the States, so she ended up calling random guitar players from the crowd onto the stage to perform a tune with her. Respect for making the most of the situation, but it wasn't exactly the dream opener. After about 25 minutes, she ended her set early, and the room was nearly empty.
This was show number 12 for us, and we'd played some amazing sets in just the previous few days (highlights were Applauze House Party with Rubblebucket and a secret show we threw ourselves for our text followers at Firehouse Bar), so we tried not to worry too much and said we'd get out there and play our hardest. But it was our official show, the only real connection to the actual festival of the entire week, and so we wanted it to be awesome.
We came out swinging, and by three songs into the set, the room started to fill up. People were coming in from the street (very lucky that the show was on Sixth and Red River at 11:00 p.m. on Friday), folks were texting friends to come and join, and with Mikhael rocking it on the lights and the band plugging away, everything just sort of fell into place and took off. By the end of the set, when we went into the crowd for our closer, "Hey Jolene," the crowd was so in it, and we got everyone singing along, arms around one another, shouting our refrain at the top of their lungs, "Baby, we're leaving Ohio!" Twenty minutes after we ended, we celebrated Niki's birthday, and everyone looked at each other knowing we just did the thing we'd set out to do: play a sick show at SXSW.
After the show, my voice was all but nonexistent, and we had two sets the next day, first over at Home Slice Pizza and then at Strange Brew, both south of the river. But everyone was so high off the night before that I knew we'd power through. The two shows on Saturday rocked, and we ended up squeezing one more in Austin over at the WeWork Austin Opening Party (shout-out to those folks for having us play so many events over the years).
The week continued to be busy, and we hardly had the chance to see any other bands. Big shout-out to our saxophone player, Stephen Chen, who also plays in San Fermin and had 25 shows that week (no joke). He played every show with his whole heart and soul, and I'm so impressed and proud. For me, the first thing I did after our last set was go back and take a nap. It was very much needed. On Sunday we took a beautiful hike through Barton Creek, and on Monday we filled up on our final round of tacos and BBQ (you need to go to Torchy's Tacos while you're in Austin and ask for the secret menu), and hopped back in the van for the 20-hour drive to the West Coast.
Final reflections
What to say? Was SXSW everything we expected? You know, I think it was! I suppose we were a bit busier than I'd expected, and we didn't get to go to a single panel or really see too many other bands, but like I said earlier, we came to play a bunch of damn shows, and that's exactly what we did. By the end of the week we had over 100 people in our texting platform "joining the GC journey," and it was a dream to have folks sing along to songs they'd been learning at sets from day to day. We met some amazing new fans and some exciting new industry connections, and the band is so proud and pumped for what's next.
A lot of people have told us, "SXSW isn't what it used to be," which is a thing that I'm sure gets said about every festival or conference that's been around for a long time. What I think they mean is that there was a time when indie bands like us came to SXSW and "got discovered" by some amazing A&R person from some dreamy label and left Austin with the deal of their lives. I've heard people say that it's no longer about the indie bands, but the big acts and the brands and the marketing, and maybe there's some truth to that. But I think what we learned is that SXSW was, in the end, an experience for us, for Great Caesar. And in that light, it was a unanimous success.
I wrote earlier that our band has been going at this full-time for about six months now, and we'd long seen SXSW as an important early milestone on our journey. There's a credibility that comes with having played this festival, and there's a momentum that comes with you out of Austin. In the four weeks prior, we'd bought our first van, driven halfway across the country, played 17 shows (by final count), and reinforced, day in and day out, why we're doing this. We're in an indie band because we love to make music that people can experience with us, because we want people to go somewhere through our tunes (the word our trumpet player, Tom Sikes, like to use is "transportative," coined himself), because we want to play shows and sing at the top of our lungs and sweat through our shirts and get caught up in the magic of what happens when people come together to play and hear music.
SXSW helped us prove to ourselves what we love doing more than anything else, and that, by some early signs, we're not too bad at it. So we left Austin pumped up to play some big shows in LA and San Francisco, and then to drive back across the country and get to work on our record. There's no doubt in my mind that we'll be back next year, and maybe we'll be able to work our way onto the Spotify stage or the Fader Fort, and maybe we'll splurge and get ourselves two whole rooms to live in while we're in Austin (shout-out to Dan for hosting us this whole time). Who knows? What I'm certain of, though, is that SXSW was the greatest 10 days this indie band has ever had, and we're grateful for every person we met and all the folks who made it possible.
I hope this diary was helpful, and if there's anything I can offer to your band when you're gearing up for this festival next year, please don't hesitate to head over to our website and find our email and shoot me a note. We learned a lot, and I'd love to support any band looking to make their first SXSW a powerful experience. Good luck, y'all, and hope to see you at a show soon!
Great Caesar aims for the heart with a blend of horns and male and female vocals, drawing from acts like Arcade Fire and Dirty Projectors to create music that confronts the things that really matter: love, legacy, and the complexity of human relationships. Their debut video, "Don't Ask Me Why," funded by a $50,000 Kickstarter campaign, has gained more than 270,000 views. In 2014, Great Caesar performed at TEDxHollywood, sold out shows on both coasts, and released an EP, all of which earned them a feature in Relix Magazine's On The Verge. The band just finished a run of 17 shows at SXSW, and is currently working on their first full-length album, to be released this year.