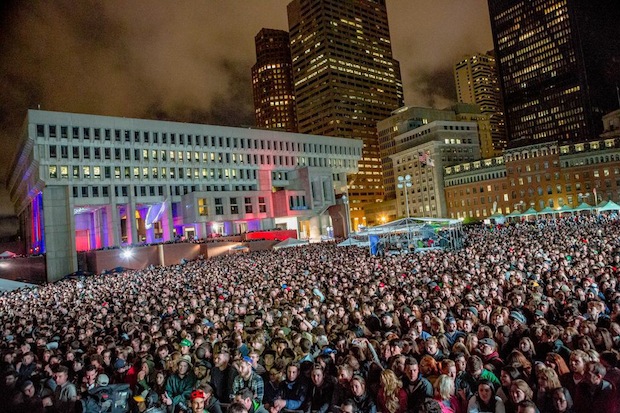 Boston Calling, May 2014. Photo by Mike Diskin.
Trying to find gigs for your band? We've got lots of Sonicbids promoters who want you to perform! Check out our top opportunities this week, and then submit your EPK to anything that sounds like a good fit for you.
Boston Calling Music Festival
Boston Calling Music Festival is reserving one slot for a Sonicbids artist to perform during the September 2014 event at City Hall Plaza. Boston Calling is a three-day, two-stage festival featuring some of the biggest and best acts in live music, with this fall's headliners including Lorde, The National, The Replacements, Nas x The Roots, Neutral Milk Hotel, Spoon, Childish Gambino, and more.

Application fee: $10 | Deadline: August 7, 2014


Road to Indie Week: Halifax 2014
Indie Week is taking over the East Coast with the Road to Indie Week in Halifax, offering artists a chance to showcase their talent at local venue The Seahorse Tavern. Not only are bands competing for $1,000 and serious bragging rights, but they'll also be considered to showcase in Toronto for Indie Week's 11th anniversary festival this October.
Application fee: $35 | Deadline: August 8, 2014

John Lennon Songwriting Contest Presents: Live @ Roots N Blues N BBQ
The John Lennon Songwriting Contest and Roots N Blues N BBQ Festival have teamed up to offer a performance slot for one lucky Sonicbids artist at this year's festival, sharing the bill with acts such as The Avett Brothers, Amos Lee, and Trampled By Turtles. To sweeten the deal, all submissions will automatically be entered in JLSC Session II and be considered for over $300,000 in cash and prizes!
Application fee: $30 | Deadline: August 11, 2014


Licensing: Healthy Breakfast Cereal Campaign
Pulse Records is seeking music from one Sonicbids artist for a national web-based cereal ad campaign. The spot will be featured across all major digital platforms, including tablet and mobile, for up to 12 months. The selected artist will receive $8,500 in compensation.
Application fee: $20 | Deadline: August 14, 2014


London International Arts Festival 2014
London International Arts Festival has three slots reserved for Sonicbids artists this fall. The event celebrates diversity in music and provides exciting and affordable entertainment for all ages and musical tastes, plus a variety of food. All performers will receive lodging and have basic expenses covered, and more established bands will receive additional compensation.
Application fee: $10 | Deadline: August 15, 2014