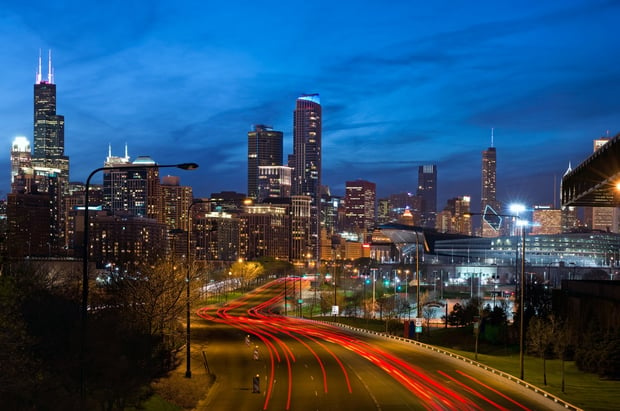 Image via Shutterstock
It's hugely famous for its legendary blues scene, but independent artists also likely know Chicago's history as a hub for alt-rock in the '90s. The city's love for sounds beyond the mainstream has spread well beyond that, of course. There's a niche scene for basically everything: reggae, garage and punk rock, hip-hop, acid jazz, folk, and more. And there's plenty of clubs that are happy to give deserving newcomers of any style a shot. Check out our top five picks below.
Built in the 19th century, this house (literally a house) was once an underground illegal Prohibition-era bar, then in 1934 was officially opened and dubbed the Hideout. It wasn't until 1996 that it became a spot for live music, and since then has amassed a ton of before-they-were-big boasts. The White Stripes performed there early on, and it's also where Phantom Planet filmed the video for "California." When Billy Corgan was shaping what would become Zwan, his first post-Pumpkins work, he played nine Mondays in a row and had guests like Neko Case and Rick Nielsen between sets.
Nowadays, that openness to the odd, the off-kilter, and the just-starting-out remains. Their self-appointed description: "A regular bar for irregular folks who just don't fit in or don't want to fit in."
How to book: All the info can be found right here.
Loads of big names have graced the stage at Martyrs' since it opened in '95: the Black Keys, Adele, Death Cab for Cutie, Beck, Wilco, Spoon, and MGMT to name a few. But the owner, Ray Quinn, says the venue is most satisfying for him when it serves as a platform for young artists to nurture and develop their careers. There's plenty evidence of that on the calendar. Really, folks like Quinn are a blessing to fledgling bands and artists.
How to book: Email Bruce Krippner with all the appropriate info.
Below the upstairs Music Hall at Subterranean is a spot that's ideal for bands and artists just starting out. The room's capacity is about 100, and genres and styles booked are pretty eclectic. There's a recurring, well-attended hip-hop open mic every Tuesday that's ideal for up-and-coming artists. No registration required for that – just show up and sign up.
How to book: Email is their preferred method of contact.
This cozy spot prides itself in being Chicago's most "artist-friendly venue," so you know they're down to champion promising upstart acts. But beware (or be super excited about it) – this place is purportedly haunted. Irish gangs, ritual murders, and a pentagram painted on the basement floor are all rumored reasons for the spookiness of the building, which dates back to the '20s.
How to book: There's no specific method listed besides contact info, so be sure to adhere to the normal standards of a booking inquiry.
Both of its rooms at Elbo Room, opened in 1989, are small enough that starter bands can be considered for booking: The main venue caps at 150 standing, and the lounge at 100. They sometimes even book the upstairs green room, which accommodates up to 50 people, for acoustic shows. They're open seven nights a week, but if you can't get in on a weekend, check out their Wednesday open mic. It's most suitable for guitar- or keyboard-based artists, but full bands could present a bare-bones set that could help them get booked in the future.
How to book: There is a separate contact for each stage.
Jhoni Jackson is an Atlanta-bred music journalist currently based in San Juan, Puerto Rico, where she juggles owning a venue called Club 77, freelance writing and, of course, going to the beach as often as possible.