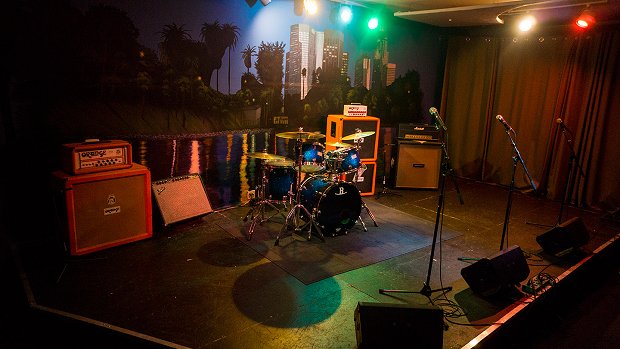 Image via bedrock.la
Los Angeles is an amazing city to perform, create, and learn as a musician, but unfortunately (and somewhat ironically), the city is not too kind, wallet-wise, to the working-class musician. Let's face it – it's an expensive place to live. But we all have the right to an awesome rehearsal space, and we can't let high numbers get us down! So with no further ado, here are five of the best rehearsal spaces in LA for bands on a budget – approved by local musicians!
Image via yelp.com
Location: 9214 Exposition Blvd, Los Angeles, CA 90034 (in West Los Angeles, bordering downtown Culver City)
Rates: $20 to $25 per hour, depending on room size
Why it's awesome: With a variety of studios to choose from, each room at Exposition Studios is fully equipped, air conditioned, soundproof, and acoustically tuned. It also has comfortable seating arrangements, wireless broadband, and adjustable lighting. You can get $5 off if you rehearse during the day Monday through Friday from 11:00 a.m. to 5:00 p.m., and if you're a solo musician looking to rehearse during this time, it's only $14 an hour. One local musician, Melvin H., praises that Exposition Studios is "clean, organized, very modern, and has well-maintained instruments. I've been coming to this place for a year already, and I will look no further. The friendliest staff ever. Always helpful. Always cheerful and never with bad attitudes."
Image via yelp.com
Location: 1551 16th Street Unit B, Santa Monica, CA 90404
Rates: $16 to $25 per hour, depending on room size
Why it's awesome: According to its website, That British Place is "a boutique, fully equipped, family-run rehearsal studio suite," located just a mile from Santa Monica Pier and five minutes from the 10 Freeway. With a clear aim to make musicians comfortable, the website states that it features full climate control, off-street parking, a courtyard smoking/waiting area, attractive décor, and creative vibes. "It's great for those who aren't based on the east side and would prefer somewhere closer," says local Sonicbids band Little Galaxies, who likes to rehearse at TBP. "It's run by two super nice guys who are accommodating and have great prices. It's small compared to other places, but that's a big part of it's charm and positive energy. It's also kept nice and clean."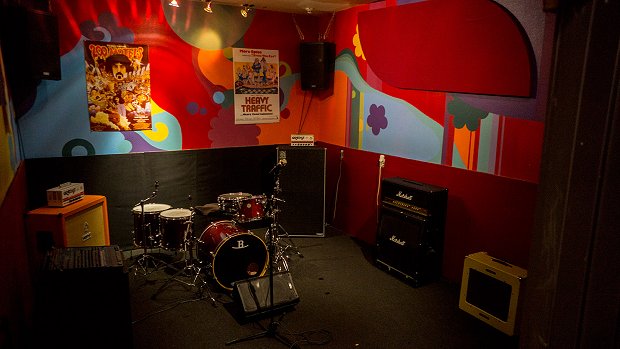 Image via bedrock.la
Location: 1623 Allesandro Street, Los Angeles, CA 90026 (near Echo Park)
Rates: $12 to $25 per hour, depending on room size
Why it's awesome: Bedrock.LA offers five uniquely themed standard hourly rooms, all equipped with great gear and a powerful PA. The standard rooms go for $18 per hour or $144 for the whole day. It also offers showcase rooms that have a more stage-like setup for $25 per hour and solo rehearsal rooms for $10 to $12 per hour. And if you need any recording, rental, or repair help, Bedrock.LA offers those services as well.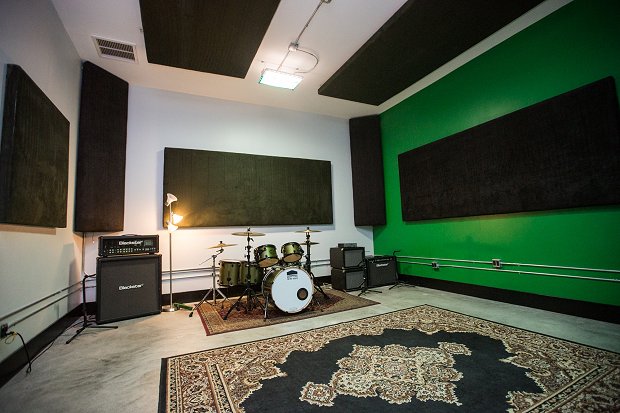 Image courtesy of Melanie Barker

Location: 3229 Casitas Avenue, Los Angeles, CA 90039
Rates: $20+ per hour, depending on room size
Why it's awesome: For bands that need more space, try Swing House on for size. It has a range of large rooms at varying sizes and prices. At only $20 per hour or a $200 lockout for the entire day, you can reserve a rehearsal space with full specs that can hold up to six musicians. "All of our rooms come with a basic backline, including a Mapex five-piece drum kit, cymbal set, two Blackstar guitar amps, and an Aguilar bass rig," assures Melanie Barker, VP of Swing House. "We also have a rental department with an extensive inventory should you need anything else."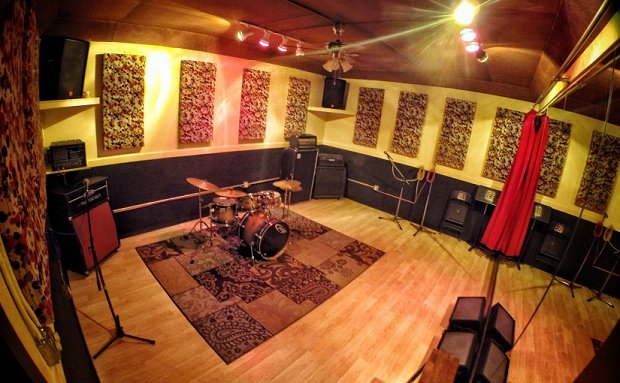 Image via musicianschoicestudios.com
Location: 3727 Robertson Blvd., Los Angeles, CA, 90232
Rates: $18 to $25 per hour, depending on room size
Why it's awesome: Right in the heart of Culver City, Musician's Choice offers great rehearsal spaces with a comfortable, creative atmosphere. For bands looking to secure a regular space that they don't have to keep rebooking by the hour, they offer monthly lockouts. They're quite popular, though, so you'd have to request to be on the waiting list at the moment. Little Galaxies vouches for Musician's Choice, saying, "They're nice people and they offer great prices!"
Did we leave out your favorite rehearsal space? Share it with us in the comments below!
Michelle Lou is an editorial intern at Sonicbids.