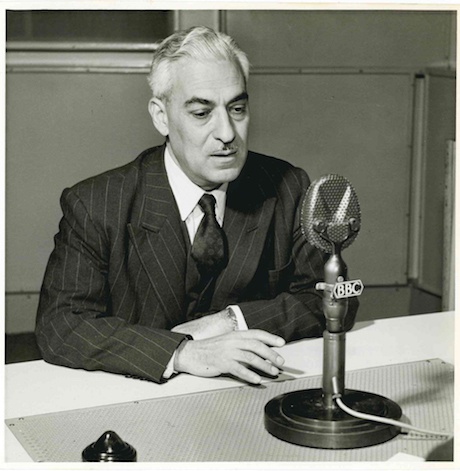 Image via Wikimedia Commons
If you're not listening to podcasts, you're missing out on a world of undiscovered music and insight. This year was filled with brand new features from a variety of sources covering every genre from classical to trance. Given that the average podcast segment runs about an hour, we set out to save you time and energy by selecting only the must-listen music podcasts of 2015. We encourage you to expand your mind and incorporate podcast episodes into a daily part of your morning commute or cardio routine.
1. NPR's All Songs Considered
We love this spin on NPR's classic All Things Considered, bringing you music you'll fall in love with. The episodes have minimal filler chat, which can be an issue with roundtable discussions on some more unfocused podcasts. We recommend you listen to The Year in Music 2015, where a panel takes place focusing on the music of Missy Elliott, Courtney Barnett, Adele, Kendrick Lamar, Bjork, and much more. Best of all, you can catch up missed episodes online.
2. Monstercat
For those who can't get enough EDM, look no further than Monstercat's weekly radio show. The podcast features a fresh weekly mix of the best of house, trance, and trap music. We love that the episodes are one hour of continuous music, featuring artists such as Krewella, Pegboard Nerds, Lets be Friends, Project 46, Tristam, Haywyre, Rogue, Au5, Fractal, Astronaut, and more. It's a great source to discover new songs you may not encounter on the radio to keep you pushing through a workout and continually pump up your adrenaline. Monstercat makes accessibility wide open, appearing on SoundCloud, YouTube, Mixcloud, iTunes, Spotify, and even on-air live streaming.
3. Song Exploder
Song Exploder is an amazing podcast for songwriters and producers, or anyone interested in the process of how a song is conceptualized and born. The series offers concise episodes where musicians break down their songs to skeletal form, analyzing even the most microscopic details like reverb depth, explaining the reasons behind their decisions. The podcast never fails to force you to think and evaluate your own musical tastes and understanding. Your mind will be blown by features like Aaron Dessner of the National discussing "Sea of Love" in an intrinsic way you've never thought about, and the episode on Tycho's "Awake," revealing a whole new layer of depth.
4. A Musical Life with Hugh Sung
This brand new podcast is ending the year off right with pianist Hugh Sung sharing stories, songs, and interviews with composers, performers, and conductors. He breaks down classical music introspectively, and gives you detailed insight to other genres like rock and jazz by having guest musicians talk about it themselves. For starters, we highly recommend listening to the segment with Jordan Rudess on music and technology. We also loved the chat about musical elements that epitomize loneliness in song form (from the episode entitled "A Lonely Song").
5. Music That Matters
Seattle's KEXP indie radio station brings you a personalized, on-demand music discovery platform. The series features curated playlists with only the latest eclectic music from the Pacific Northwest and beyond. We love the occasional full-session live performances, along with guest interviews, bringing the music to life. KEXP also offers a wide variety of engaging episodes that are organized into several categories including Song of the Day, Live Performances, and Sonarchy Radio (the best of Northwest experimental sounds). If you're one of those musicians who likes to be among the first to catch wave of the best new talent, you'll want to subscribe to this weekly installment where you're sure to find unreleased songs from emerging independent talent.
6. Popcast
The New York Times offers an intellectual-based podcast covering the biggest stars through its ArtsBeat initiative to bring cultural awareness to the public. For those interested in industry trends and relevant critique on noteworthy acts and business decisions, this podcast is brilliant. Popcast explores multiple subject areas, diving deep into topics that are necessary for musicians to understand. As a performer, it's vital to develop an understanding of an educated critic's point of view. Take a glance at the brief exposé on the Weeknd's new album, Beauty Behind the Madness, and you'll be hooked. Billboard also offers a noteworthy weekly pop podcast from its co-director and senior editor with chart breakdowns of the year's biggest musical events in a half-hour discussion.
7. Pitch
If you're a music nerd and you have a passion for cognitive psychology, Pitch is perfect for you. BuzzFeed includes it on their list of "podcasts that will make you a better human." The short episodes examine how music has an impactful role in shaping your brain, making lasting changes in your overall life. This latest third season reveals why certain songs have the ability to transport and transform your everyday reality, and covers tons of other topics, like why cover songs matter. Catch up on previous episodes through SoundCloud!
8. TEDTalks Music
TED consistently delivers material that inspires and informs, and the music podcast features are nothing short of compelling. Standout speakers include musician Reggie Watts, singer/songwriter Natalie Merchant, and technology writer David Pogue. We recommend listening to "True Colors" with guest John Legend giving meaning to lyrics like you've never heard before. What's better than free lectures that you can tune into wearing pajamas in bed?
Caleb Hsu is an independent vocal producer and freelance recording engineer based in Los Angeles. As a classically trained pianist and composer, he enjoys writing music technology features that combine his psychology background with current industry trends.