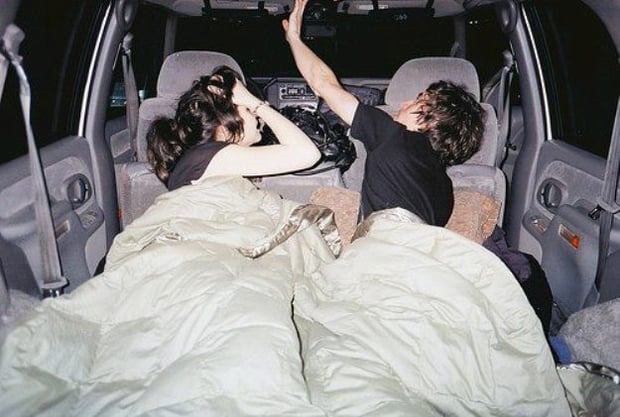 Image via uratex.com
Touring is the main way many musicians make a living these days, but it can be difficult to do on the cheap. Thankfully, there are a lot of ways that money can be saved here and there, especially when finding a place to rest your head for the night. Here are a few suggestions that might not necessarily make your touring life easier, but they will certainly make it a hell of a lot cheaper.
1. Homes
Staying in other people's homes has never been simpler (and safer) than it is these days. Hotels can be nice (or terrible, depending on what you can afford), but sometimes there's nothing like staying in an actual house, complete with a kitchen and the feeling of simply not being in another hotel, especially if you've been traveling a lot. Sites like Airbnb.com make it pretty simple to book anything from one room in an apartment to an entire home, depending on what you and your bandmates need. While some of the listings may cost the same as a regular hotel, there are almost always cheaper options.
Because of the growth of social media, it's also much easier for you to really connect with your fans, and that could be helpful when it comes to finding a place to stay when in another city. Feel free to make it known on your channels that you'd be thrilled to lodge with fans, and see if anybody responds. If you have a following of a certain size, there's a good chance you'll get a few responses, and you should take them up on their generous offers. Think about it this way: any night you're sleeping on a fan's couch, you're not paying for a motel or an Airbnb, so give it a go!
2. Hostels
Hostels have gotten a bad rap in the past couple years (thanks to a series of particularly gory and untrue horror films), but they can be a great way to get around on the cheap. They are more prevalent in places like Europe, but that doesn't mean there aren't any in America! Hostels are also pretty cheap to book, but you should do a bit of research before confirming anything. If you pick the wrong place, it can be dirty, inconvenient, or even unsafe. Look on sites like Hostels.com or Hostelworld.com and pay close attention to what previous lodgers have said – it can make all the difference.
I have personally stayed at hostels all over Europe before (but never in America), and I have only ever had one or two so-so experiences, while the rest were a lot of fun. A tip I follow: never stay anywhere with a less than 75 percent rating on one of those sites that list them.
3. Couchsurfing
This is the same idea as Airbnb, except without any of the money. Sites like Couchsurfing.com (obviously), GlobalFreeloaders.com, and Hospitality Club all feature places where you can stay for free! Many of these options are only a couch or a floor, but if you're not picky (or if you're just seriously broke), these can be great options. Some of them ask that you return the favor and let others stay in your home, but that's just paying it forward, right?
[Couch-Crashing Etiquette: 5 Ways to Tour on a Budget, Be a Decent Human]
4. Last-minute hotel booking
Sometimes, you just need to treat yourself a little bit. Staying at a hotel every night can be killer on your bank account, but there are ways to be smart when booking. For example, don't plan way ahead and pay full price – that's for suckers. Priceline has an option that allows you to set the area where you want to stay, the number of stars the place needs to be (please keep this above two), and what you're willing to pay (yes, you can name your own price). With some luck, you can find a great deal. I've tried this a few times, and it's always worked pretty well, so if you don't have anywhere to stay tonight, it's worth a try!
5. Camping
This isn't always an option, but there are times when it could work well. When you head out on your next tour, think about bringing a tent with you and getting back to nature... if only for a night here and there. An entire tour of staying out in the woods might be too exhausting, but it's certainly a handy fallback. Maybe this is a good idea between stops when you have a day or so to get to the next show, as opposed to when you're going from one city to another in just one day. Also, finding a place can be difficult, especially if you're only playing shows in cities, so keep in mind that you may have to drive out of your way just to get to somewhere you won't be bothered.
6. Sleep in your car
Now, this one might not be ideal, but sometimes that's how things go when you're on tour. Spending the night in your vehicle (be it a car or a van) is something you should only do if you really need to, but if you're going to, make sure you take some steps to play it safe. First, don't park just anywhere and go to sleep. Go out of your way to be removed from people. If you drive just a bit away from major populated areas, it's highly unlikely that anyone will even pass by your car. Second, you might want to cover or hide things in your car, like your valuables. This is just in the case that anybody with less than ideal intentions does walk by. Basically, just don't park and settle in for the night in the wrong place – be smart!
How long could you last on tour? Take our quick, fun quiz and find out!
Hugh McIntyre is a freelance pop music journalist in NYC by way of Boston. He has written for Billboard, The Hollywood Reporter, and MTV, as well as various magazines and blogs around the world. He is also the founder and editor-in-chief of the blog Pop! Bang! Boom! which is dedicated to the genre of pop in all of its glory.