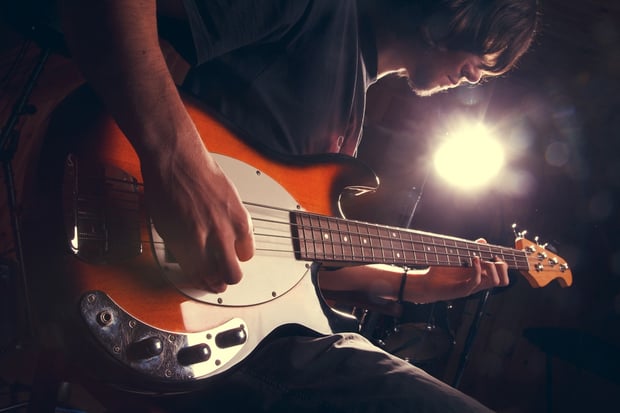 Image via shutterstock.com
The late Jaco Pastorius is held in high regard among bassists. Regardless of whether you play jazz or death metal, any bassist can appreciate his skill in all areas of playing. These two drills are designed to help get your plucking and fretting hands up to Pastorius' speed and dexterity, and are inspired by some of his riffs.
1. Chromatic walking drill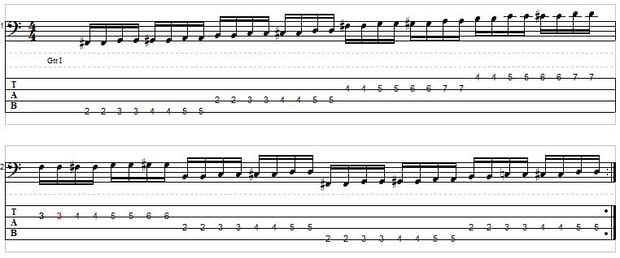 This drill is inspired by Jaco's semi-chromatic walking basslines. He can often be heard using doubled-16th-note riffs like this on live Weather Report tracks. Pastorius played with his fingers, and this exercise can do wonders for your plucking hand. It's also a decent exercise for developing picking coordination. Your fretting hand will get a tough workout if you can get the tempo up to a high speed, but be sure to start slow enough to develop good technique in both hands. Even if you don't play jazz, this drill can really help spice up your transitions between chords. It creates a great-sounding groove in D and will help your rhythm.
2. C major arpeggios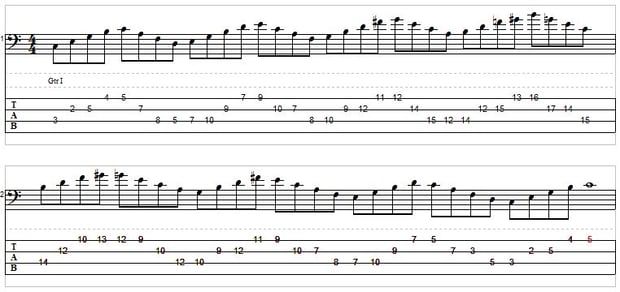 Pastorius' skill with arpeggios is easily heard on tracks like the Bach-inspired "Chromatic Fantasy." Seventh-chord arpeggios can be heard in many of his solos and runs as well. This drill will develop your fretting hand dexterity and help you gain the flexibilty to span some impressive fret gaps. Additionally, this drill is good for your plucking hand regardless of whether you go fingerstyle or use a pick. If you're not used to using arpeggios on bass, then this drill alone can bring you to the next level of playing. Once those arpeggios start to come out in your playing, your guitarist may even allow you to solo as well. (Don't count on it, though.)
These two drills can get you on the right steps to earning the ability and creativity that Pastorius brought to the electric bass. Even the most critical bandmates are going to appreciate a bassist with an inspired practice routine. Leave a comment below with other drills you'd like to see on the Sonicbids blog!
All tabs created by Matthew Wendler using Power Tab Editor.
Matthew Wendler is a blogger and multi-instrumentalist from New Jersey. He specializes in guitar, bass guitar, and bagpipes, and is passionate about writing both professionally and for enjoyment. His personal blog can be followed on Twitter at @ymiatvmi.