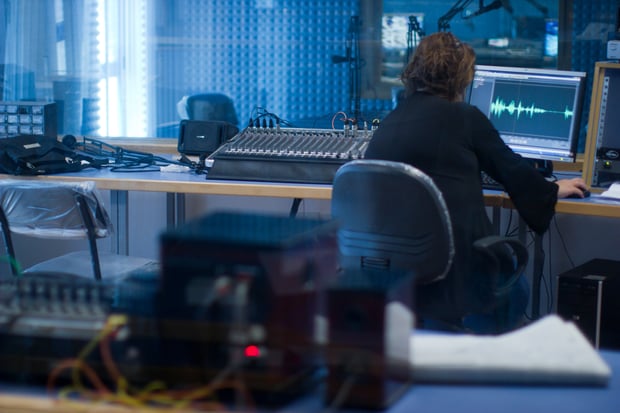 Image via Wikimedia Commons / CC BY-SA 3.0
Many, if not most, independent musicians have some sort of computer-based recording setup at home. It could be as simple as GarageBand with a single microphone, or it could be a full Pro Tools suite with a 24-channel board, iso booths, and drum risers.
But your stock computer is one piece of gear short of being a micro studio. That piece is the audio interface, which gets sound out of the room and into the digital realm of the digital audio workstation. It may handle both analog and digital inputs and also provide you with some headphone outputs to monitor yourself.
Before diving headfirst into reviews, YouTube demos, and testimonials on different products, read Sweetwater Sound's comprehensive and helpful guide to audio interfaces. I found it concise and informative, and it only took a minute to read. This guide will clue you into some of the features and potential problems you're looking at with these units.
1. Focusrite Scarlet Solo: $99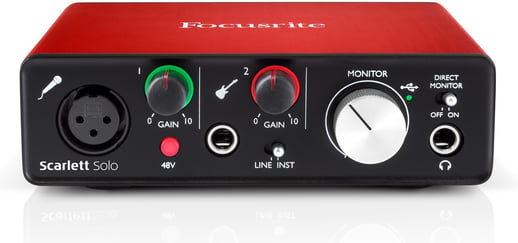 Image via sweetwater.com
When searching for an audio interface, you'll see this one pop up at the top of your page. It looks cool, and it's bundled with lots of helpful software, including "lite" versions of Ableton Live and Pro Tools, to help you record up to 16 channels. It's also cheap!
But boasting only a single-mic input and another direct line in, this unit isn't suitable for recording groups or multiple-mic instruments like drum sets. Pitched as a songwriter's solution, this plug-and-play unit uses only a single USB connection to your computer. If you're a solo artist, it's hard not to see the Focusrite as a great value.
2. Presonus AudioBox USB: $99

Image via sweetwater.com
On the other hand, this Presonus device gives you two inputs at a time, making it possible for the singer-songwriter to track vocals and an instrument simultaneously. While not bundled with the huge pile of software the Focusrite gives you (the Presonus features a version of Studio One Artist as its recording software), that extra channel is pretty enticing, especially for the price.
3. Behringer U-Phoria UMC1820: $299

Image via sweetwater.com
If you need lots of channels, you can get into this Behringer rack-mounted unit for less than $300. Boasting 18 inputs, 20 outputs, and eight mic preamps, the Behringer also delivers direct monitoring, reducing latency (the slight time lag while digital conversions take place) to zero, allowing you to hear real-time cue mixes while you add tracks.
With the Behringer, you've also got two headphone outputs with separate volume controls. On the other hand, it looks like Behringer figured you didn't need bundled recording software if you could afford $299, so this piece doesn't come with any.
But once you get your software up and running, you'll have all the inputs and outputs you need for the average home studio without annoying latency issues.
4. Universal Audio Apollo Twin SOLO: $699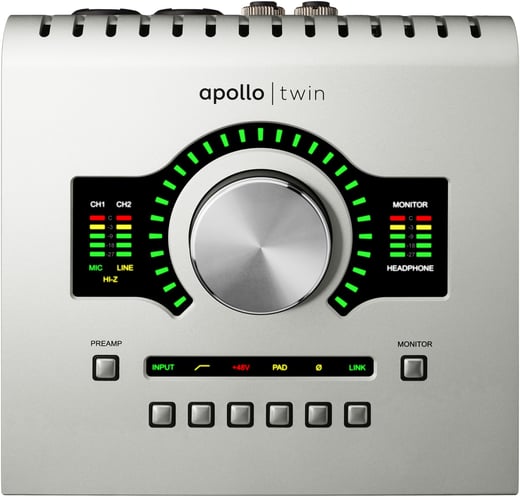 Image via sweetwater.com
Equipped with Thunderbolt (the fastest connection earthlings can access right now), the Apollo Twin also gives you three preamps, two analog inputs, and a digital optical input. Set up for Mac only, the Apollo is described by Universal as being the best-sounding interface unit in its class. And if you're into that sort of thing, it looks pretty awesome as well. If you're going to spend the money, you might as well get something cool!
Ultimately, only you can decide how deep your pockets are and how many features and benefits you need. But with computer recording tech so advanced and so many high-end manufacturers in the game, you'll most likely have amazing sound with any of these… a benefit that our musical predecessors, bound to record in expensive hourly studios, never got to enjoy.
Jesse Sterling Harrison is an author, recording artist, and part-time farmer. He lives in Massachusetts with his wife, three daughters, and a herd of ducks.