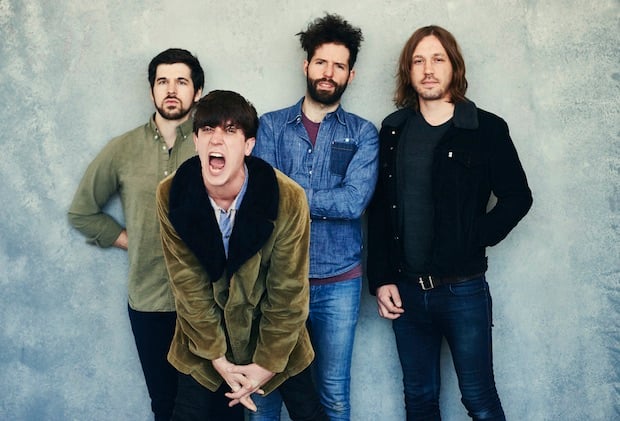 You already know that having a SXSW showcase on your resume is pretty much essential if you want your band to be taken with any level of seriousness, but what does it actually take to get there? Not just the application process, but what does a band's actual journey to the festival look like?
Of course, there isn't a one-size-fits-all answer to this, but to give you more of a tangible idea of how it can play out, we decided to take an in-depth look at how The Kickback did it. The Chicago-based alternative rock group officially formed in 2006 (but it had "been in my heart since I came out of my mother," says frontman Billy Yost), and they've managed to perform at SXSW not one, but four times since then, so their career trajectory is definitely one worth examining for anyone hoping to score a slot on the 2016 bill.
"There are fewer and fewer nationally known benchmarks for musicians to brag to their parents about," says Yost. "SXSW is one of them. I am grateful." In fact, Yost told us that showcasing at SXSW directly resulted in a slot at NXNE – a double win. He also explained that playing SXSW is indirectly how they found Jeff Kilgour, who now serves as the band's PR rep.
So, what were the key moments in The Kickback's journey that ultimately led to taking the SXSW stage? Here's the timeline Yost lays out for us:
2003: Before The Kickback, there was Paddywhack
"My brother agreed to play bass in my high school band, Paddywhack. I'm still not sure why. But he's awesome. We sounded like early Green Day until I decided to really start exploring the space. I live in fear of the 50-odd people who have copies of it. Holy God."
2009: Making the move to Chicago
"Moving to Chicago from South Dakota wound up being absolutely necessary for me to find the people I wanted to make music with. My hometown of Beresford, SD, comfortably holds about 2,000 people, so it was a big change for me."
2009-2011: The grind
"We make music. We practice constantly. We get jobs that let us leave for weeks at a time. We play a lot of shows. We disappoint our life partners. We apply for a bunch of shows through Sonicbids and get two of them."
2011: Wait, we're
actually
playing SXSW?
"For the third straight year, we apply for SXSW and are finally accepted. We can't believe it. We don't know how or why or who screwed up, but we get in. We have been touring and releasing music for quite a while, but we're still pretty sure someone screwed up. That's not a joke.
"At our showcase, 300 people showed up to watch Reptar, [the band that went on before us], play. We couldn't believe our luck. We were going to play for 300 people. Reptar finished. Every person in attendance left. We played one show at SXSW to six people. We finally got to tell those guys that story this year. It's much funnier now."
When asked if there's anything he would've done differently looking back on the experience now, he says, "Our first time playing a showcase, I rolled into Austin (for the first time) thinking that this was it. Our hard work had paid off. Now it was time to enjoy it. I would like to grab 2011 me by the nose and start rabbit punching him."
2013: Time to get a team together
"We record our first full-length record, have to fire our sort-of manager, and wind up with a management team that changes a lot for us. We don't get it for at least a year and feel like everything is falling apart. But things come together. Then [we hire] a PR guy who is amazing. Then the rest of the team – recently a small label, [Jullian Records], and a booking agent. Things I've been working toward for ten years. Good grief."
2012-2015: Back to the grind – and back to SXSW
"We make music. We practice constantly. We keep jobs that let us leave for weeks at a time. We disappoint our life partners. We play even more shows than we had been playing before. We figure out that getting a SXSW showcase isn't exclusively what the festival is about. (I think it's about humility. I also think it's about living with that humility and rededicating yourself to your passion. You are with 2,000 other bands who are just as shockingly desperate for an ounce of success or recognition or respectability as you are. If you don't have the ego to think you can still carve your way, the festival atmosphere will own you. Also, I think a lot of people just go to have fun. You can try that, too.) We return to SXSW three of those four years. It's been better every year. We scrape and claw for anything we manage to make happen there."
Phew! So what's the band's biggest takeaway from playing SXSW so many times? "It is what you make of it," says Yost. "I prefer live in a bathtub for about five hours of the day and then watch YouTube clips of the Muppet Show and probably cry. That doesn't really cut it at SXSW. The guys in the band who are good at talking to people and hanging out have to do it for about 23 hours straight, four days in a row. You learn to make plans and learn to be okay with having to cut that list in half – or more, when it comes down to reality."
Now that you know how The Kickback got to SXSW, you're probably wondering what they've been up to since then. "Our first LP, Sorry All Over The Place, will be released September 18 on Jullian Records," says Yost. (In the meantime, we'd recommend checking out "Sting's Teacher Years" and "White Lodge.") "We have been making music videos, recording demos, practicing, and arguing about fonts, artwork, T-shirts, and anything else that seems completely innocuous to outside parties but means everything to us. We will be touring like fools and hopefully returning to Austin this year. I've also been growing my hair out despite being the only person in my life who thinks it's a good idea."
If you think your band has what it takes to play SXSW 2016, make sure you apply before September 11, 2015 to get the early pricing discount. Hopefully we'll see The Kickback and you in Austin next year!
Lisa Occhino is the managing editor at Sonicbids. She's a pianist, singer, award-winning songwriter, graduate of Berklee College of Music, and founder of songwriting collaboration website SongwriterLink.