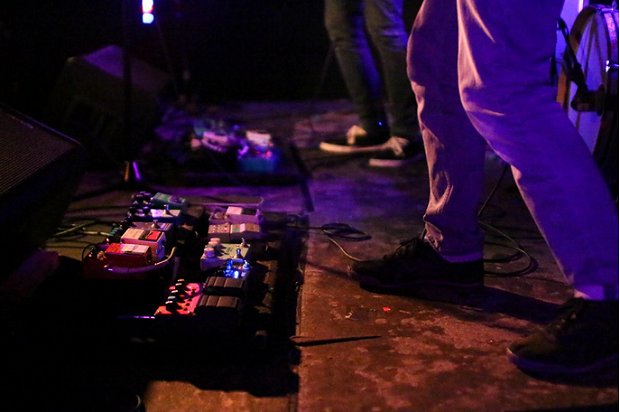 Onstage at CMJ 2014. (Photo by Alix Piorun)
Performing at the CMJ Music Marathon is a goal for many bands and artists because it means not only playing at a high-profile festival in New York City, but also exposure to other bands, industry execs, and legendary venues. You probably already know that, in order to get selected for the bill, you have to apply through Sonicbids. But what happens after that? How do we determine who's in and who's out? Here's the inside scoop from us, the CMJ staff.
What are the odds of getting selected for CMJ Music Marathon?
We ultimately invite about 20 percent of the artists who submit. Those might look like tough odds, but we do review every submission, and each act gets the same consideration.
How does the application review process work?
It's no surprise that music is the most important part of your submission, so we immediately go to the "songs" tab of the EPK and hit the play button. If your music is terrible, we won't invite you. If your music is great, your chances improve wildly. (And if you don't have any material available yet, it's probably too soon.)
The "application" tab gives us a better sense of who you are. Short and sweet is best, and by all means give us a list of highlights: favorable press, touring history, prominent support gigs, etc. This info gives us a picture of your career. If we like the songs of two acts equally, but it looks one artist has only played a couple of shows, whereas the other one has been steadily gigging and building an audience, we'll know who's more ready.
No one wants to play to an empty room, and at CMJ (like all showcase festivals), we provide the platform, but it's really up to you and your team to get most of the audience out. Your "social stats" tab should reflect your draw. If you only have 12 Facebook fans or a handful of SoundCloud plays, chances are no one is going to show up to your showcase, no matter how good the music.
Any absolute dealbreakers that'll ruin a band's chances?
The more complete your EPK, the better, but a band will only be automatically disqualified if every section of their EPK is left blank.
When we're on the fence about a band, what's the deciding factor?
If we're on the fence, we'll check out live video footage, either in your EPK or by heading to YouTube. Since this event is about impressing a live audience, sometimes impressive live footage can put you over the top.
That's really it. Once one of the showcase team members has reviewed your submission, he or she will jot down an impression with notes along with a yes, no, or maybe verdict.
We hope this inside info will help you get your EPK in tip-top shape, and we look forward to checking out your band!
Apply to play the CMJ Music Marathon by April 3 for a discounted submission fee of only $35!