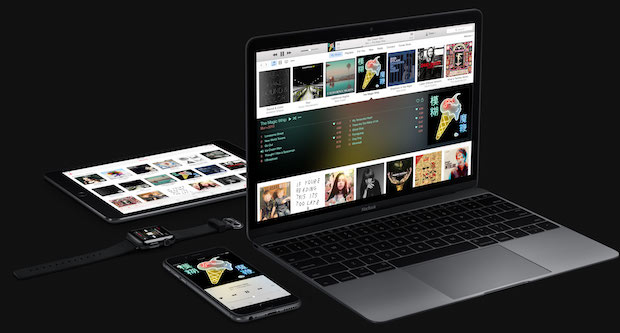 Image via idownloadblog.com
Don't go wasting your hard-earned dollars on apps that are either too complicated to be helpful or too glitchy to function. We want to help you discover truly great musician apps that can enhance the way you write and perform! Below, you'll find a list of six apps under $10 that are worth the investment.
1. Ultimate Guitar Tabs by Ultimate Guitar USA LLC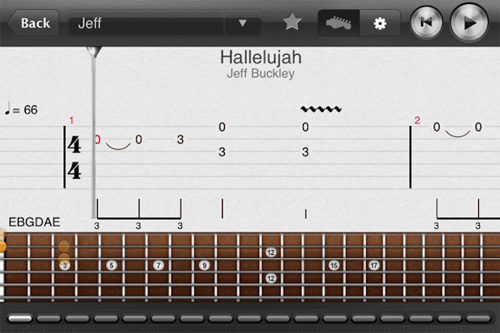 Image via ultimate-guitar.com
Voted by Google as one of the best apps of 2014, this app allows you to learn your favorite songs on acoustic guitar, electric guitar, and ukulele. It offers over 800,000 tabs and free daily updates with recent hit songs. We love that this app features a dedicated left-handed mode, brilliant search capabilities, a precision metronome, and auto-scrolling chords that follow as you play. We did notice some lagging in comparison to the website, and we'd love to see the ability to transponse, but overall, this is a must-have for pop-music-loving guitarists.
Price: $2.99
Where to get it: For Apple devices with iOS 5+ here; for Android devices here.
2. AirMusic by Plutinosoft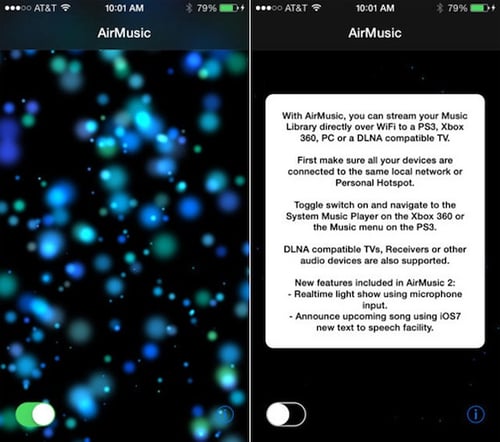 Image via bgr.com
AirMusic allows you to access and stream your iPhone/iPad music library over Wi-Fi from Xbox, Chromecast, Windows Media Player, Roku, or any compatible DLNA device. At $2.99, it's the cost-effective alternative to buying an AppleTV for AirPlay across all your devices or home entertainment system. We loved the iCloud integration before Apple Music was released, but it's a bit complicated with the caveat that playable songs must first be downloaded and synced with your device prior to streaming. As many users have noted, our only wish for the developers is to do away with the 10-minute timeout that occurs when music is running in the background. If that were extended, this app would be flawless!
Price: $2.99
Where to get it: For iPhone/iPad here; for Android here.
3. Beatwave 2.0 by collect3
Reviewed by the Huffington Post, this app is a DJ's best friend and electronic artist's sidekick. We love that anyone can create compelling material with this one-of-a-kind app. Beatwave lets you create live, visual performances with a slew of on-board sounds simply by tapping. This update allows you to be social and share your creations with Twitter, Facebook, or SoundCloud. The included audio effects are definitely useful, but we'd appreciate an expansion of capability here.
Price: Free initial download (with full pro features unlocked in app for $9.99)
Where to get it: For iPhone/iPad here.
4. Chordana Composer by Casio
This app seamlessly transforms your whistles and hums into full-length tunes. For musicians who struggle with transcription or notation, this works wonders. In addition to the vocal input, Chordana Composer also has a keyboard interface, notation option, and MIDI compatibility, so once the song is complete, the score can be fine-tuned. Using Chordana is by far the easiest way we've found to collaborate with other writers, especially for lyrics or topline developments. Of course, we'd love a larger sound bank to include more realistic-sounding synths and acoustic emulations, but this app is a great launchpad for hit making.
Price: $4.99
Where to get it: For Apple devices equipped with iOS 8 or higher here.
5. Poweramp by Max MP
Poweramp has been the number-one paid music player in the Google Play store for four years. It's the most powerful and customizable music player available on the Android OS. Features like gapless play, an unmatched equalization system, great crossfade, improved battery life, and support for most popular music file formats make this app unbeatable. Check out an extensive review of all the app's features here. We're begging the developers to bring this to the Apple universe!
Price: $3.99
Where to get it: For Android devices 2.1+ here.
6. TonalEnergy Chromatic Tuner by Sonosaurus LLC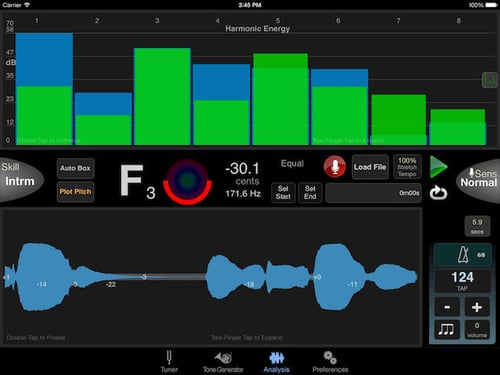 Image via appleapps.com
This virtual tuner is an all-inclusive app designed for the professional musician to the beginning player. Whether you play a brass, woodwind, or string instrument, this application will help improve your skills. Sonosaurus surpassed all the other tuning apps we encountered by adding an in-depth analysis page that includes frequency and harmonic energy plots, along with a scrolling waveform display that trains musicians to visualize sounds. The customizations available (like adjustable reference pitches other than A=440Hz) and MIDI controller support make this app totally worthwhile for the traveling musician.
Price: $1.99 for Android (there's a 50 percent off sale happening as of this writing); $3.99 for iOS.
Where to get it: For Android 4.3+ here; for Apple devices with iOS 5+ here.
Caleb Hsu is an independent vocal producer and freelance recording engineer based in Los Angeles. As a classically trained pianist and composer, he enjoys writing music technology features that combine his psychology background with current industry trends.