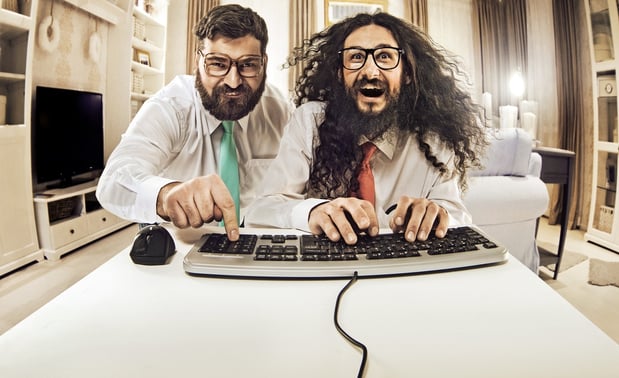 Yes, creating download cards CAN be fun! (Photo via Shutterstock)
While the music industry seems to be focusing much of its attention on all things streaming (which you should do as well), there are still millions of people around the world who actually buy music, and the days of selling albums and singles, both physically and digitally, are far from over.
Having said that, what "selling music" looks like has certainly changed over the past decade or so, and in order to make a living, you need to adapt to the times, while still looking at what's worked in the past.
Download cards are a less common format that still has a place in the world of digital music, and they're something you should consider the next time you go on tour or have an album coming out.
They're pretty simple: plastic or cardstock cards, often the same shape and size as a business card, that allow you to sell your music. Your fans go home and download it instantly, just as they would if they bought it on iTunes.
You can set the price, design the artwork, and include anything you like. Usually, these cards come with individual codes and a website, which makes this feel like a serious purchase... aka, one that's actually worth something.
If you're curious about download cards and what they cost, here are some options to consider.
1. Business cards
Price for 1,000 cards: varies widely
This is easily the cheapest option, though it's the one that comes with the least frills. If you're planning on simply handing these cards out to tons of people (as opposed to selling them) in an attempt to get them to download a free single and try your music, this is your best bet, because you don't need to worry about losing money or making anything back.
Business cards are meant to be given out en masse, and while many of them will probably be thrown out or forgotten about, they're often so cheap to have made in large quantities, it doesn't really matter.
[The Simple Guide to Musician Business Cards]
Going the business-card route certainly has the advantage of not having to fret about profits, but at the same time, there are plenty of drawbacks. These "download cards," if you choose to use them as such, feel and look cheap, and people certainly won't pay money for them. You won't get unique codes or specially-created websites specific to your new project, which is part of the download card experience.
Sure, you save some money but you lose a money-making opportunity as well, so keep that in mind. This can be a good way to go for some projects, but perhaps not all.
Price for 1,000 cards: $119
Bandsonabudget is just like almost every other merch maker out there primarily printing logos on any number of different items, though as you can tell by the name, the company focuses almost entirely on bands that are making a go of it on their own. The company calls its version of these items "indiecards," which makes it appeal to those artists just starting out a bit more.
First and foremost, this was the cheapest deal I could find when it came to this medium, and that's a big plus for most musicians. This firm is also surely ready to deal with any questions or concerns DIY artists might have about how to make the most of their products.
Price for 1,000 cards: $260
CD Baby has been a huge name in all things relating to indie musicians and getting their music heard for almost 20 years, and in that time, it has learned quite a bit about what works and what doesn't.
Just like with Bandsonabudget, working with CD Baby ensures that there are people on the other end of the phone, email, or chat that have plenty of experience working with people like you, and they know what you need and how to complete a project.
Of all the options I looked at, these cards seem the simplest, and they don't come with any frills, but sometimes it's best to just let the music speak for itself.
Price for 1,000 cards: $272
While ProCards might be offering one of the pricier options when it comes to downlaod cards, there's a lot that comes with your purchase.
On top of the actual physical product, the company will make a specific web presence connected to these cards where it can house up to 500MB of media for two years.
That's a lot of music (it's easily more than a regular CD worth), so if you're looking to do something special with these cards – perhaps you're selling more than just a typical album – this is definitely something to consider.
Beyond these suggestions, check out companies like Dropcards, CardIncluded, or Digi-Cards, but only after exploring the above options.
Hugh McIntyre is a freelance pop music journalist in NYC by way of Boston. He has written for Billboard, The Hollywood Reporter, and MTV, as well as various magazines and blogs around the world. He is also the founder and editor-in-chief of the blog Pop! Bang! Boom! which is dedicated to the genre of pop in all of its glory.