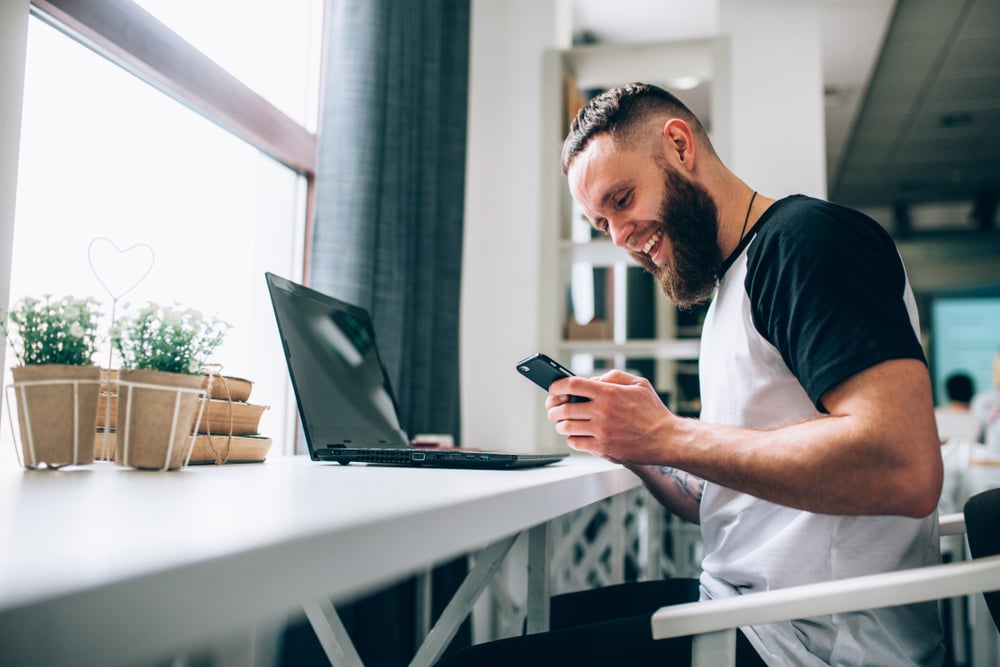 Image via Shutterstock
Instagram is a beautiful, connection driven tool — and it's driving all of us mad. Yes, we love it for the opportunity to follow the journeys of those we love and admire or the opportunity to share our own stories and connect in a totally new way.
But then there's the other side of it. The part where you're staring at your phone slaving over a caption for an hour, writing and re-writing until it finally feels perfect. Or where you're about to dive into a really tasty pizza but you have to whip out your phone first because you just know this would make great IG content (guilty). And of course, who could forget the feeling of working super hard on all of those things only to get 20 likes and a spam-bot comment?
It can feel discouraging and like IG is just too much work. But that's taking all the joy out of it! So while, yes, IG is just as much a business tool as one of pleasure, I want to focus on a few tools and tips you can use to get back to enjoying it while making it awesome — and making your life a lot easier.
My favorite secret weapon for Instagram and basically everything else is Canva. While it can create incredible graphics for everything from shows to Facebook headers, it turns out it can also create perfectly made IG posts and even Story frames and outlines, so you never have to worry about boring content again.
Canva's free version is incredibly inclusive and they offer hundreds of templates so that if you're like me and you tend to clam up on creativity when you're stressed, you'll still have tons of ideas to help you create the perfect post, and a wealth of inspiration so you can just pop in your own photo and text and voila! Beautiful graphic made in less than 5 minutes.
Half the battle with Instagram is just thinking about what to even say. Trying to think about it every day feels exhausting and oftentimes just doesn't work, especially when you're trying to craft content that truly engages and connects in a lasting way, rather than just one-off posts when you think of it. (I do miss those days…)
So part of that is getting in the right frame of mind, which for me, means batching content. Planoly is perfect for this. It lets me upload as many photos as I want, write their captions, and schedule them to go out so that I can just do it in 2-4 hour increments for the month and then not have to think about it again.
If you're a business account, it will post for you automatically, otherwise it just sends you a push notification reminder and you copy and paste. The whole thing takes less than 30 seconds.
Planoly also lets you move around your photos in its grid format so you can see what the aesthetic of your page and photos will look like, and move around photos accordingly. Oh, and it does story frames too!
Have you ever noticed some IG accounts have the same hue to all their photos? As if they're all in the exact same filter or have the same pink or yellow or blue slight overtone? And it always looks so cohesive, right? Likely that's because they're using A Color Story.
This app has free and paid versions that have everything from filters to preset frames for stories. One cool thing about it is that it bundles its filters into logical packages like "filters for travel photos" or "filters for summer," so you know exactly what you're getting.
4. Instagram ads
When done well, ads can be such a powerful way to drive traffic to your new video or mailing list. In my very first try at IG ads I drove about 100 people to my mailing list in less than a week for under $30. Not bad! Now of course, running IG ads through Facebook's ad manager is the more long term robust strategy for highly targeted marketing, but personally, I find FB Ads Manager insanely confusing, so if you're just starting out and want something super simple, you can run the ads through IG directly, and they'll auto target for you.
5. Fan engagement
Everything on this list is such an important part of getting people to show up to your IG, but there's nothing so powerful as an engaged audience, and the way you do that is through getting out there and being part of the community.
Now, if growing your IG audience is also a goal, this is a great way to do that — you can easily grow it by 100 people a month or more by just engaging with people for 20 minutes a day. But beyond that, engaging with other posts shows IG that you're an active part of the community, and the platform shows more people your content because of it.
I have to admit, this really does work. When I'm away for a few days and not actively engaging I notice a pretty significant drop in my own post and story interactions, vs when I spend at least an hour or so a day on the app engaging, reaching out to new people by commenting on their posts, or responding to DMs or comments.
What do you think? Could trying a few of these help boost your Instagram? Go try them out and report back — we can't wait to hear what your favorite tips were!
Next up: Musicians: 6 Tips to Rapidly Grow Your Instagram Following
Looking for tips and examples of increasing fan engagement through simple, effective social media strategies? Join me for my free Masterclass: 'How to gain your next 1,000 fans. 3 simple steps that lead to higher engagement, sold-out shows, and life-changing opportunities.'
Angela Mastrogiacomo is the founder and CEO of Muddy Paw PR, where her artists have seen placements on Alternative Press, Noisey, Substream, Spotify and more, as well as the Director of Community and Events for Music Launch Co. She loves baked goods, a good book, and hanging with her dog Sawyer.