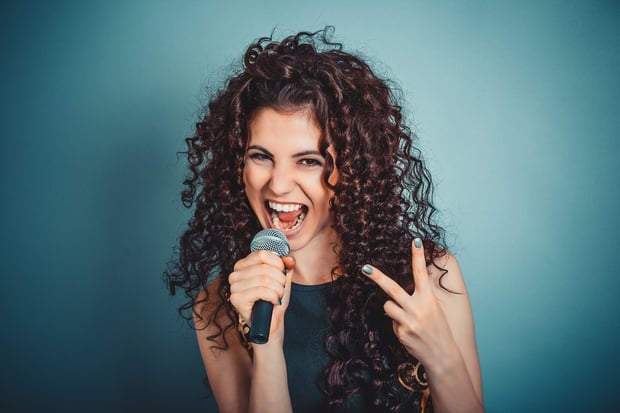 Image via Shutterstock
Many musicians dream of not only being able to make a living from their art but also seeing their name on the Billboard charts. It's extremely tough to make happen, but even just one appearance on one tally is enough for some artists. While it may seem impossible, things are changing in music, and thanks to some recent alterations of how a number of charts are constructed, it's become easier for up-and-coming acts to nudge their way in.
Take a quick look at all the Billboard charts (and many of them are only partially shown online; you'll need to buy the physical magazine to see every song's position), and you'll see that they aren't all entirely composed of superstars only, which is encouraging... though, don't let it fool you. If you want to show up on any of those lists, it's going to take a lot of work, and there are no guarantees.
If you've been thinking about making a big promotional push for your next single, here are six tricks that may help you finally break into that world and become a Billboard charting artist.
1. Hype it (and hype it a lot)
I shouldn't have to tell you to promote your own music exhaustively by this point, but I'll do so anyway. You would be truly disheartened to know how many times I'd asked friends if they had heard the new song from any well-known name, only to have them tell me they didn't even realize that person had just released anything. Even the biggest names on the planet have a difficult time telling the public about their brand-new music, so this is something you're sure to face as well.
You need to set up an entire PR plan and another across your social media accounts to let people know a new song is done, when it's coming, and when it has finally dropped, and then to remind them over and over again in clever ways that they really need to go listen to this wonderful new track now that it has finally been unleashed onto the world.
[How to Successfully Release Your Next Single]
2. Sell it at a cheap price
This isn't something most musicians want to hear, as they make at least part of their living selling the songs and albums they create, but if the momentary goal is to potentially send one tune onto a Billboard chart, some sacrifices need to be made.
While most songs sell for 99 cents or $1.29 in the iTunes store, you should aim just a bit lower, especially in the first few weeks of availability or perhaps if something happens and a particular song grows exponentially in popularity.
Now, don't go thinking you can just give a song away for free and have all those sales count! The publication has a rule that nothing sold for under 69 cents is eligible for charting, so if you want each and every purchase to count (and you really do), sell your new single for just under 70 cents and hope for the best!
3. Encourage fans to play it everywhere
These days, how people access the music they love has changed, and many of the charts pieced together every week by Billboard now reflect that. A number of the rankings (though not all of them just yet) incorporate sales, streaming, and radio play when ranking songs, with everything being weighed differently. If you really want your new single to have a good chance of making it, ask your fans to hit play on several different platforms!
Even if they've purchased it, encourage them to head to their favorite streaming platform and play it there as well. That's something of a tough sell, but both will count, and if they really love you, at least some of your most ardent supporters may listen
Or, if a song is doing well only in one way (perhaps your fans are streaming it incessantly), there are streaming, radio, and sales-only lists as well!
4. Try for some radio attention
This is perhaps the toughest part of the equation, but even a few plays can have a meaningful impact on your charting fates. If you can get some college stations and perhaps even a few other outlets to spin your new record a few times, those will count towards your overall performance in any given week, and it really only takes a handful to start the ball rolling.
[How to Get Your Music Played on the Radio (And Why It's So Important for Indie Artists)]
Having said that, being played on the radio — any radio, mind you — is one of the toughest goals to accomplish for any musician still on the rise, so don't get your hopes up here. You may want to hold off on this step until you already have a career going and until you can hire a radio promotion firm to push your music. Otherwise, you may find you'll spend all your time doing it yourself, and that takes you away from properly promoting it in many other ways.
5. Make them hit replay
Just as you'll ask your fans to buy and stream your music, feel free to reach out to those who have identified themselves as real lovers of your art and plead with them to hit replay on your latest song. If they really like what you've produced, chances are they'll be repeating it anyway, but putting forth that you need them to do so won't hurt.
Keep in mind that replays all count as different streams...up until a certain, unidentified point. Billboard doesn't allow people to simply stream a song non-stop, adding to that track's total forever, but it's not as if the charting firm only counts one play per person per day.
6. Post several versions
If you're really in it to win it with what could be a future smash, chances are your original take on the song you created won't be enough. When it comes to the biggest Billboard songs chart (the Hot 100, which measures the most popular tunes of any genre every week), all versions of a tune are counted as one, which works in your favor if you can produce many different ones.
Feel free to release an EP based on a single, with remixes, acoustic takes, a cappella versions, radio-ready cuts and even an instrumental performance, if you like. Every single can actually produce five pieces of music, and the streams and purchases of those will all count towards one title doing well. Even if it doesn't work, you're going to be bringing in more cash on streaming outlets, and if you hit it right with a danceable remix, you may see your music perform well in an area you'd never have expected.
Also, don't forget that at least when it comes to several different charts, YouTube plays are also included, so anything you can do to see a music video go viral is also highly encouraged!
Hugh McIntyre is a freelance pop music journalist in NYC by way of Boston. He has written for Billboard, The Hollywood Reporter, and MTV, as well as various magazines and blogs around the world. He is also the founder and editor-in-chief of the blog Pop! Bang! Boom! which is dedicated to the genre of pop in all of its glory.