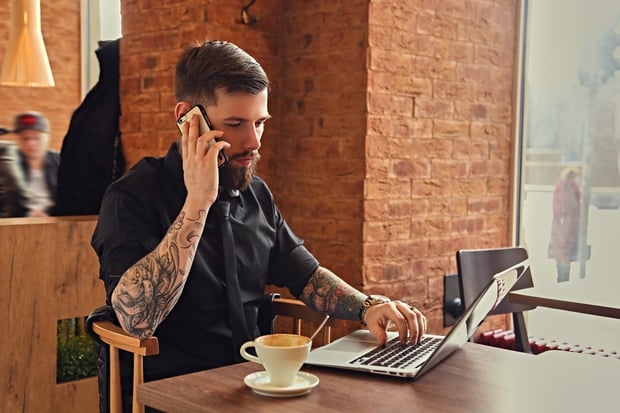 Image via Shutterstock
Some musicians think websites in the age of social media are a relic of the past, but I would argue that they're still important and that they're worth the time and potential expense. There's so much you can do with a website that can't be done on Twitter, Instagram, or Facebook.
One of the many essential pages you should have built into your website is the contact page. At first glance, you might think it would be mostly empty other than one email address, but there's so much more you can add that benefits you as a working artist.
If you haven't thought about what contact info you should feature on your website, here are six ideas worth incorporating.
1. Your general email
Your first line of contact for those looking to get in touch with you or your team for any reason should be a general email address. While music-industry professionals will probably know when they need a manager or a booking agent or somebody else, there will be many instances when someone who may be able to offer something of value doesn't know, and you shouldn't immediately shut them out for that reason.
A general email address serves as a nice catch-all for messages coming in, which will mostly be from fans or haters, but which could wind up becoming very valuable to you. Fans can email you here, and it's up to you to decide how (and if) you want to respond. You might also receive booking requests through this account. If you want, these emails can even be read through by your manager, who can disseminate the missives as they see fit.
2. Your booking agent
As an artist in today's modern (read: very tough) music industry, you'll likely be making the majority of your money on the road, so one of your top priorities should be making it as easy as possible for people to book you for a show or an event. You should have your booking agent's information — the agency they work for (if any), their phone number, and an email address — available to anyone who wants to see it.
At a certain point in your career, that might not be appropriate anymore, but until you're a star, this is a necessity.
[Everything You Need to Know About Working With a Booking Agent (Explained by 3 Pros)]
3. Your manager
While your manager won't be booking your shows (or maybe they are if you're truly just starting out), they will be doing pretty much everything else, and it's imperative that they're easy to reach.
There will be many people who should speak to your manager, and you may end up forwarding requests and messages that come to you on social media to this person, even if you make their info readily available.
The person acting as your manager should assist your booking agent, talk with brands, meet with other managers about potential shows or tours, deal with merchandise companies, and everything else you can think of. Feel free to make it clear on your website that this is the person to contact for those types of inquiries.
[6 Things a Band Manager Does (Or Should Do) for You]
4. Your PRO representative
Your PRO representative is the person who represents your catalog at an organization like BMI or ASCAP. These companies are in charge of making sure you, as a songwriter, are paid whenever your music is listened to or used, and they should also be thinking about your catalog for potential use in advertisements, TV, movies, etc.
If somebody in the entertainment field hears a tune of yours and thinks it would be perfect for a project they're working on, it will streamline the process if they can reach out directly to the person working with your music. If you don't want to share this info for some reason, they can always go through your manager, but adding that contact to your website makes things a lot simpler.
5. Photographers, studios, mixers, mastering professionals
This is not a necessity, but it is a nice thing to do, and the more you help out those you've worked with in the past, the more they will help you (at least theoretically). If you have space on your contact page, feel free to add a section featuring the professionals you've worked with.
These can be:
producers
mixers
engineers
mastering professionals
session musicians
photographers
studios
merchandise companies, and more
You'll be working with tons of different individuals and companies, and all of them would love a shout out, especially if it helps drive business.
Include whatever info they'd like — their website, maybe a name and phone number — and explain briefly in a sentence how you worked with them and what you loved about it. If you're able to send some people their way and they benefit from it, they may even cut you a deal next time you need a record mixed or some T-shirts printed.
6. A general address
Though it's a little more "retro," a general address is also a nice thing to share with your fans, and it will be even more of an asset when you make it big. This should never be your actual address, even if you have five fans, and they are all your friends and family.
Instead, invite fans wanting to send letters, swag, mixtapes, or whatever else requires a stop at the post office to your manager's office or perhaps to a P.O. Box, which can easily be rented.
Hugh McIntyre is a freelance pop music journalist in NYC by way of Boston. He has written for Billboard, The Hollywood Reporter, and MTV, as well as various magazines and blogs around the world. He is also the founder and editor-in-chief of the blog Pop! Bang! Boom! which is dedicated to the genre of pop in all of its glory.