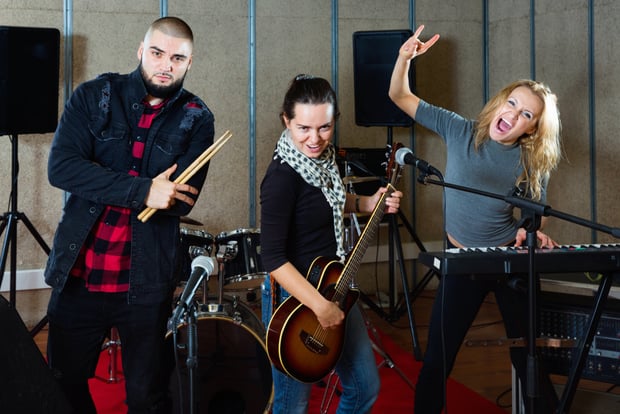 Image via Shutterstock
Every year, I revel in the chance to break out a brand-new notebook, pick up my favorite pen, and start planning for all the wonderful, exciting, career-changing things I'm going to do in the new year. Yes, I am totally one of those people that finds inspiration in the whole "anything can happen next year" thing.
Why not? Why can't 2019 be the year that you build a stronger bond with fans, make connections that can help guide your career, and put forth a momentum and path that will one day shape your legacy?
I believe in the power of change and the inventiveness that a new year brings. But, sometimes, you need a little kick start. Give these five tips a try to get ready to rock 2019.
1. Make planning 2019 fun
Let's face it: If it's not fun, it's probably not going to happen. Sure, there are plenty of things in life that require buckling down and powering through, and, at times, that includes career planning. But if you're trying to make the planning process a regular thing (as you should), there has to be some kind of incentive if you're not someone who naturally loves strategizing for the future.
Try planning at your favorite café, and treat yourself to a latte and a piece of cake, or put on a special playlist and make yourself some hot cocoa with extra whipped cream. Design an experience you can look forward to, and you'll get a lot more out of it.
2. Create a schedule
Having a schedule is what helps us form habits and be pervasive. So, pick a specific date and time you can dedicate to future planning and then stick to it.
If you know that Sundays from 7:00 p.m. to 9:00 p.m. is when you've set, that means you don't make plans Sundays from 7:00 p.m. to 9:00 p.m. Period.
3. Set mini-goals
While I admire the artist who has dreams of playing the largest festivals and garnering airplay or Spotify rotation on the biggest playlists, there's something to be said for having mini-goals that build on one another. In fact, it's kind of how you have to do it, especially in the early days.
For instance if you want to be in Billboard, figure out the steps you need to take now to build up to that in the coming year(s). Like garnering as much small press as you can in order to start a buzz, or building your relationships so that when it's time to try and go for those larger placements/shows/etc. you have a support system to call on.
[4 Reasons Why You Should Focus on Small Music Blogs... Not Big Ones]
Take your goals, whatever they are, and break them down into something you know you can achieve. Mini-goals for each week or month, if you will.
If your goal is to play a 500-capacity venue by July, break that down. In order to do that, you probably need to work on your live show and marketing skills to bring out a larger draw. Perhaps January/February's goals are to build your relationships, while March/April is to put on a better live show so that by May/June you can focus on the marketing of that new-and-improved show.
If you know in January and February you need to work on building relationships, figure out what that means and then create weekly goals. For instance, focus on building those relationships online in January, then do it in person in February. Each week in January, focus on commenting/responding/giving advice on Facebook groups and commenting on Instagram posts and Twitter threads to get to know people better.
Eventually, integrate all these things on a regular basis, but this should help get the process started.
4. Nurture relationships
We just talked about building relationships, but it's one of those things you really can't emphasize enough. This industry really is all about who you know and the more genuine, diverse connections you make, the more opportunities you'll see begin to pop up.
In the new year, make sure you're allowing a significant amount of time for nurturing relationships both online (through Facebook groups, Instagram, Twitter, etc.) and in person (meetups, open mics, shows).
By far, building relationships and continuing to maintain and nurture them is one of the very best things you can do for your career.
[How to Make and Maintain Great Music Industry Connections]
5. Build upon growth opportunities
Once you begin to see opportunities come your way — however big or small, learn to not only relish in them (you've worked hard for this — be proud!) but to grow from them as well.
For instance, if you're noticing your Instagram is what gets the most traction, take the time to really grow that space. If you feel like a certain anecdote goes over well at shows, start to hone it and try it out in new cities. If a certain merch design does well, think about how to incorporate that into future pieces. If someone says you'd be a great fit for the college crowd, look into booking college shows!
Pay attention to what your audience is saying and then learn to think big with it. You just have to be willing to get creative, take a few risks, and follow your heart. 2019 is going to be your year.
Angela Mastrogiacomo is the founder and CEO of Muddy Paw PR, where her artists have seen placement on Alternative Press, Noisey, Substream, and more, as well as the Director of Community and Events for Music Launch Co. She's also the owner of music blog Infectious Magazine. She loves baked goods, a good book, and hanging with her dog Sawyer.