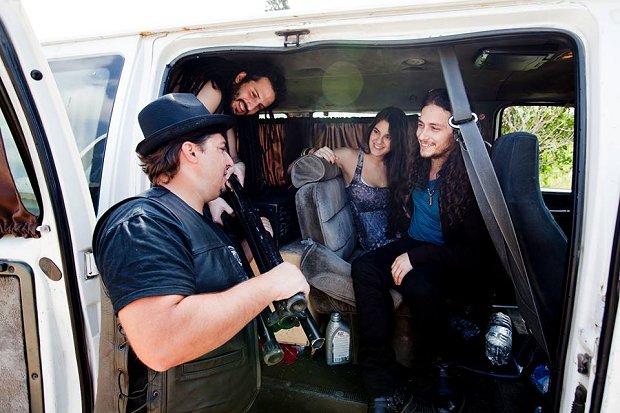 Image via americanbluesscene.com
Tour life is tough. Only the strong survive, and I'm as serious as a deadly disease diagnosis. Living out of a suitcase or tour vehicle isn't easy, and while it might seem romantic and fun at first, it can get old quick (like when you have to rely on 7-11 offerings for sustenance, or when it's 94 degrees out and you have to sleep in the van without AC, or when you learn that your drummer snores louder than a Mack truck).
But if you've made the conscious, firm, and educated choice to be a touring musician and are fully committed to your career, then you have to heed these five easy guidelines to avoid burning out while on tour. These "golden rules" should serve you well, so follow them religiously!
1. Bring creature comforts of home
There are a few homey things you can bring that are necessary but also mimic being in a familiar place, like pillows that smell like your bedroom, enough pairs of clean underwear, new socks, and hand sanitizer. Seriously, without this stuff, you get cranky and make everyone around you miserable. Almost every band I've ever interviewed mentions these things as essentials for their knapsacks. Since scent is tied to memory, it's critical to bring things that smell like the place where you aren't, but you miss. At the same time, though, you have to be brutal and only bring what you absolutely need.
2. Plan fun things to do for when you're not playing
Look at your itinerary in advance, and do some research. Think about the non-music or non-work stuff you want to do while offstage, even if it's visiting an endemic local coffee shop or eatery where all the food is locally sourced. You're traveling and seeing the world, so you can take an hour just to get away from the van or the bus or your bandmates and enjoy the sites. Who knows when you can or will be in these places again? Know where you want to go to get a decent meal, since Doritos ain't going to cut it.
3. Tour in the cities that are worth your while
Try and tour efficiently because you have something you want to give your fans. Don't hammer or punish the same markets over and over and over just 'cuz. Make sure you have something to promote, and then cover the cities that you love most that reciprocate that emotion. You don't want to burn your fans out, either. Give them a reason to come out and see you every time. If you have a city or a town where you draw a packed house every night, take care of it and nurture it. Don't show up and play just to play. Show up and play a show they can never forget.
4. Set aside some "me time"
Don't underestimate the importance of having some "me time." You'll be on top of your bandmates, splitting late night, 12-hour driving shifts, participating in chaos, and dealing with other road headaches. You want to make sure you get some free time where you can decompress by yourself so you don't explode and say things you don't mean. You tour so you can get better and keep touring, not so you can break up.
5. This is a full-time job, part-time party
Being an artist or a musician might seem like a full-time party. Not true. It's a full-time job and a part-time party. If you go at it too hard, you'll get sick, worn down, be hungover, and you won't play your best shows. Remember why you're on the road – to perform, not to party. You can imbibe, but everything in moderation.
It's okay to get selfish on tour to keep your sanity. Just go into with a master plan and execute accordingly.
Learn more about touring:
Amy Sciarretto has 20 years of print and online bylines, from Kerrang to Spin.com to Revolver to Bustle, covering music, beauty, and fashion. After 12 years doing radio and publicity at Roadrunner Records, she now fronts Atom Splitter PR, her own boutique PR firm, which has over 30 clients. She also is active in animal charity and rescue.