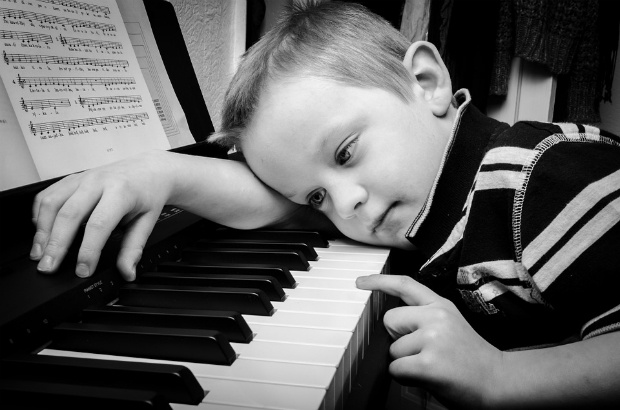 Image via pixabay.com; used under Creative Commons
Eventually, many musicians get the itch to branch out and learn a second instrument. The reasons are different for everyone. Sometimes it feels as though you've plateaued with your primary instrument. Other times, you're just not expressing yourself as well as you'd like. Or maybe you're just looking to push yourself with a new creative challenge.
Whatever the reason, there are many benefits to learning a second instrument. It's not uncommon for people to notice an overall improvement in musicianship. Piano players who start teaching themselves guitar usually get better at the piano. And that makes a lot of sense, if you think of music as a language. Learning more ways to use it is like expanding your vocabulary. It makes you smarter, more nimble, and helps you approach music from different angles.
But picking up a new instrument can be daunting. Fortunately, we live in the information age, and you don't necessarily have to track down a gifted teacher to show you the ropes. So whether you want to pick up the banjo or the bongos, the piano or the piccolo, you can find the tools you need online.
YouTube
This is probably the best place to start. Think of it as the self-taught student's beginner level. There are hundreds (if not thousands) of gifted musicians offering online video tutorials. You can find lessons for all skill levels.
If you're starting out with a new instrument, you need to get the basics down first. That's difficult without someone there in the room with you to correct any mistakes. Watching a video is the next best thing. You can rewind as many times as you need to without getting on your teacher's nerves. If you're picking something up quickly, just skip ahead. You can progress at your own pace. Many tutorials offer increasingly difficult lessons, so as you get better at your new instrument, you can follow along with different videos.
Your best bet for finding a good channel is to simply enter what you're looking for in YouTube's search bar. If you want to learn piano, type in "piano lessons," if you want to learn banjo, type in "banjo lessons," etc.
The biggest drawback with YouTube tutorials, however, is that you can't ask any questions. You can try to get help by asking in the comments section, but you shouldn't hold your breath.
[5 Tips for Learning Any New Instrument]
Message boards
For many people, asking questions is an integral part of the learning process. And that can make outlets like YouTube frustrating when trying to expand one's knowledge. Fortunately, there are a lot of message boards on the internet, and they cover just about every subject you can imagine.
Let's imagine you're learning the mandolin. If you have a question about what type of pick you should be using, you can ask on the message boards. This has the added bonus of providing you with a range of opinions. Some people may prefer light picks while other users might like a heavier gauge. But this allows you the chance to hear different perspectives and pick the one that works for you.
Exploring the boards is another great opportunity to learn. You can find answers to questions you didn't even know you had, or ones you haven't come across yet.
Message boards are great for the intermediate self-learner. They offer you a chance to dig a littler deeper into the nuances of your education. Just like with YouTube, this will take a bit of googling. For piano, you'll find excellent resources at pianostreet.com and pianoworld.com. There's an excellent guitar community at ultimateguitar.com. The Bass Zone has a great message board. If banjo is more your speed, check out banjohangout.org.
But just as with the beginner level, you will hit a wall. Sometimes you'll reach a point where others can't answer your question. Or they just aren't interested. They can also take so long to respond that you lose interest and focus.
Skype
And now we've reached the advanced level for the internet learner. You may reach a point where the message boards just aren't enough and you need a more human connection. This is also a great option for people living in remote locations who don't have local teachers at their disposal.
You can almost think of this like an internship or apprenticeship. You've studied and studied, and now you've reached the point where you need to learn from someone with more experience. This level will likely cost you a bit of money, but if you're starting to feel like a teacher would help, then it's probably worth it.
Years ago, if you wanted to take up the flugelhorn, you might be out luck. There just might not be someone in your area to teach you. The internet has been connecting people with niche interests for years. With teleconferencing tools like Skype, it's able to connect teachers with students. Skype lessons are great because they allow you to dig into an instrument. If you have a particularly difficult question, it's nice to have someone to ask. Even if they don't know the answer offhand, they probably know where to look to find the information.
One of the riskiest aspects of teaching yourself an instrument is developing poor habits. Without correction, these can handicap your playing. A Skype teacher can help you identify any of these problem areas and work with you to make them better.
TakeLessons.com is a good place to start looking for music teachers, as is the aptly named Music Lessons On Skype.
Independent study
YouTube is for beginners, message boards are for intermediates, and Skype lessons are for advanced students. But we still need to do our homework.
Brushing up on your knowledge of music theory will help, no matter which instrument you playing. And there are plenty of resources for that as well. Obviously, there are YouTube video lessons and message boards dedicated just to music theory. And again, these are great tools. But when it comes to theory, there are sites that go even deeper. Sites like oneminutemusiclesson.com and musictheory.net will actually test your knowledge. From there, you can direct your own course of learning and improve on your weaknesses.
Learning an instrument on your own time – for free or little money – has never been easier. The resources are right at your fingertips, so what are you waiting for?
[4 Practice Routine Tips to Progress Faster on Your Instrument]
Ty Trumbull is a Canadian musician and writer living in Mexico City. He's played banjo and guitar with a bunch of bands you've probably never heard of.