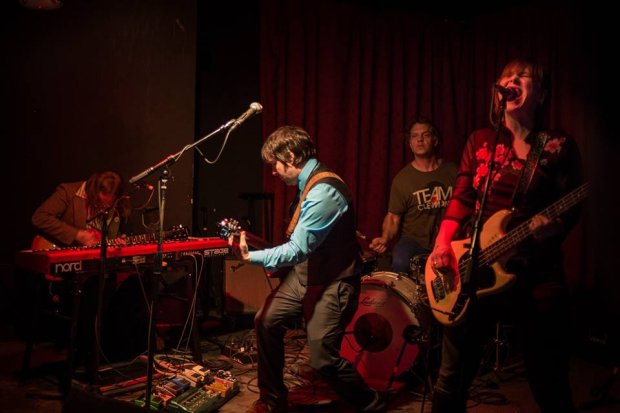 Casper & the Cookies of Athens, GA, at O'Brien's Pub last December. (Photo by Bryan Griffin)
While Boston's House of Blues and a bunch of 200-plus capacity venues play host to bigger names, there are a ton of smaller rooms where the local scene is absolutely thriving. Like in any city, it's at those venues where up-and-coming artists including Berklee students and alumni, electronic DJs, and garage-punk bands hone their craft and develop loyal fanbases.
We've picked five of our favorites for their commitment to the area's on-the-rise artists as well as their welcoming of underground touring acts. There's even a mid-size venue in the bunch – it made the cut for maintaining its allegiance to the local scene despite also welcoming more established artists. There are plenty more worthy options we could have included, but this crop, we think, are exemplary of Boston's mixed musical landscape and the locals' enthusiasm for all it offers.
Image via ttthebears.com
Rock 'n' roll is the apparent focus at this Cambridge spot, at least as of late. Bands like San Francisco's Cool Ghouls and LA-by-way-of-Ottawa act Peach Kelli Pop have both recently appeared on the calendar and, to the delight of locals, both bills featured at least one Boston band as an opener. That doesn't mean every show with a touring headliner is open to local bands, but the venue clearly considers them when possible. T.T. The Bear's is a pillar of the local rock 'n' roll scene in general, really. This May, it'll host – for the fifth year running – the annual Rock 'n' Roll Rumble, a battle-of-the bands-style competition established way back in 1979 that's open to local acts from the greater Boston area. Oh, and the club was also the backdrop for Sebadoh's "Ocean" video in the '90s!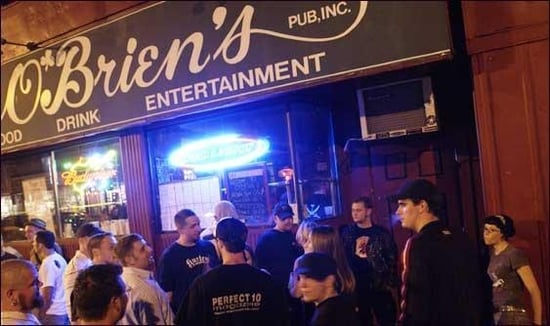 Image via boston.cityvoter.com
The smaller, cozier sister venue to the 240-cap Great Scott, this Allston club can only host about 60 people – and for bands and artists still growing their fanbases, that's a pretty perfect capacity. O'Brien's Pub welcomes all genres, but its calendar lately shows a penchant for both touring and local acts pushing hardcore, metal, pop-punk, and the variations in between. Because of its size, O'Brien's makes a great spot for locals (many from the greater Boston area, too) looking to hone their chops, as well as newer or niche touring bands. Plus, sometimes deserving bands are plucked from the Pub for gigs at Great Scott.

Located just a few blocks from Fenway Park, Church renovated a now-closed venue's spot in 2007 to provide both an upscale bistro and a 225-capacity club. For hip-hop heads, it's a boon for the local scene – according to the venue, their Motivate Mondays event is the city's only underground weekly open mic night. Area musicians of other genres can also appreciate Church for its month-long residencies during which bands and artists can grow their fanbases with performances every Tuesday. There's room for locals on the weekends, too, from Berklee students and grads to formidable up-and-comers playing virtually every style possible.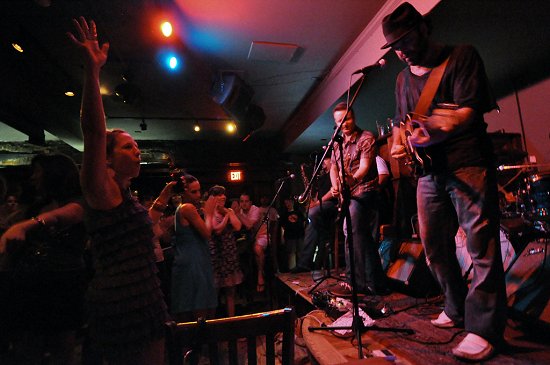 Image via bellaruaphoto.com
This Cambridge spot is a haven for local bluegrass, country, Americana, and folk players, and the Bostonians who love them. It's more of an intimate listening room than a bustling venue, and that's perfect for the style of music presented. There aren't many hubs in the city for this particular crowd, and this is certainly one of the best.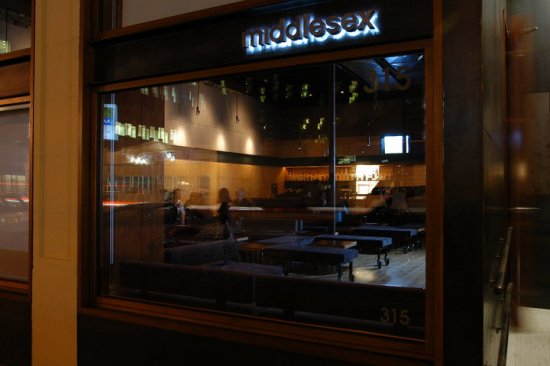 Image via facebook.com
Though folk, soul, Afrobeat, and reggae make an appearance from time to time, electronic music has a heavy presence at Middlesex Lounge. Pumping up dance parties Thursday through Sunday each week are eclectic DJs like the BREK.ONE, who spins a blend of hip-hop, dancehall, electro, and more, or The Bladerunners, a duo that filters everything from pop-punk to hip-hop to Hall & Oates into their party-starting tracks. Their weekly electronic dance night is where you'll often find special guests, like London-based trippy techno artist Daniel Avery.
Click here to start booking gigs in Boston, or keep learning more about the local scene:
Jhoni Jackson is an Atlanta-bred music journalist currently based in San Juan, Puerto Rico, where she juggles owning a venue called Club 77, freelance writing and, of course, going to the beach as often as possible.