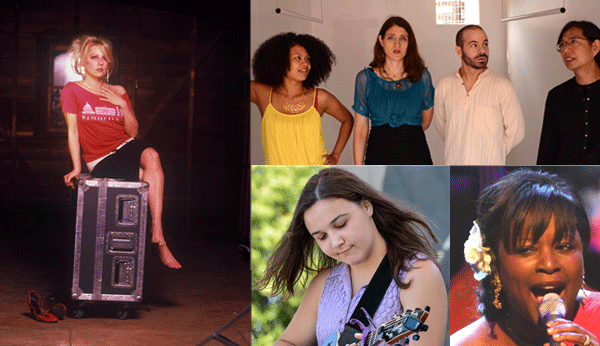 MEOW Con is an annual gathering of the tribes – an interactive forum designed to address the needs and challenges of women working in the music industry today and to ensure women have a voice at every level of their music career. This years conference was held in Austin Texas, from October 24th - 26th. For this week's shout-out, we highlighted four Sonicbids Artists chosen to play.
Indie pop rock meets sexy electro swagger, named Catlow. Hailing from Canada this band has influences ranging from New Order and the Smiths to Liz Phair and beyond. I bet you've found yourself singing along to their track Kiss the World, I know I have! Their current release Pinkly Things, has picked up speed in airplay universe on CBC's Radio 3, Grooveshark, Tune IN and more. Soon to be on a station near you, remember where you heard it first :)
Bear with me on this one. When Changing Modes released their debut EP in 2000, they were years ahead of the curve. This Brooklyn quartet creates what I am going to call female-fronted artpunk and though that may seem like quite the niche of a genre, it has gained recent widespread popularity with bands like Wild Flag, Best Coast, and Melody's Echo Chamber leading the charge. With these other bands paving the way through the mainstream, Changing Modes is poised to breakout and show the world that this ain't their first rodeo.
Pamela Hart is full of just that; heart. Just seconds into any one of her recordings and her soulful sound will be flowing through your speakers directly into your veins. A true jazz artist in every sense of the word, Pamela has the ability to captivate an audience with her powerful and commanding vocals.
Kate Diaz is just barely old enough to drive, but that hasn't stopped her from touring around the country entertaining crowds of all sizes. In the past 3 years alone she's played everywhere from Lollapalooza to Summerfest. Her songwriting skills are catchy as all get out and impressive for someone of any age. Make sure to check out her song LOCKS.