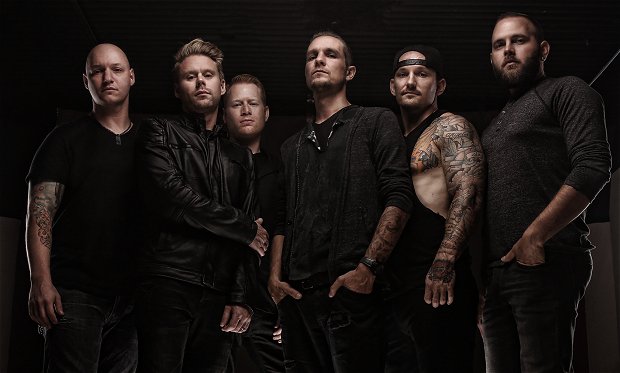 Photo by Bullet Tooth via atomsplitterpr.com
Touring isn't as glamorous as it may seem. Yes, it's a lot of fun and a lot of games, but it's not all fun and games, all of the time. It's a professional endeavor, and if you put on a good show, you'll sell more merch, turn more heads, make more fans, and get invited on bigger tours. So you have to kill it while on the road.
Drinking too much every night, sleeping in too late, and acting like touring is a full-time party is the quickest way to kill not only your liver, but also you momentum and your career. Ryan Baustert, guitarist of Throw the Fight, who will release Transmissions via Bullet Tooth on April 8, gave us the rundown on what he does all day while on the road and when his band's on tour.
8:00 a.m.
"While we are on tour, the first half of our day is typically spent driving to the venue. We'll leave our hotel around 8:00 a.m. and will be traveling anywhere from three to six hours depending on the routing. Since we're in a van, and it's typically too cramped and bumpy to get any sleep or work on a laptop while driving, we'll just listen to music."
They set up a rotation for who drives and what music they listen to, which is a good way to keep the peace and to keep things moving.
12:00 p.m. to 3:00 p.m.
"Once we arrive for load-in and get our gear squared away, we'll hit a local gym for a pre-show workout. Our drummer, Jeff, is also a personal trainer, so he usually has a lead on the closest one for each tour stop. If there isn't a gym that's reasonably close, we'll do a parking lot workout if the weather is decent."
3:00 p.m. to 6:00 p.m.
"We'll grab something to eat afterwards, and then I'll try to find a coffee shop or somewhere with Wi-Fi so that I can do any press we might have for that day. If there is a local rock radio station nearby, we'll always try to stop in there to drop off CDs and shake hands. I'm also a graphic and web designer, so I use this time to work on any freelance projects that I might have on my plate."
6:30 p.m. to 7:00 p.m.
"By now, it's usually time for doors to open, so we're back at the venue, working our merch table and meeting fans for as long as we can before and after our set."
9:00 p.m. to 10:00 p.m.
"After the show wraps up, and we load everything back up, it's off to our hotel for the night to try and get some sleep so that we can get up early and do it all over again the next day."
That's the general timeline for many touring musicians who also have regular jobs. It's a mix of getting to the venue, situating gear, staying in shape, handling responsibilities, catering to fans, and putting on a show.
Baustert notes that despite the general chaos of life on the road, he and his bandmates have to impart a specific routine in order to survive. "For us, it's very important to maintain somewhat of a strict schedule and routine while we are on tour," he says. "We want to make sure that we are constantly working and being productive while on the road. We make sure that we are always working on growing our social media, doing press, lifting weights and staying healthy, meeting with as many people as possible, and most importantly, blowing the roof off the venue each and every night."
While many bands will take time to see the sights and enjoy local culture, that's secondary for Throw the Fight as they build their touring business. "We typically don't have a lot of downtime, and don't really have the luxury to do any sightseeing unless it's something that we can walk to from the venue we are at, or we happen to have an off day and we find ourselves in the same location for more than one night," says Baustert.

With the band's work ethic, they will get to a point where they are able to enjoy local haunts. Their drive, focus, and professionalism at this stage of their career is what will get them there.
Next up: 8 Things You're Forgetting to Do on Show Day
Amy Sciarretto has 20 years of print and online bylines, from Kerrang to Spin.com to Revolver to Bustle, covering music, beauty, and fashion. After 12 years doing radio and publicity at Roadrunner Records, she now fronts Atom Splitter PR, her own boutique PR firm, which has over 30 clients. She also is active in animal charity and rescue.