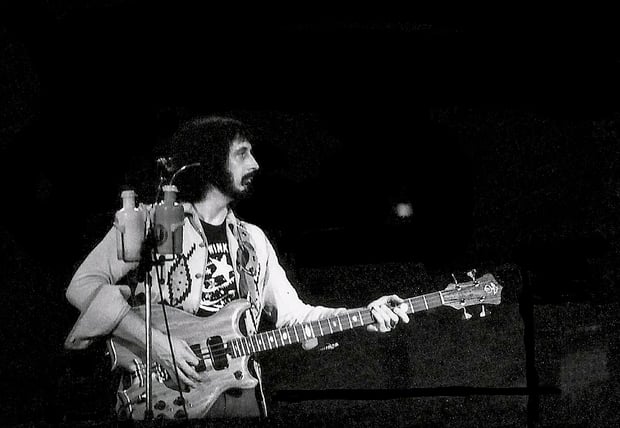 Photo by Bill Abbott via Wikimedia Commons; used under Creative Commons
Did you read our first article on great bass songs? Need more? We've got you! Check out 12 more great songs to learn on the bass.
1. Classic rock/pop: Fleetwood Mac, "The Chain"
Fleetwood Mac was a cornerstone of rock music in the '70s. They made their name with a mellow sound and catchy, creative parts like the bass break heard in the middle of this song. Fleetwood Mac's bass player commonly matches the kick drum to lock in with the drummer, a great technique used across many styles to make a song groove hard.
2. Punk: Rancid, "Maxwell Murder"
Rancid's bass player is nothing short of ferocious. In a genre commonly driven by high energy, it's great to hear a bass player bring some busy parts to the table that step beyond the usual pounding eighth notes heard in so much punk. If you're looking for a serious challenge, learn this bass solo.
3. Dance punk: Death From Above 1979, "Going Steady"
Death From Above 1979's album You're a Woman, I'm a Machine earned them a cult following overnight. The group is a two-piece consisting of a drummer who also sings, and a bass player who absolutely shreds. If you find yourself drawn to overdriven bass tones, you need to know this band.
4. New Wave: Talk Talk, "It's My Life"
The New Wave sounds of 1980s gave us some serious hits. While the soaring vocal melodies of Talk Talk's "It's My Life" take center stage, the song is driven by an incredible bassline, both in the verse and the chorus.
5. Brit rock: The Who, "My Generation"
Brit rock sensation the Who features one of the most highly respected rock bassists of all time: John Entwistle. The song features not only a catchy and provocative counterculture message, but some sweet basslines and some even sweeter bass fills.
6. Progressive rock: Yes, "Roundabout"
Yes was famous for their high energy highly melodic prog rock. Chris Squire's bass riffing on "Roundabout" drives the song and lays a perfect bed for the other instruments to play freely on. Practice this part to build stamina and consistency.
7. Death metal: The Faceless, "Ancient Covenant"
While it may not carry the mass appeal of acts like Fleetwood Mac, tech-death-metal bands like the Faceless are responsible for some of the most adept musicianship out there. The song "Ancient Covenant" starts off with a ridiculous bass sweep before delving into rapid angular runs.
8. Hip-hop: Dr. Dre, "Let Me Ride"
A good hip-hop track needs a fat groove, and Dr. Dre's classic album The Chronic is full of 'em. The album features live bass recordings that masterfully interconnect with the other instruments in the beat to create tracks that groove. Hard. Check out the song "Let Me Ride" for a lesson in space and the importance of a well-defined cadence to a groove.
9. Slap bass: Primus, "Tommy the Cat"
Primus is the brain child of virtuosic bass player Les Claypool. While the band's sound is a combination of each very skilled member of the band, Claypool's percussive bass playing is undoubtedly front and center. His busy slap lines heard on "Tommy the Cat" are a crash course for any bass players looking to take their slap chops to the next level. For full Claypool effect, play on a fretless.
10. Old-school R&B: The O'Jays, "Love Train"
The sound of super-smooth, old-school R&B is truly something special, especially for bassists. The groove heard on "Love Train" embodies everything a bass player should strive for. It's clean, tight, and groovin' as hell.
11. New-school R&B: Brian McKnight, "Back at One"
R&B is an incredibly rich genre spanning many decades. If you're looking for a modern classic with a great bass part, you can't do much better than Brian McKnight's ballad, "Back at One." The song features Chris Loftlin laying it down heavy and dropping a tasty fill in both verses.
12. Experimental: Jaco Pastorius, "Portrait of Tracy"
Jaco Pastorius is considered by many to be one of the most influential bass players of all time. His work in jazz on the electric fretless bass was groundbreaking in many ways. His song "Portrait of Tracy" features bass as the solo instrument and uses mostly harmonics. It's a progressive and well-known track from one of the best bassists of all time that every bass player should know.
Max Monahan is a bassist and a writer living in Los Angeles. He spends his time working for an audio licensing website and shredding sweet bass riffs.