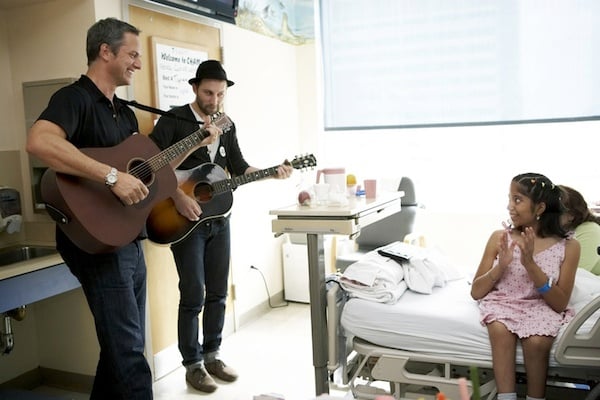 Image via musiciansoncall.org
There are plenty of reasons to give back to your community, but sometimes it can be extra special to give back through your music. Not only can this be fulfilling and really "feed the soul," but there are also added benefits that can help boost your personal career, too. Here are three great ways you can be charitable and help your community through your artistry.
1. Get involved in a charitable organization
There are many nonprofits out there that would appreciate your time and contributions, but having the opportunity to volunteer for an organization that uses music in its process is very special. Look up music-related charities in your area and see how you can get involved! If you're in a major city and want to work with a larger organization, you can check out a nonprofit like Musicians On Call. Their mission is to bring live and recorded music to patients in healthcare facilities to help promote the healing process. All you have to do is sign up to be a volunteer on their website, and they'll connect you to a facility near you where you can get started.
Local musicians are assigned rooms and go to the bedside of patients to share the joy of music. It not only distracts the patients from their illness, but going deeper into the music therapy arena, music can also help the healing and surgical processes. We always knew music was special to us, but it's infinitely more powerful when we can share it with others – especially those who really need it and appreciate it the most.
2. Donate your time in public school music programs
Music programs are being cut from school budgets all over the country. I'm sure many of us feel very fortunate that we had the opportunities to get our start and first exposure to music at a young age through school. It's disappointing and truly detrimental to the art to think that many young people will never even have a chance to try out an instrument or discover their talents early on. Unfortunately, not all of our local government policymakers understand the value of music education, and therefore, money is taken from the programs to be used for other things that are deemed to be more important. There is no better time to volunteer to share your musical gifts with your local public school system than now.
If there's still a music or chorus class existing, get in touch with the teacher and offer to come in for a few periods to work with the kids. If there's no music offered whatsoever, contact the principal to express your interest in holding a special workshop for the students. You could even go as far as working with the PTO to arrange to hold a music event or fundraiser, or offer a semi-regular after-school music program. Every little bit counts for these children, and you never know what could come out of it or who you might be able to inspire! Furthermore, these kids will probably be chomping at the bit to tell their friends and parents about how much they're loving learning about music, and you may even gain a few private lesson students out of it, too!
3. Volunteer at healthcare or assisted living facilities
One of the most beautiful things about music is how it can connect people from all walks of life. No matter how young or old, from anywhere around the globe, music unites us all. And if you want to see the amazing power it has to bring joy to people's faces, there's something truly unique about playing at an assisted living facility. Many of these older folks find themselves going through the motions day to day, rarely getting the chance to do anything to stimulate their minds. It's truly incredible to see the smiles light up the room as they utter every last word to a song that brings them back to their younger years. The once crouched-over elders start snapping and tapping their toes and reciting along every lyric – even when sometimes the Alzheimer's is too powerful in their everyday lives to let them remember the basics of who they are.
The power we have as musicians to help these people feel happiness and bring back good memories is really quite special. And not only is this genuinely a wonderful thing to do, but there are various tax write-offs that you can take advantage of through your charitable contributions as well. For example, any expense associated with your performances at one of these facilities is tax-deductible, along with any equipment, meal purchases, or other basic costs required. Plus, the connections that you often make from doing this kind of work very often results in other paying opportunities, so always keep your contact cards on you!
In conclusion, even though volunteering is a gesture of kindness, there are still plenty of perks that come with giving back. Whenever you go to volunteer through your music, send out a quick press release to your local news outlets. Oftentimes, editors love picking up heartwarming stories of the do-gooders in the community, and the music angle is definitely an interesting twist! Charity work is good for the soul, good for the heart, and good for the opportunities and PR! Can't really go wrong giving back as a musician. And as they say, "The meaning of life is to find your gift. The purpose of life is to give it away."
Before you partner with a charity, make sure you're going about it the right way.
Christine Occhino is the founder and artistic director of The Pop Music Academy and has experience working at Columbia Records/Sony Music Entertainment, in addition to working as a performing artist for over a decade. She has a bachelors degree in music business and management with a concentration in entrepreneurship and vocal performance from Berklee College of Music, where she was a vocal scholarship recipient and former editor-in-chief of the Berklee Groove.