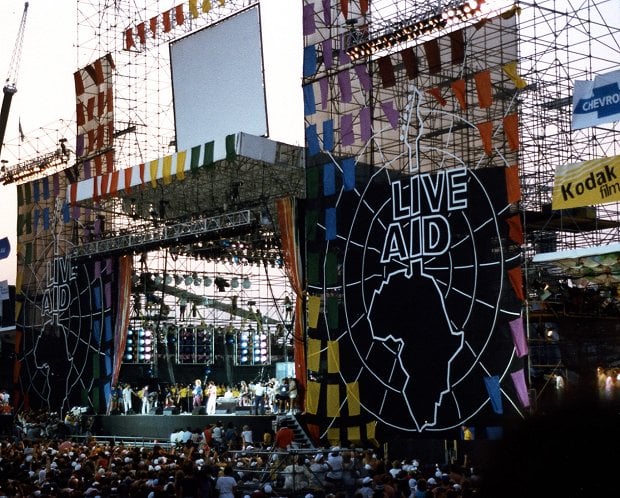 Image via komu.com
Historically, when money or awareness needs to be raised for charity, musicians are key figures for events or social campaigning. It's in our blood to bring people together, and if that includes a great cause along with a great time, then it's a success for everyone involved. As a band, using your social media platforms or your own events as a tool to promote these causes can be beneficial, but it's also important to consider whether the cause is aligned with your brand and your community. Because if you're doing it for the wrong reasons (i.e. purely for self-promotion), then the goodwill you say you're trying to generate will undoubtedly come off as inauthentic. But if you're committed to raising awareness for the right reasons, here are some guidelines to help you out.
Choose a charity or cause
When a large-scale disaster happens or a friend needs help, it's great to use your platform to generate as large of a reach as possible. With the holiday season fast approaching, however, there are numerous opportunities for bands to contribute to ongoing campaigns in their communities on a local level.
From canned food and toy drives to promoting voting, it's easy to choose a simple cause to which contributions can be made on an annual level. If you're really passionate about something, though, it's great to partner with an organization that will work with you to help grow the cause and the collective audience. Just keep in mind that if you're still building your fanbase, you'll likely have a better shot reaching out to a smaller, local organization rather than shooting for a national one.
Image via jambase.com
Showcase the benefits
Once you've found the appropriate cause or charity to partner with, come up with an idea of how you can bring awareness or funds to that cause. At your next show, could you make a brief announcement about the new partnership and send a donation jar around? Are you willing to donate a certain percentage of your album sales to the organization? Have you written a song that's particularly relevant to the cause that could help promote it? Could you donate all of the proceeds from that song to the charity? The point is to put the cause first and think of a way you can use your talents and your community to create awareness.
A great way to do this is through your shows. Events that bring people together are a valuable asset to any cause. With a large in-person audience plus all the online and social media promotion, this a great partnership opportunity.
Having a plan in place makes approaching any organization that much easier. With any partnership or business, everyone is willing to talk to you if they see the value and purpose, so explaining your idea and showcasing the value you bring to the table is essential.
It's also good to have multiple options for the partnership and go over what works best with the organization as well. In addition to ways you can help raise funds, ask:
Image via gossipcop.com
Going through this process to make sure it makes sense for everyone is critical. You want to showcase everyone's strengths to make sure the partnership benefits all parties involved.
Not only will working with charities provide you greater exposure to their audience, making an upcoming event or release that much more special, but even more importantly, it'll establish you as something bigger. This will show your commitment to your community and using your art for something greater, which is more than you can create just on your own.



As a lifelong Bostonian, Andrew Hall has been an advocate for the local music scene by participating, managing, and consulting with bands since 2006. A founding team member of a service-based music management company Deer in Headlights Music Group, Andrew has taken his experience in community building and tech and applied that knowledge learned cross dimensionally.