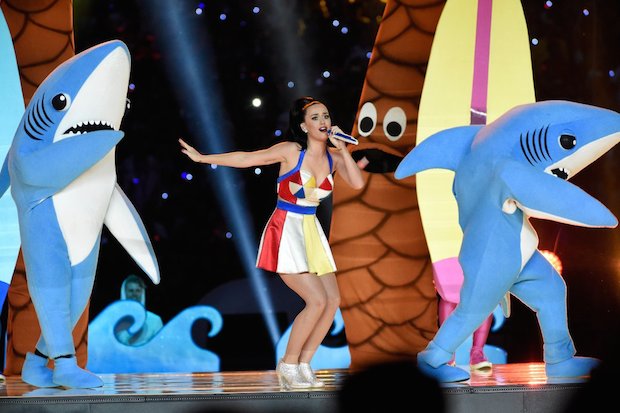 Even artists as famous as Katy Perry take performance opportunities that don't pay when it's for a good reason – like the buzz you get from performing during the Super Bowl. (Photo by Kevin Mazur/WireImage)
I'm a strong believer in the fact that what we do as musicians is a professional craft with skills that require years and years of training and perfecting, as with any trade. And those years of personal investment in time, education, and finesse come with a price tag.
Nothing upsets me more than when I see good musicians selling themselves short and undervaluing their artistry. As I've said before in previous articles, landlords certainly do not accept rent payments in the form of "exposure," so that kind of compensation is essentially worthless in my eyes. That being said, there are a few times that it is worth it to take a performance opportunity that doesn't pay. If there's significant value in another area for doing the gig, sometimes it's worth it on the back end to provide your complimentary musical expertise for the right "price" – even if not initially monetary. Here are three scenarios where playing for free will pay you back down the line.
1. When it's for charity
Now, don't get me wrong, the nonprofit business is most certainly a business. Most organizations usually have plenty of money to pay for an entertainment budget for a fundraising event. In some situations, however, it may be worthwhile to perform at no cost to the cause. There are the obvious reasons, of course: if you believe in the cause and feel it's noble to lend your services free of charge, plus it may also be personally fulfilling to do so. But this article is really intended to keep the business of your music in mind.
Here's what many artists don't normally consider: tax write-offs. If you're a working musician, it's no surprise that you must pay taxes on all the income you earn during the year. A way to lower your tax bill at the end of the year is through eligible charitable donations, which are considered tax deductions. For example, if you're asked to play a charity gig free of charge, you should contact the organizer of the event and ask for an official letter of donation. In that letter, it should state what your services would normally cost (i.e., $200 for a two-hour solo set of music or $500 if you need to pay your band members for the gig, but would like to deduct the total cost as the band leader if you've formally incorporated, etc.), and the fact that you've provided said services as a charitable donation. This is a great way to do some good for a special cause and also help out your finances during tax time.
2. When it will land you more (quality) gigs
This is a tough one to gauge, but if you call it right, it can have a major payoff down the line. As I said, there are very few times that I believe in playing for free, but if you're in the right company and have a good chance of landing many more paying gigs from the audience that's listening, it's definitely worth the time. For example, a colleague of mine allows himself to be raffled off in a big charity auction every year for a notable local nonprofit organization. Wealthy people bid, and the person who wins gets a couple of hours of live music entertainment in their home later that year. My colleague opts to pay his band members for the gig so they're taken care of, writes off the expenses (as explained above), and markets the crap out of himself at the event.
While the upper-crust of the guests schmooze and enjoy their fancy passed hors d'oeuvres during that special evening, they're all listening to the band play and taking cards and booking info. Every single year, he books a ton of very high-paying gigs from that night – gigs that he would never normally get had he not had the exposure to that type of audience. Rooms full of the right people – real consumers – are always worth playing in front of for the strong opportunity of future, quality work.
3. When it will add to your résumé
And finally, the only other time that I believe it's truly worth it to take a performance opportunity that doesn't pay is when it adds significant value to your résumé. Once in a blue moon, you get the chance to share the stage with someone of importance, maybe even a household name, or get listed on a major tour circuit backed by a big brand or advertiser. These are examples of when you should consider a non-paying gig, as the legitimacy that it will add to your artist bio far outweighs the cons. Even though eating the costs might initially suck, you'll surely find many times in the future where dropping that name will be the thing that seals the deal for another gig. Every booking agent or event coordinator loves a flashy name to wave in the face of their clients to make them look good, so definitely keep this in mind. Anything that helps "sell" you to the paying customer is well worth the time investment, and can provide for years of artist development and an increased perceived value for your craft, ideally leading to a life completely funded by doing something that you love!
So choose your gigs wisely and consider the value in playing the right gigs for free. Remember that at the end of the day, if this is not just a hobby, then your music is your business, and it's up to you to make strategic financial decisions with the big picture in mind. That type of thinking and planning is the difference between the musicians who work for a living, and the musicians who make their passion their life's work.
Christine Occhino is the founder and artistic director of The Pop Music Academy and has experience working at Columbia Records/Sony Music Entertainment, in addition to working as a performing artist for over a decade. She has a bachelor's degree in music business and management with a concentration in entrepreneurship and vocal performance from Berklee College of Music, where she was a vocal scholarship recipient and former editor-in-chief of The Berklee Groove.