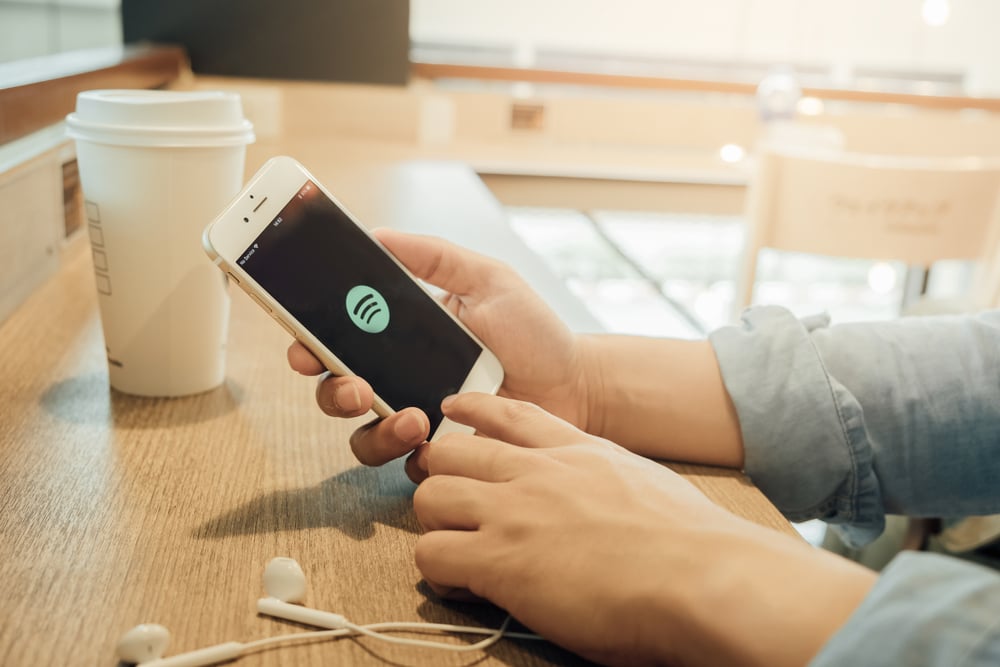 Image via Shutterstock
You already know that Spotify is one of the best ways to get fans and the industry paying attention, but are you using the platform to its fullest? Are you really taking advantage of all it has to offer and using it not only to garner streams but to connect to fans?
While there are a lot of ways to use the platform effectively, including of course, seeking out both official and unofficial Spotify Playlist placements, there's another way that serves your fans, your music, and your larger goals of growing into a widely recognized artist: Spotify pre-saves.
Done well, this can be an excellent way to hype fans up to a release, ensure they'll get the music delivered to them the second it comes out, and be one of the first to hear that new track or album.
Not to mention, Spotify's algorithms will be incredibly aware of how tracks perform, especially in the hours and days after it's released, so having a ton of fans pre-save? That's something Spotify is going to notice, and that'll only help you.
Quick re-cap: If you don't know what a pre-save is, it's exactly what it sounds like. It's a link that you can provide fans, which will allow them to click and save a song or album, so that as soon as it becomes available, it will be automatically added to their collection on Spotify.
Pretty cool, right? That means as soon as they hear about the new single or album, they can save it right then and there, without you having to worry about them coming back to find it day of.
So, how do you get people to pre-save?
1. Offer an exclusive perk
Odds are that your most loyal fans will save your song just because they can't wait to hear it. They're the same people that buy every piece of merch you put out, show up to every live event (and bring a friend) and share your music on their personal social media channels.
But there are some fans that might need a little bit of a nudge, or a bit of incentive to remember to hit that "pre-save" rather than just waiting until the song comes out. For them, you want to offer a little something extra.
The cool thing about Spotify pre-saves is that once someone hits the "pre-save" button, the link will redirect them—and that can go wherever you want. To a free download or a chance to win an exclusive merch pack. Which means you can remind them to pre-save, while also inviting them to win a pretty cool merch pack. Everyone wins.
2. Hook them with a story
If you want to go a little bit deeper, tell your audience a story. It can be difficult to get truly vulnerable in such a public way, but being able to describe what something has meant to you or the blood, sweat, and tears you've put into making this piece of music, the more likely your fans will relate to what you're saying and want to stick around to find out more.
So rather than just saying, "This is our new single, be the first to hear it when it drops!" you can go more in depth about what inspired the song and why you can't wait for your audience to hear it. It can be a paragraph long heartfelt story or it can be one simple sentence like" "This is the song that inspired me to quit my job and make music full time" or "Be the first to hear the song that Billy wrote when he asked Laura to marry him."
3. Share it!
Simple, I know! But once you have your pre-save link, don't forget to actually share that sucker and use the above tactics to really sell it. Put it front and center on your website, on your socials, in your mailing list, and mention it at your shows while inviting people to get on their phones right then and go to www.YourWebsite.com to pre-save.
Oftentimes, I think you'll find that people really do want to be a part of what you're creating — they just have to be reminded it exists.
Next up: 5 Updates for Your Spotify Profile (That Might Just Earn You More Streams)
Angela Mastrogiacomo is the founder and CEO of Muddy Paw PR, where her artists have seen placement on Alternative Press, Noisey, Substream, and more, as well as the Director of Community and Events for Music Launch Co. She's also the owner of music blog Infectious Magazine. She loves baked goods, a good book, and hanging with her dog Sawyer.