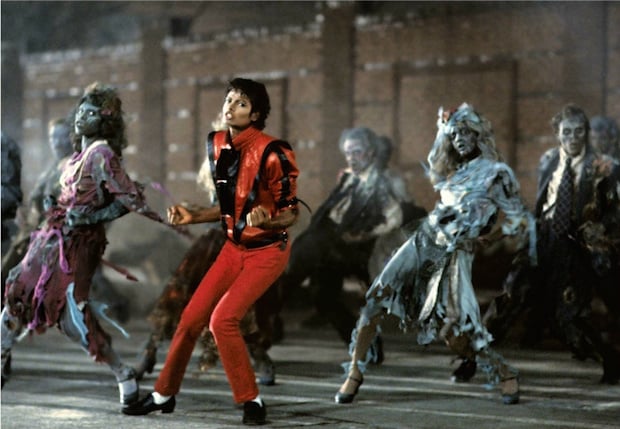 Image via HitFix
Creating a music video that stands the test of time is tough, but not impossible. (In fact, narrowing this list to only four is almost as difficult!) Having a hit music video can sometimes make or break a song, so it's helpful to study legendary videos for inspiration. Here are four distinctly different styles of iconic music videos, and how you can apply the same winning techniques to your own videos.

1. "Thriller" by Michael Jackson
Michael Jackson and his girlfriend run out of gas while driving in the dark. As Jackson gives the unnamed girl a ring and asks her to be his girlfriend, he tells her he is "different from other guys." As the full moon rises, Jackson transforms into a werecat, urging the girl to run away. She does, but Jackson's alter ego lunges at her and, presumably, kills her offscreen. Cut to Jackson and his girlfriend at the movie theater in real life, throw in some Vincent Price, zombie makeup, and an iconic dance sequence, and "Thriller" is one of the greatest music videos of all time.
Why it worked: "Thriller" broke new ground in both the music and film industries, merging the two mediums together. Creating a more complex story than many music videos at the time, along with its extended length, set "Thriller" apart from the rest.
What indie artists can learn: The catalyst behind now-commonplace longer length music videos, "Thriller" is a prime example of telling a great, compelling story within any length video. By really thinking through your storyboard, you'll capture the attention of viewers and dramatically increase the chances that they'll watch your video the whole way through.
2. "Take on Me" by A-ha
Incorporating pencil sketch animation and live action, the video follows a romantic fantasy between the lead singer and his girlfriend. As she reads a comic book, its car-racing hero reaches from the page, inviting the girl into his animated world. A chase with the hero's racing opponents, a return to the real world, and a happy ending captivated fans, and the video was a huge success.
Why it worked: Director Steve Barron, responsible for the video for "Billie Jean" by Michael Jackson, delivered yet again with "Take On Me." Besides the song's inherent catchiness, its music video is still interesting to watch, even decades after it premiered. The combination of live action and animation is always iconic and timeless.
What indie artists can learn: Music videos are a great way to incorporate other forms of art. Consider utilizing your and your band members' non-musical talents to create something a little out of the ordinary.
3. "Bohemian Rhapsody" by Queen
The video opens with Queen singing a capella in the shadows, cutting back and forth to a live performance. During the middle of the video, a simulated opera of the band members appears before another cut to the live performance. Throw in a mixture of minimal effects, and you have the masterpiece of "Bohemian Rhapsody."
Why it worked: Shot in near-darkness, "Bohemian Rhapsody" is a perfect example of keeping things simple. The idea was creative and represented the song well due to its operatic nature, and the band because of its live performance aspect.
What indie artists can learn: Sometimes keeping a video simple is best. While there are some special effects in the video, the overall raw feeling allows the theatrics to shine, rather than any fancy trimmings.
4. "...Baby One More Time" by Britney Spears
The video opens with Britney Spears as a bored Catholic school girl. Once the bell rings, Spears and her classmates dance down the hallway before heading outside, then to the school gym where Spears performs some gymnastic moves with her love interest nearby. After one final dance routine, the last scene of the video reveals it all was a daydream.
Why it worked: Appealing to both female and male audiences, "...Baby One More Time" was both controversial and fun. Before Britney Spears, there weren't many videos in the contextual vein of "...Baby One More Time" featuring younger artists like Spears (at the time).
What indie artists can learn: Though it may not be for every artist, it's undeniable that sex sells. Spears, however, was able to sell herself in a sexy, yet playful, way that should be noted for aspiring music video-makers.
What's your favorite music video of all time? Let us know in the comments below!
Kathleen Parrish is a singer and songwriter from Seattle, WA. While she specializes in lyrics, she enjoys writing short stories, poetry, and journalism. For more information, please visit www.kathleenparrish.com.