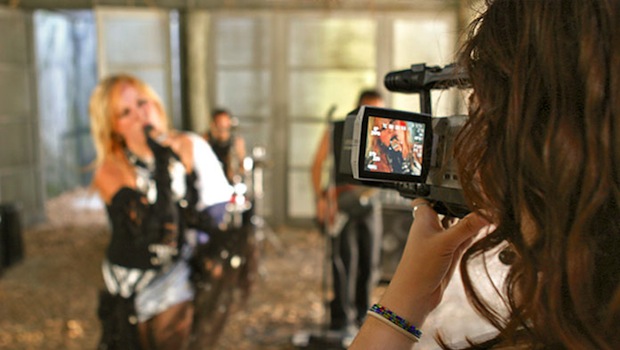 Image via New York Film Academy
A good music video is one that's effective in bringing new life and energy to a song. They should be made to entertain your audience. To really capture people's attention, they should be fun, funny, creative, unique and/or energetic – so that means don't just stand in front of a camera and sing your song or rap your lines. You want people to watch the whole video (which isn't easy these days) and share it with friends. Here's how to do it as an independent artist.
How do you find the right videographer?
Above all else, make sure you don't work with anyone who doesn't really love your music. You want the videographer to be passionate and personally invested in the song and video. If he or she is just in it for the money, then the video probably won't turn out great.
Start by searching for local videographers who you think could be a good fit for you, and reach out to try to build a relationship. If you're on a tight budget, try making friends with talented film students in your area who are looking to build their portfolios. You may want to play a few of your songs for the videographer until you find one that you both really like and think would work well as a music video. If you can stick with one person or crew for your videos, you'll be able to create a consistent look and feel for your visual identity.
How much should you budget for a music video?
Some of my favorite videos that I've produced have been the cheapest ones. If you're really creative, you can create a music video for next to nothing, but keep in mind that it takes a lot of time and energy before your shoot to think of ideas and figure out how to best execute them. Regardless, be sure to allocate money in your budget for production costs, which, depending on your needs, could cost you anywhere between $3,000-$10,000.
What are the most important elements of a music video?
If you think you have a "big" record on your hands – meaning a song you feel might have the opportunity to reach the masses and connect with a lot of people – it's crucial that you don't kill the song by releasing a bad or unprofessional music video.
High-quality cameras and lighting are the core ingredients behind most good videos – so if you're on a DIY budget, these are the elements you're not going to want to cut corners on. Additionally, you'll want to hire a videographer or production team that handles the entire production process. If you have one person shoot the video and someone else edit the video, there's going to be a disconnect, and the handoff may cause a lot of issues in the creative execution.
Do you have any music video tips? Let us know on Facebook or Twitter.
Mike Walbert is the general manager of A3C. He has co-produced over 25 music videos that have garnered over 10 million views on YouTube, and has consulted for dozens of artists and brands.