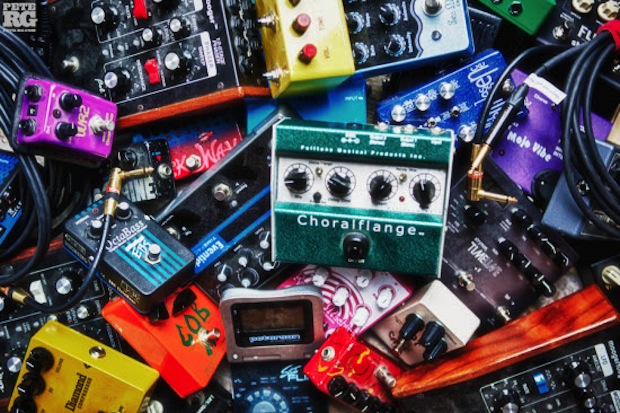 Image via gapersblock.com
We all have music gear lying around that we're not entirely happy with or we think is "on its way out." Whether your gear is actually dying or just dead to you, it may be time to take some inventory. Before it winds up forever shoved to the back of a closet, on eBay, or becomes part of a trade-in deal in conjunction with your firstborn child and soul at your favorite chain music store, here's some food for thought. Like Johnnie Taylor says, sometimes it's "cheaper to keep her."
1. Make sure you know how to actually use your gear
This may sound obvious, but do you actually know how to use your existing equipment to its full potential? Do you really need to replace an existing piece or do you just need to understand how to better utilize it for what you need? A Toyota Prius and Lamborghini Gallardo do exactly the same thing for someone who doesn't know how to drive – nothing. Manuals aren't there for added packing material and, shockingly, tend to have a lot of great info regarding the product you've purchased. Check out a forum, look through the manufacturer's website, find a blog post on the subject, ask a friend, take a class, and make sure you truly know how to utilize what you have.
We sometimes look to practice techniques or creative or technical shortcomings as the reason for not having what we need when, instead, we should be putting in more time with our existing tools. We can think to ourselves, "I can get the sound I want if I have XYZ," or, "I'd get so many more gigs if only XYZ" instead of, "Maybe I should practice more or learn what that 'enhance' knob actually does." I've been guilty of this more times than I care to admit, and you probably have, too.
2. Preventative maintenance, please and thank you
Most of us make sure we change the oil in our vehicles with meticulous, religious-like consistency, and our music gear sometimes needs that same attention. A $20 proactive move or fix now can save you $250 later. Get your instrument properly set up or checked with major season changes. Or whenever you change string types or gauges, remind yourself to clean the dust out of the cooling fans of your amps. Keep your equipment stored properly, make sure you're using the proper cables, buy a humidifier, and change your heads or snare wires once in a while. It's amazing sometimes how a small tweak or tune-up can give new life to your instruments or equipment.
3. Know when to DIY and when to seek a professional
It can never hurt to know how to do some things yourself – and it can be a real money-saver! I'm a big proponent of the logic that if you know how it actually works and how to service it, you'll not only use it more effectively, but also more efficiently. On the other hand, there are many cases where a professional job will almost always trump most DIY solutions. Know how to solder and want to fix your own cables and connections? Awesome. If you don't, taking some time to learn can be a great skill, but the weekend before you go out on that 10-day tour is not that time. I guarantee you even the cheapest overseas-made cable will out-perform your first botched attempts. (Speaking from experience, I'll solder circles around anyone now, but like most things, it takes time, practice, and a lot of wonky, crackly, cold-solder connections to get there.)
Know your limits as well. Rigging speakers for hanging installation or servicing amplifiers is not the best time to flex your "Google-fu" or your recently acquired YouTube knowledge. Touch the wrong capacitor and it might be the last amp you service. Even taking something in to be serviced will be cheaper than a trip to the ER or replacing the "fruits of your labor" outright.
4. Look for creative alternatives
We in the music industry are creative people, so why should we not look for creative opportunities to reach the goals we have in mind? Sometimes repurposing things or creating something new can be the cheapest and easiest way to achieve this. For example, do you have rackable gear just lying around your home studio giving it a disheveled, amateur appearance because pro studio furniture comes at a premium as if it were handmade by dwarves? Swedish flat-pack furniture giant to the rescue! For less than $30, your gear is now racked, in order, with all the tiny meatballs and lingonberry jam you can handle.
Have any more tips for saving your music gear? Share them in the comments below!
Aaron Staniulis is not only a freelance live sound and recording engineer, but also an accomplished musician, singer, and songwriter. He has spent equal time on both sides of the microphone working for and playing alongside everyone from local bar cover bands to major label recording artists, in venues stretching from tens to tens of thousands of people. Having seen both sides at all levels gives him the perfect perspective for shedding light on the "Angry Sound Guy." You can find out more about what he's up to at aaronstaniulis.com.