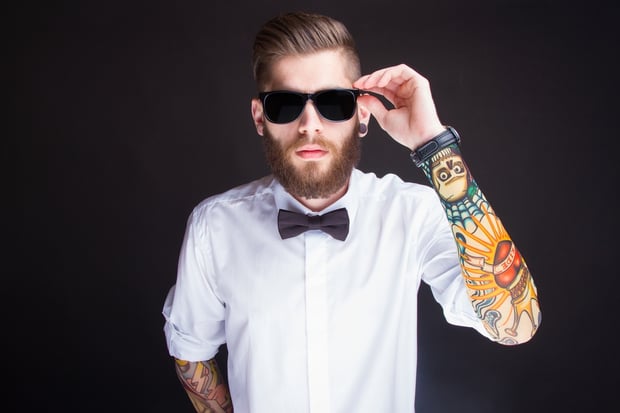 Image via Shutterstock
There's so much more to being a professional musician than just creating and playing music. If you want to make it in this business, you've got to stand out from the crowd, and when it comes to musicians, that's tough. Some people go overboard with insane costumes and exaggerated personalities, but that's hard to pull off. Sure, it's worked for some, but if you're not trying to wear a mask onstage or be batshit crazy online, you're going to have to find something that works for you.
Creating a personal brand isn't difficult, though it does take some thought and a bit of effort. You already have all the tools you need; now you just might need a bit of help honing who you are and what you show to the world in a professional way. If you're not sure what a personal brand is or how to make one that fits you and that you can manage, here are a few tips.
1. Be yourself
It might sound corny, and I'm sure that's a phrase that's been hurled your way a million times before, but this is easily the most important suggestion if you want to build a successful brand. You need to accept yourself, and then be yourself in everything that you do. Whether it's your music, your stage performance, or on social media, don't ever try to put on a character and be someone else, because no matter how good you think you may be at it, people will be able to tell.
Now, this isn't to say that you can't emphasize certain qualities or parts of your personality, but they need to be authentic in some regard in order for the whole thing to work. If you're naturally sassy, go all the way with it! If you're very quiet and not much of a talker, don't try to interact with an audience by chatting them up. It's better to be the most authentic you that you can be and highlight whatever it is about you that stands out than attempt to copy what others have done and fail miserably.
2. Don't be afraid to say the wrong thing
These days on the internet, everyone has become worried about being politically correct, refusing to talk about certain topics or make some jokes out of fear. This fear isn't irrational, as we have all seen the internet tear people down, but don't let that stop you.
I'm not suggesting that you need to start going in on Donald Trump or Hillary Clinton, or that you should start commenting on whatever the news of the day is, but you also don't need to be completely desensitized. Yes, you can swear. Yes, you can make jokes. Poke fun, be catty, be slightly inappropriate, because these are all qualities that others have and that they typically enjoy.
[The Indie Artist's Guide to Talking Politics on Social Media]
Don't go over the deep end and try not to alienate people, but nobody wants to follow and invest in someone who never has a real opinion or anything to say of substance, and instead walks the safe road. It's boring!
3. Do it differently
No matter where you are or what kind of music you're playing, the chances are there are a lot of other acts trying to make it who are similar. That sucks, but it's just the way the business works. You should focus a lot of your energy on being yourself, creating the best music you can, and on putting on one hell of a show, but other than those things, what makes you stand out? What would make you instantly recognizable, even if someone couldn't see your face?
While it doesn't work for everyone, it can be great to have some sort of... schtick. That word sounds bad, but hear me out. Think about an act like Aerosmith. The band developed a huge following by creating some incredibly catchy rock 'n' roll, and their performances are legendary. Those two things are the cornerstone of their legacy, but on top of that, frontman Steven Tyler is known for his eccentric outfits and for tying a scarf to his microphone stand. These are things we all now associate with his and the band's personal brand, and yet they don't take away from the music.
So, what is your "thing" going to be? You can always carry a certain item, dress a certain way, wear a certain color, develop a catchphrase... any and all of these things may sound like they don't really matter, but they can be really helpful when it comes to developing a brand.
4. Be open and honest
Some people think the best thing to do is to always pretend like everything is going well and that you're happy all the time. That's one strategy, but it's incredibly difficult to pull off. Winning Miss Congeniality isn't easy! It may seem nice, but people really respond and connect with those they can relate to. (And the only person on this planet who is truly perfect is Beyoncé, so unless you think you can beat her, you're going to need to find another way to carry yourself.)
Just as you would likely do in your music, don't be afraid to talk openly about your faults, misgivings, and the mistakes you've made. It happens to all of us, and opening up about these things endears you to the masses. Don't feel the need to always be poised and perfect! Share an ugly photo on social media, tweet about how you're struggling with a new video, and don't beat yourself up too much if you mess up onstage. These sorts of imperfections are not only going to pop up here and there, but they can be opportunities to really connect with your fanbase on a more human level.
Also, being a bit messy is a fun brand to have, don't you think?
Next up: 8 Steps to Building Your Personal Music Brand
Hugh McIntyre is a freelance pop music journalist in NYC by way of Boston. He has written for Billboard, The Hollywood Reporter, and MTV, as well as various magazines and blogs around the world. He is also the founder and editor-in-chief of the blog Pop! Bang! Boom! which is dedicated to the genre of pop in all of its glory.