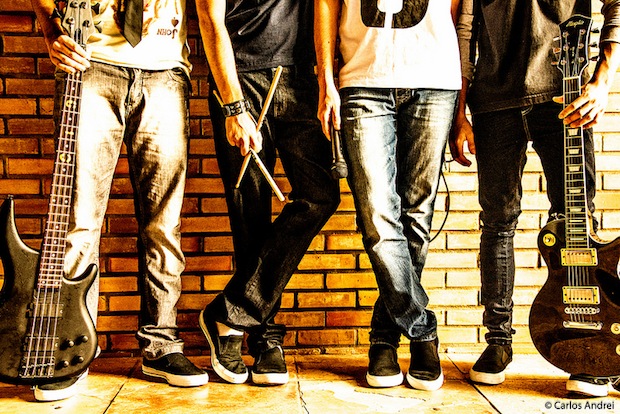 Photo by Carlos Andrei
Growing up as music nerd, I was the kid who tried to get my hands on any instrument I could grab a hold of. I started learning classical flute when I was six years old, then I started classical piano a few years later. During my teen years, I picked up drums, guitar, clarinet, bass, and ukulele. Now, as an aspiring recording/touring artist, as well as music producer/engineer, I've come to realize that there's definitely something to be said about being proficient on more than one instrument. Here are four valuable benefits that I've found.
1. It helps you understand the bigger picture of how instruments interact
Each instrument plays a specific role in the overall blend of sound, whether you're playing in a band or any kind of ensemble or orchestra. Being proficient on more than one instrument allows you to grasp these various functions on a deeper level. For example, a guitar player would be fluent in filling in the harmony and keeping rhythm, while a bass player would be outlining the harmony and holding down the groove. A violinist, on the other hand, would be avid in creating single melodic lines, while a pianist would be responsible for both the melody and harmony. The more instruments you're proficient on, the better overall understanding you'll have of how sound blends and functions together. Any kind of artist, bandleader, producer, composer, or arranger would greatly benefit from this understanding.
2. It makes you more marketable
This is the obvious one. The bigger your toolkit, the more advantages you have over other musicians. I know plenty of musicians who landed gigs because of their ability to play multiple instruments, and it can also reflect on your paycheck. Having even one instrument on top of your primary one will increase your opportunities for gigs and sessions. With the competition so high nowadays, it definitely wouldn't hurt to have an extra playing skill on your resume.
3. It makes you a more versatile and creative songwriter
Any songwriter or composer knows that writing on different instruments gives you different sonic colors to choose from. For example, writing on piano is very different than writing on guitar. Everything – from the keys you write in, to the rhythms, to the chord progressions – is approached differently when you use a different instrument as your songwriting tool. In fact, I've heard professional songwriters advise trying to write with as many different instruments as possible to keep musical ideas fresh and innovative. I know for me, if I get stuck with the same kind of chord progression or rhythmic idea, I'll switch from writing on guitar to writing on piano or even ukulele, and it's always very helpful.
4. It gives you a stronger ability to communicate with other musicians
Your vocabulary opens up when you understand other instruments. Not only do you know the musical jargon for that instrument, you know the techniques specific to it. This depth of knowledge will drastically increase your ability to relate and communicate to other musicians as a bandleader, conductor, composer, producer, etc. For example, because I've learned the drums, it gives me the ability to effectively communicate with a drummer to get a certain sound or groove that I want as a producer. The same goes for a conductor communicating to an orchestra, or a bandleader giving direction to the other musicians.
The personal benefits you reap from being proficient on multiple instruments are far and wide. These are some of the benefits I have received and witnessed, and it will always be a perpetual journey to keep on learning more and adding strength to your musicianship.
Once you've set your sights on a new instrument, try these time-cutting practice tips!
Belinda Huang is a contributing writer for Sonicbids. She is a music production & engineering major at Berklee College of Music and is a staff writer for their online newspaper, The Berklee Groove.