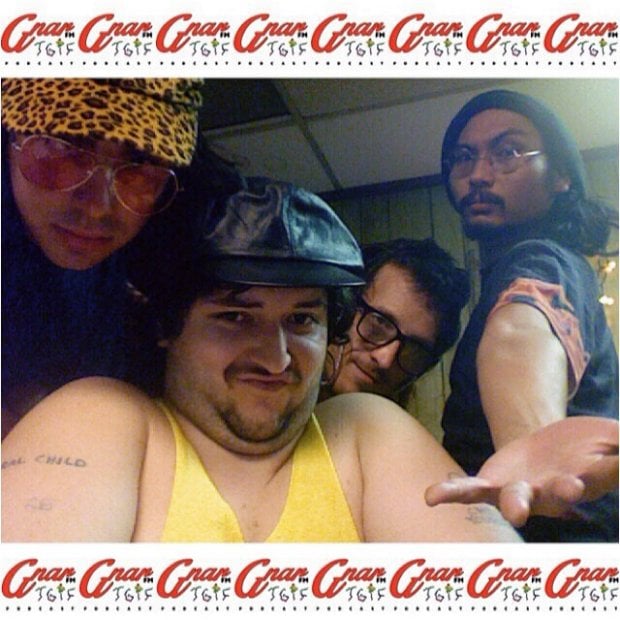 Kings of comedy (on Instagram): White Fang's account is filled with funny posts. (Image via websta.me)
What makes an artist's Instagram successful? We've discussed a few points already, like encouraging fan engagement and not taking yourself too seriously. Frequency and personality also play a role in a winning account. If that seems like a lot of guidelines to consider, check out these five great accounts firsthand.
Each one is a stellar example of using the platform efficiently, and in ways uniquely suited to the sound in question, whether that means using humor, showing humility, or outsourced images that represent a particular aesthetic. We hope they'll help you better understand how to make the most of your own account.
While Nashville trio Natural Child leans toward classic rock 'n' roll with twangy blues trimmings, their actual personalities are significantly goofier. You get a gist of both through their account: the myriad shots of the dudes being silly and pop culture funnies are balanced by images of musicians they admire, whether recycled or new ones taken in person. And in terms of promo, Natural Child's IG is on-point: they're constantly posting promo and notes from the road, so it's never hard to tell where they're headed next.
Up-and-coming pop singer Kat Dahlia takes the cake for the most typical of the Instagrams in this list, and I mean that in the best way. The Miami-bred, Cuban-American artist's feed is filled with selfies, just like the feeds of a lot of other people you follow – and that adds a welcome, down-to-earth appeal that reminds us she's not unlike the rest of us. Of course, there's plenty of promo in there, but even when she's posting a shot of herself with Angela Bassett and George Lopez (above), she lacks the pretense you'd expect from someone who is getting closer and closer to mainstream celebrity status every day.
This is a band that's got its aesthetics down pat. Unsurprisingly, their IG is a perfectly curated representation of their image. There aren't a lot of shots of the Allah-Las players themselves, but their desolate psych vibe is still is still the bedrock of every single post. The LA outfit shares something new nearly every single day – beautiful shots they've taken, plus gorgeous photography and interesting artwork. Their feed is almost on par with an art exhibit, save for the fact that its main purpose is to promote their shows.
Watching the ascent of this folk singer-songwriter is even more fulfilling in pictures than words. Natalie Prass has been honing her skills in Nashville for about a decade, and lately appears to be finally getting her due. Her IG doubles as an archive of her story, as it reflects the recent influx of press, performances, TV appearances, and photo shoots. But it also offers insight into who she was, how she's grown, and the ways she remains the same. And there are lots of pictures of her adorable Boston Terrier, too.
One of the most hilarious band accounts out there belongs to White Fang, the self-proclaimed Full Time Freaks making lo-fi rock 'n' roll under the influence of basically all the weed their LA hometown has to offer. Nothing's off limits for this bunch of goons, from repurposing the Taco Bell logo, to ridiculous memes, to displays of their graphic design, um, skills. All jokes aside, White Fang is actually a really hardworking group, and their IG is efficient in keeping fans up-to-date on merch, releases, and shows.
Jhoni Jackson is an Atlanta-bred music journalist currently based in San Juan, Puerto Rico, where she juggles owning a venue called Club 77, freelance writing and, of course, going to the beach as often as possible.