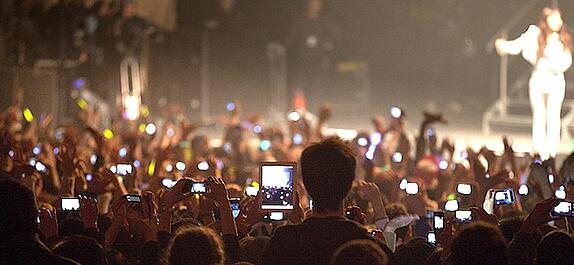 Every band and artist knows that social media is important (or, at least I hope they do), but sometimes doing it well can be tricky. What works for Facebook may not be the same as Twitter, and sometimes you need different strategies for different platforms. Instagram's importance is growing, especially as younger people are gravitating towards it and away from other social networks, so learning how to engage people on the photo-only platform is crucial.

Here are four tips to make sure your Instagram profile is one that people will want to follow and engage with on a regular basis.
1. Be genuine and relatable
While Instagram has started allowing ads in order to actually make some money (so Facebook can start earning back some of that $1 billion they spent acquiring the app), it really isn't meant to be much of a space for advertising. People don't go there for you to sell them something, but rather for entertainment and insights into people's lives.

While I love Beyonce and the photos on her Instagram are beautiful, she's not a good example of what up-and-coming bands should do. Everything is staged, obviously shot by professional photographers, and carefully planned by what I can only imagine is a privately-employed social media team. If you're on Bey's level, by all means follow her lead. If not, you may want to stay a bit more grounded, mixing real photography with things that remind your fans you're just like them.
2. Don't hog the spotlight
Yes, people do follow your band on Instagram because they like you and your music, but please don't be like that friend we all have who posts a daily selfie. Nobody follows that person for very long.

Instead, find ways of bringing other subjects and people into your feed, as long as they're interesting and enjoyable. Maybe you've seen another band recently and loved a photo you took at the show, or perhaps you saw an outfit you loved on someone walking down the street. If it's on-brand, feel free to share. Make sure it's something your audience will want to see and they'll welcome it, no matter how off-course it is from your new album.
3. Invite people to engage
If someone is already following you, chances are they'll jump at the chance to interact with you. Don't just expect people to engage with you – social media is best when it's a two-way street. Ask your fans to submit photos they took of your latest show, or share videos of them singing and dancing to your new single, and then call out your favorites. This way, people feel like they are truly interacting with you (if they know you're watching their videos and seeing their photos), and you've just promoted your tour or new music without it seeming like typical marketing.
4. Don't take yourself too seriously
One of the mistakes some celebrities make on social media is trying to appear flawless, or as too much a serious artist to post anything off-beat or silly. While it's easy to understand that nobody wants to share a photo where they don't look good, looking too perfect all the time can backfire as well.

Should you share that amazing new photo your photographer took of you at a recent show? Absolutely, but follow it up with a selfie with your eyes crossed, or a picture of what your bandmates drew on you when you passed out drunk on the tour bus (assuming it's Instagram-friendly). Some of the most-loved people on the site are those unafraid to look stupid for the sake of entertaining their fans. That's why you're there, right? This goes back to being relatable, but on a whole other level. It's not just about coming off as a real human, but one just like your fans.


Do you have more Instagram tips for musicians? Share them in the comments below!