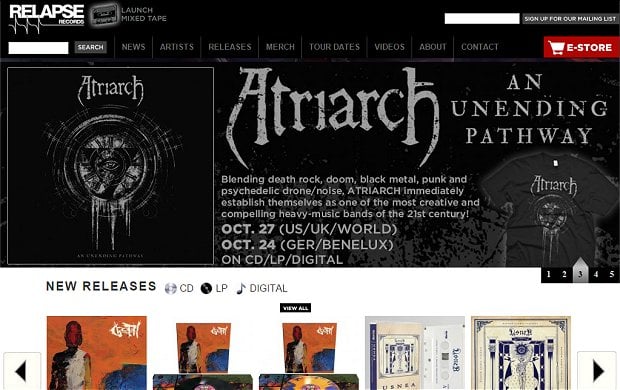 Relapse, the label that released Mastodon's early albums, still accepts demos.
While metal and hardcore get a lot of major label support, there are still plenty who've remained independent and continue to cultivate their prowess. Among them, there's just a handful that still accept unsolicited material from bands. Listed below are the cream of the crop, a benevolent bunch still proud to champion deserving up-and-coming acts.
Best for: Metal, hard rock
Why we love it: Though it all technically began in Pasadena in 1998, it wasn't until 2005, after moving its offices to Brooklyn, that The End found its surest footing. The label inked deals with bands ranging from Badly Drawn Boy and the Lemonheads to Danzig and Anvil to Mindless Self Indulgence. The roster's always been expansive in terms of styles

–

it's even got Fatboy Slim now

–

but their penchant for heavier sounds remains a priority.
How to submit: There's a specific email address listed for EPKs and demos on its contact page.
Best for: Metal, grindcore, hardcore, hardcore punk, post-metal, sludge metal, thrash
Why we love it: Between Mastodon, Coalesce, Neurosis, Baroness, and Pig Destroyer, at one point or another, Relapse has touched on nearly every variety of metal imaginable. Still, there's a particular current running through the entire catalog – it's not hard to guess when a band belongs to Relapse. Surprisingly, despite having cultivated a massive following since its '90s beginnings, the crew still keeps an eye out for ambitious and talented startup acts.
How to submit: The label stresses that a demo alone likely won't be enough to score a deal, but they're not prohibited. Check out the specifics here.
Best for: Hardcore, hardcore punk
Why we love it: This Pennsylvania imprint has underground hardcore down pat. Founded in 1999, it churns out records with utter voracity, and keeps a pretty high head count of bands. A good indicator of what it's capable of: Madball signed with Thorp in the mid-2000s after stints with Roadrunner and Epitaph.
How to submit: Advice and info here.
Best for: All metal
Why we love it: Maybe the most iconic and longest-running of the bunch, Metal Blade began releasing albums in 1982. Heavy-hitters like Slayer, Gwar, Avil, Between the Buried and Me, and As I Lay Dying have all hit the Billboard Top 200 with the support of the label.
How to submit: Use the submission form found here.
Best for: Hardcore
Why we love it: It's managed to make a huge impact – for example, 10 Converge records – while remaining an independent, small-scale operation. Recently it launched its own radio station, which makes a lot of sense considering it's got enough material under its wing to cover vast amounts of airtime.
How to submit: Links to music online via Bandcamp or YouTube are preferred – no press kits or MP3s attached. Look over the details here.
Jhoni Jackson is an Atlanta-bred music journalist currently based in San Juan, Puerto Rico, where she juggles owning a venue called Club 77, freelance writing and, of course, going to the beach as often as possible.