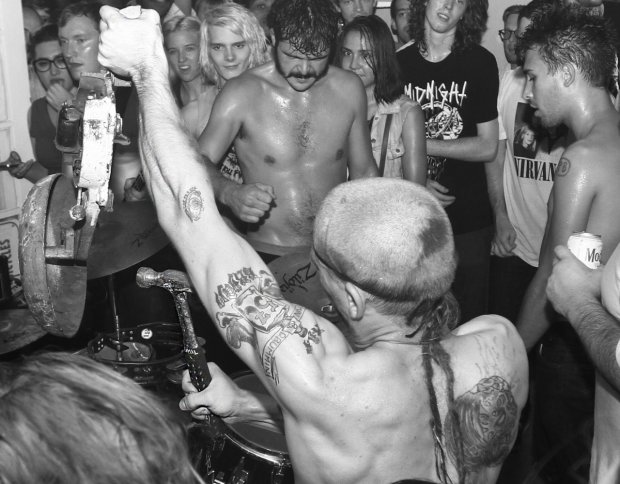 Hank Wood and the Hammerheads at a house show in Atlanta. (Photo by Renate Winter)
The number of photos that surface from SXSW each year is practically unquantifiable. As the festival grows each year, hired photographers from all your favorite publications, magazines, and blogs will be on deck, and amateur shooters will capture even more. Amid all that commotion, however, is always a bevy of Austin-based photographers, and they're the ones who truly know the landscape of the city and how to efficiently shoot at each venue.
Below are five of our favorite Austin photographers who will likely be in the trenches this year. Unless you plan to properly commission them, we don't suggest directly inviting them to your band's show – they're gonna be pretty busy, you know? What you can do to make an encounter more likely, though, is perform at the venues they typically visit and at the events organized by publications they regularly shoot for. And, of course, play the best show you can.
Renate Winter at her November 2014 exhibit, It's My Jam, at Austin record shop End of an Ear. (Image via renatewinter.com)
If you're in a garage or punk band, this Austin transplant (she's originally from Växjö, Sweden) is one to connect with. Renate Winter keeps an exceptionally steady beat with both local and touring groups – she even travels to catch out-of-town festivals and shows. Really, in the rock 'n' roll underground, she seems to be as much a fan of and friend to musicians as she is a dedicated photographer. She even co-founded Rubberneck, a recently defunct punk zine. Her style is often wildly candid and in black and white, which is especially befitting of the scene she covers.
OBN IIIs at Beerland in Austin, Texas. (Photo by Ángel Delgado-Reyes)
Another crucial part of Austin rock 'n' roll photography is Ángel Delgado-Reyes, who fervently snaps a lot of the same groups as Winter. His style, however, is regularly distorted by blurs and flashes of light, also quite representative of the sound in question.
Pitchfork, NME, Stereogum, Billboard, Rolling Stone, and a host of other revered publications have all published Pooneh Ghana's work. Not only does she take photos in town, but also travels plenty – evidenced here by a shot from her tour last year with Cage the Elephant.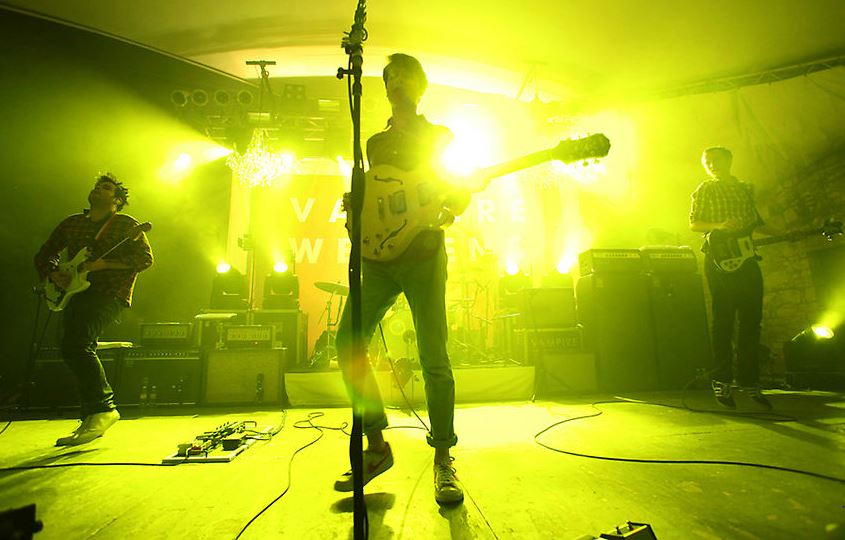 Vampire Weekend. (Photo by Jana Birchum)
Self-described as a social documentary/reportage photographer, this former Oklahoma resident isn't confined to shooting only live music. In that realm, though, she truly excels; much of her prowess lies in her skillful use of shadows and light for incredibly compelling close-ups. While she's commissioned for a variety of publications on her own and through the New York-based media content group Polaris Images, Birchum frequently contributes to the Austin Chronicle. Check out a gallery of selected shots on her website here.
Foxygen at last year's Fun Fun Fun Fest in Austin, Texas. (Photo by Tim Griffin)
This guy is one of two photographers at the helm of the Austin leg of Brooklyn Vegan. Naturally, he's all over the city's biggest festivals and is masterful at nailing amazing shots despite the mayhem of a huge crowd. (That has to come in handy during SXSW, we're sure.)
Jhoni Jackson is an Atlanta-bred music journalist currently based in San Juan, Puerto Rico, where she juggles owning a venue called Club 77, freelance writing and, of course, going to the beach as often as possible.