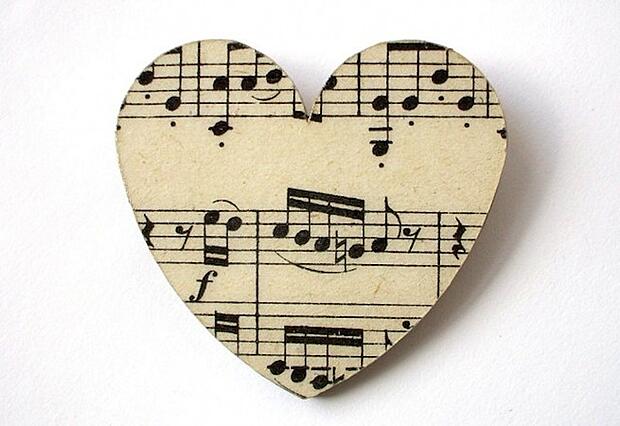 Image via musictherapyservices.net

A holiday is a great occasion to add a festive cover song to your setlist. As Valentine's Day rapidly approaches, it's time to start thinking of love songs that can be incorporated into your live show.
Unfortunately, many of the best love songs that aren't cheesy have already been overdone to the point of being obnoxious. In order to save you and your audience from monotony, I've compiled some of my favorite love songs that aren't covered as often as other famous ones, or that are easier to reinterpret into something original.
1. "Piece of My Heart," written by Jerry Ragovoy and Bert Berns
Though "Piece of My Heart" was originally recorded in 1968 by Erma Franklin, it was made popular by Janis Joplin and Big Brother and the Holding Company's hard-rocking rendition, which was released the following year. If you're looking for a love tune for your set but don't want a ballad, this is a great option (especially if you have a strong female vocalist to lead it).
2. "I Want You Back," written by the Corporation
The group of songwriters and producers that became known as the Corporation originally wrote "I Want You Back" for Gladys Knight or Diana Ross, but they gave the tune to the Jackson 5 upon their discovery, and it went on to become the teen group's first hit single. From that point forward, the Corporation became the official songwriting team for the Jackson 5.
This is another wonderful, upbeat love song to add to your set. If you're the sort of band that likes to get your audience up and dancing, this would be the perfect Valentine's Day addition.
3. "My Old Man," written by Joni Mitchell
Joni Mitchell, one of the 20th Century's great songwriters, released her fourth album, Blue, in 1971 to great critical acclaim. Though many of the tracks on the album are sad or melancholy reflections of love lost, "My Old Man" is a lovely, positive track in which she talks of the things she misses in her relationship with ex-lover Graham Nash.
If you play songs that are on the softer side, this is a great love ballad to throw in your set that hasn't been overdone over the years. Mitchell's sparse arrangement leaves a lot of room to reinterpret the song and make it original.
4. "I Put A Spell On You," written by Screamin' Jay Hawkins
Though Screamin' Jay Hawkins' original rendition never made it onto any charts, this song has been covered many different ways and has had great success from many diverse artists.
Though you could consider it to be a love ballad, "I Put A Spell On You" has a certain power and grit to it that really sets it apart. It's the perfect love ballad for a band that's rooted in hard rock or blues.
5. "Overjoyed," written by Stevie Wonder
"Overjoyed" is a great love ballad featured on Stevie Wonder's twentieth studio album, In Square Circle. While not one of his biggest or best-known tracks, it's been covered by a number of popular artists since its 1985 release.
A great song to reinterpret, the original arrangement has a bit of a samba flair, which can be played as a ballad (as on the original recording) or spiced up as a dance track (as in Esperanza Spalding's cover).
Which songs are on your Valentine's Day setlist? Let us know in the comments below!
Dylan Welsh, a native of Seattle, Washington, grew up cutting his teeth in various club bands around the Northwest. Seeking a more diverse and challenging environment, he attended Berklee College of Music with hopes of gaining new perspectives and finding his own voice. Though music is what he does best, writing and journalism are other passions that he has kindled throughout his academic life.