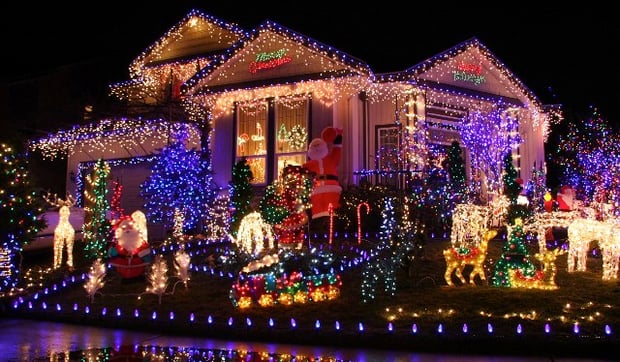 Big, bright, and in your face, holiday light displays are a great metaphor for a PR campaign. (Image via panjul.link)
We all have at least one neighbor who uses the holidays as an excuse to turn their house into something so bright that it can be seen from orbit. Personally, I live near two such houses. Those displays, as blinding as they may be, are actually great metaphors for effectively promoting an upcoming album or show. You might think I'm just as crazy as the guy affixing a second neon reindeer to his roof, but hear me out. Check out these five lessons we can learn from those light-covered homes.
1. Make everything point to one date
If you were to wake up from a coma and the first thing you saw was a house decked out in colorful lights with a giant inflatable Santa Claus in the yard, you'd immediately know that Christmas is coming. This is exactly what you want out of your promotional campaign when you're readying the release of an album or have a big concert coming up. You want to have that date ingrained in people's minds. Everything else about the album/show is secondary, because if people don't know the date, they aren't going to be able to show any type of support.
2. Be a conversation starter
The goal of every PR campaign is to get people talking. "Did you hear about [blank]?" is some of the best promo around, and these houses have that promo on lock. People not only tell their friends about these displays, folks go out of their way to catch a glimpse of them. For all the time you may spend promoting on social media and setting up event pages, generating great word of mouth about your album/show is what's going to affect people the most. It's all about making yourself a topic of conversation (in a good way).
[Here's How to Spread Your Music Through Word of Mouth – and Why It's So Powerful]
3. Be obvious
If you pass the house, you're going to see it. Heck, if you're anywhere near the vicinity of the house, you're going to see it. If I go to your website or social media pages, will I immediately know when your album is coming out, or the date of your next big show? If I don't, there's a problem. Don't make people go on a scavenger hunt – put it all right there in front of them. Put it right in everyone's face, so if someone sees you anywhere on the internet, that person will know exactly what you have going on.
4. Become a destination
On Facebook, some artists take all of their proverbial "lights" and spread them out over all of their friends' and followers' walls. What a brash holiday display teaches us is that, when done correctly, putting all those "lights" on your own wall creates something far more impressive and memorable. Field of Dreams gave us the famous line, "If you build it, he will come." If you build something impressive enough, you won't have to post it on everybody's wall – people will come to you to see it.
5. Don't let people forget about you
Christmas is pretty well known as a holiday, but even if you didn't own a TV and never walked into a store to see an aisle full of Santa-themed goods, passing a house with an insane light display is a constant reminder that we're nearing December 25. Make sure that every time someone passes you, whether in person or on the internet, they know about the important date you have coming up. Yes, this means you may want to consider going old school and have some flyers made, but if money is tight you can always just print out a few at home, or at a local Kinkos/Staples/Office Max. Just have something to hand to people. Every time someone sees you, it's an opportunity to be that light display, to remind them of the important date you have coming up. Be bold enough to make them remember.
[How to Create a Facebook Event Invite People Want to RSVP 'Yes' To]
So see the light! Actually, you can't help but see the lights, and that's the point. Be out there, be seen, be heard, and don't let a single person pass by you without them knowing what you have coming up. Whether you're promoting an album or a show, your Christmas is coming, and you need to let the world know.
Adam Bernard is a music industry veteran who has been working in media since 2000. If you live in the NYC area, you've probably seen him at a show. He prefers his venues intimate, his whiskey on the rocks, and his baseball played without the DH. Follow him at @adamsworldblog.