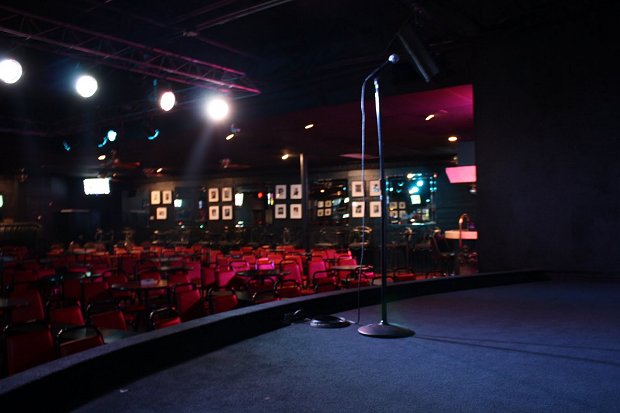 The result of a poorly created Facebook event invite: an empty house. (Image via galleryhip.com)
Getting the word out about your upcoming show has never been easier thanks to social media... right? While sites like Facebook certainly have provided plenty of bands with smaller fanbases and limited resources with a way to share show dates, they've also given the everyday person one more thing to check, and frankly, people already have too many messages coming at them from every direction and on every platform possible.
Standing out from the crowd of event invites and promotions is tough, but not impossible. Here are four tips to make your event invite as attractive as possible in the hopes that it'll convince more people to attend your show.
1. Post a reminder
This is one thing that people so often overlook, and it could completely change your head count at your show or event. Whenever you want large numbers of people to do something, it's very important to step outside of what you know, what you like, and how you think, and to put yourself in the shoes of others. Even if you're in the spotlight at a concert, it doesn't mean it's all about you.
Posting a reminder on your Facebook event page is incredibly important, as everybody has too much going on these days, and it's easy for an engagement to slip, especially if it was already something that a person was only half-considering going to. It isn't difficult to get your close friends and core fans out to shows, but what about those who might only attend if they happen to have the time, the money, and they know about the upcoming concert? They're who you're really trying to prod into purchasing tickets.
Gently reminding people that the show is coming up or that tickets are almost sold out isn't obnoxious as long as you only do it once or twice, and you keep things short and sweet.
2. Include all relevant information for planning purposes
This may sound pretty obvious, but we've all run into invites that are missing some crucial piece of information, whether we realize it from the beginning or when it's too late. I've personally seen this quite a bit coming from bands and promoters, which is a shame, as it likely deters some fans from checking out a show. Make an extensive checklist, and go through it every time you make a Facebook event, as there are plenty of items you might not think of each and every time.
Details like location, beginning and ending times, and your fellow bands are all pretty much a given (though I've seen all three of these missing from events in the past), but what about everything else? Is there parking at the venue? Is the show 21+? Is there a happy hour? Do they have a policy about people bringing in bags or wearing baseball hats? These details are the ones that people rarely think to share (or even ask about), but if fans buy tickets and then drive all the way to your show only to become too frustrated looking for parking to actually attend, they'll remember that next time.
Also, make sure you include everything someone would need to know to attend when you send the invite out. If you don't have some bit of info (set time, parking situation, etc.), try to hold off on inviting your fans until later if you can. There are going to be plenty of people who only look at the event once, and if something is missing, they may not see your update, and this could affect turnout.
3. Provide a real description
Facebook provides you with plenty of room to describe your event, so take advantage of it! You should utilize this area to share all relevant details about your show, the venue, and the other bands on the bill. Talk a bit about how the tour is going or share a funny tidbit about the first time you met the guitarist of the band opening for you. This makes the event personable and helps separate it from the hundreds of other invites people get. While your description should be full of much-needed stats and details, have some fun with it, too!
4. Add images
While Facebook doesn't let you play around with fonts or colors, you can make your show event invite stand out even further by adding an image to it. You could take the traditional route and use an image of your band – which isn't necessarily a bad idea – or you can go a little crazy and find another image that accurately represents your band. Maybe you all love a certain internet meme or television show, or maybe there's an inside joke with your fans that you could incorporate. Try not to make it too far out there, but anything eye-catching is going to be helpful here.
Need more help actually getting people to come to your shows? Check out this article!
Hugh McIntyre is a freelance pop music journalist in NYC by way of Boston. He has written for Billboard, The Hollywood Reporter, and MTV, as well as various magazines and blogs around the world. He is also the founder and editor-in-chief of the blog Pop! Bang! Boom! which is dedicated to the genre of pop in all of its glory.