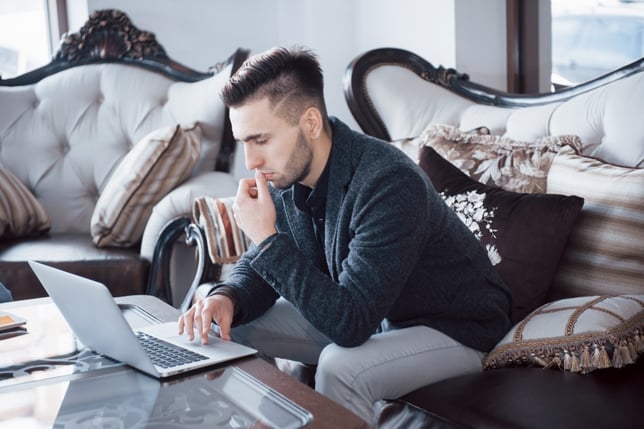 Image via Shutterstock
One of the most common responses I get from musicians when I ask them about the roadblocks they face on social media is, "I never know what to post!" What you may not realize is that a lot of the content can be provided by your fans and followers — all you have to do is prime your audience with a discussion topic.
By posing questions or polling your followers, you're not only able to make to tough decisions by simply allowing your fans to decide for you, but they can also teach you an enormous amount of information that can be used to better connect with them through future promotions.
Learning how they talk, the phrases they use, and what their preferences are will greatly improve your marketing aim. You will also see an immediate increase in engagement and grow a stronger connection with those who comment.
Just like anything else, there's a right way and a wrong way to pose questions to your audience. In order to get the engagement you desire, consider the following three guidelines, followed by a list of five questions you can use to get started on connecting more regularly with your fans.
1. Create one clear and concise question
You have less than three seconds to capture a person's attention as he or she scroll through his or her newsfeed. Asking long-winded, involved questions won't grab someone's focus long enough to stop and comment. Try to keep questions brief and to the point. If you'd like to give more background on the topic, feel free to add more content below the question. If you want to really grab your followers' eye, try posting the question in all caps at the start of the post.
2. Include a direct Call to Action (CTA)
People like to be told precisely what to do. Don't assume that because they see your question that they'll know you want them to answer. Make sure to include, "Comment below!" or, better yet, "Type yes or no in the comments below!" In other words, tell them to answer, and tell them how you'd like them to answer. Which brings us to...
3. Pose a binary question or give choices
The more specific and simplistic you can be, the better. Yes-or-no questions (binary) are a surefire way to increase engagement. Something like, "Did you see Star Wars opening weekend? Type yes or no below," will do better than, "What did you think of Star Wars?"
You could also say, "Did you see Star Wars? Leave a score between 1 and 5 below in the comments!" It's important to remember that your followers aren't much different than you when it comes to posting on social media. Just as you struggle with what to post, so do they. Giving them choices allows them a quick and easy way to start engaging with your content.
You may be thinking, "The basic, specific questions are boring, I like open-ended questions for more creative responses!" What you need to understand is that the interesting engagement happens in the comments.
When someone comments that they saw the movie, you can then reply to their comment and ask what they thought of it. Once they've commented, they've shown they're open to having a conversation. You've first got to catch their attention with something simple.
So what are some examples of questions you can post? Try any of these five on for size and see new life injected into your social media pages. Be sure to add choices (i.e., in a poll) and/or CTA's where appropriate.
Which artist(s)' playlists would you add my music to? This is great to not only determine who else your fans are listening to, but also who they see you as marketably similar to, which can aid you in creating FB ads, booking tours, etc.
What type of environment would they love hearing your music in? Sometimes we become so close to our projects that we lose sight of how other people may react. This would be a great question to provide choices such as, "nightclubs, weddings, TV commercials, independent films."
Who can you see me touring with? If you're struggling to identify which artists your music aligns itself with, or whose audiences you share, asking a question like this allows your fans to dictate who they
Do you currently maintain playlists on Spotify? This is a great yes/no question that can open up the possibilities to greater conversations in the comments. Encourage those who said, "Yes," to add you on Spotify! Avoid saying "Add me!" and then posting a link. Focus on the actual conversation and offer the link in a human, natural way. You could try, "Oh, great! If you're looking for new music I think I'd be a great fit for you and I'd be honored to be added to one of your lists!"
Whose song should I cover next? This is a great way to play "ask and you shall receive" with your audience. In other words, if you're not sure what to post next, simply ask them what they'd like to see. As always, providing three or so options for your fans to choose from will create a larger sense of engagement, leading more people to see your posts. Can you say win-win?
When you're stuck on what to say, simply think of a something you'd like to know about your audience. It doesn't have to be directly related to your music, but try to make sure it's related to your brand in general.
Engagement happens when you are clear, direct, and, most importantly, human. Don't be in a rush to post a link to your music and move on - stop and get to know your fans! Try posting new questions and see what works.
What question will you pose to your fans? Tell us in the comments below!
Next up: How to Get Social Media Content for a Month from a Single Event
Suzanne Paulinski is a mindset coach and founder of The Rock/Star Advocate. She helps music industry professionals gain confidence and clarity in their goals with a healthy work/life balance. Her book,The Rock/Star Life Planner is now available on Amazon.