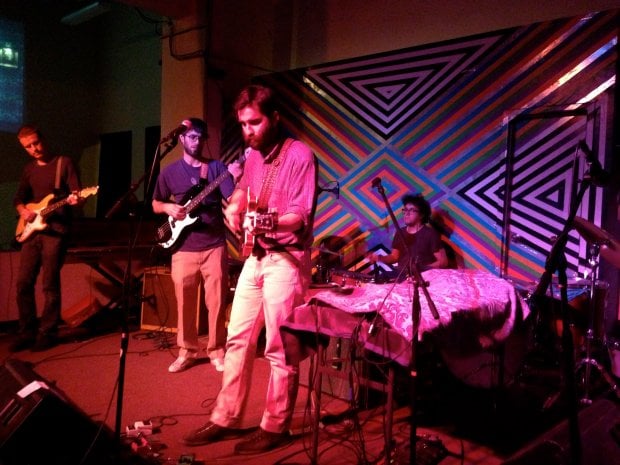 Image via thosewhodig.net
As a DIY musician, it's essential that you have fresh social media content often to ensure that your fans are engaged and feel connected to your work. However, many artists are so focused on their work that properly filling up their social channels becomes a bit foreign. Or you may only have one show a month max, and the occasional other event, so how can you have engaging content that lasts weeks? Here's how to take just one event and get enough content to last the entire month on social media.
Performance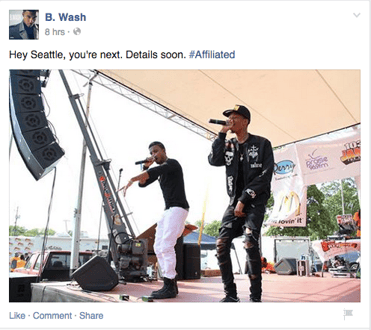 This is the most common outlet for content, and it's typically the most common outlet for revenue, right? And while it's event-specific, there are plenty of ways to utilize footage, pictures, and more in general ways that can be used for weeks to come.
Take photos of the venue or city landmarks
This isn't only great pre-performance content to help promote the event, but it can also be used in the future for "thank you" posts, "throwback" posts, and just general EPK photos to keep on file.
Split up your video clips
One of my clients did a 30-minute set at SXSW for their showcase and had it recorded. Instead of uploading it all in one fell swoop, I was able to split it into six songs, and two months later, some of that content still has yet to be posted. I've simply staggered posting those videos so the video content is fresh, new, and will last a good while, so when the band is no longer as active, I still have some videos to keep things new on their social media channels.
Best part? We recorded it by iPhone, and sure, it has one camera angle, but the sound and video quality is great.
Make your photos last
Think twice before uploading an album full of photos from last night's show. Instead, maybe post one every other week, and post them in a general way. Rather than, "We had a great time at Joe's Bar last month!" make it relevant by keeping it general. "Can't wait to be back on the road," or even use it as a tie-in with a SoundCloud or iTunes link. Something such as, "Have you heard our latest EP, The Greatest? Check it out here: [iTunes link]." A line like that paired with a live performance shot is certainly relevant and is a fun way to promote an EP rather than sharing the cover art over and over.
Videos of before and after the show
This may be a one-time piece of content, but always do a video of yourself at the venue before the show giving one last promo, and then one after thanking the fans. It's a good post that can be boosted on Facebook for some more love for your followers.
The recording studio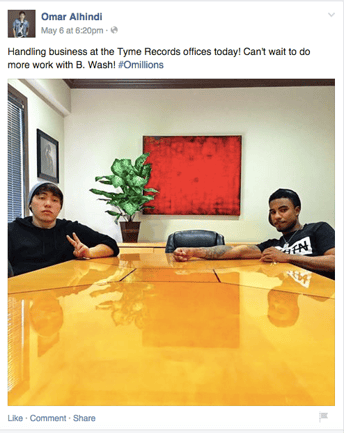 The studio is always an incredible place to get content. You have new music playing in the background, and you have live footage and photos of yourself laying down tracks. So many possibilities! Most artists may throw all this out in one week or month, but here's how to make footage from the studio last you a good while.
Photos from the studio
Photos of you in the booth make for great press photos for an EPK. Not only that, but as mentioned before, it's a great image to promote an event or release without solely having to rely on an album cover. The key here is to take different shots at different angles, and be sure to space them out appropriately.
Video possibilities are endless
Get video of you in the booth, and split that into promo videos for an upcoming release. You can also use the same clips for simple social media posts across the board.
Another fun way to build buzz for a release is have its demo playing in the background while you shout out your fans saying how excited you are to release it. They'll get hints of it from the background noise, but it'll still be an exciting release.
Got downtime? Do a cover
If there's a lull in your recording time, and the band is already there, why not bust out a quick medley or acoustic version of your work? It's a great way to let fans know you're in the studio and can be used after the fact by simply promoting it as a fun piece done by the band.
Timing is key
Timing is essentially important whenever the band is together or you're putting in work. The key is to space out your content and be able to get some content that's general enough to be posted year-round. Time-sensitive posts such as event promo and album release content is obviously something that has a life span. But by holding off on some content and releasing it later, you'll have enough material to keep your channels fresh for months to come.
Learn more about posting on social media:
As a music marketing strategist, Tyler Allen works with an extensive array of artists, labels, music tech, and music retail entities. Tyler began his music industry career with Sony Music Entertainment and RED Distribution, as well as the advertising industry. He is dedicated to giving veteran artists the tools to preserve their legacy, and new artists the tools to begin theirs (as well as everything in between). Learn more at wtylerconsulting.com. He also offers strategy and artist packages for DIY and indie artists on a budget, here.